Los Angeles Lakers:

turnovers
May, 16, 2012
5/16/12
12:27
PM PT
Because, you know, a 29-point drubbing by definition means you can never tweak too many things. Yesterday,
Brian offered several areas in need of drastic improvement
. I thought I'd add my two cents with four more suggestions. (Sadly, we likely still didn't cover everything. But hey, we only had 48 hours between Games 1 and 2, and both needed to sleep a bit.)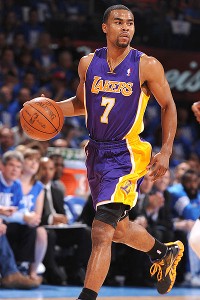 Andrew D. Bernstein/NBAE/Getty Images
Despite Sessions' presence, sets still take forever to initiate.
1) Get the ball up the court faster to initiate the offense earlier
During the era of "
Derek Fisher
and
Lamar Odom
bringing the ball up so
Kobe
doesn't have to do everything," a turtle with a decent handle might have taken the place of either without anybody noticing. Whether because the directive to slow tempo was taken too literally, or because Fisher's declining speed and LO's generally laid back style, it felt like the court was covered in molasses. Eight second violations were regularly flirted with, and precious time was frittered away over the entire 24 seconds. As a result, someone was often forced to take a bad shot.
Mike Brown
arrived in L.A. with the stated goal of getting into sets faster, and with
Ramon Sessions
eventually in the fold, that objective should have become even easier. However, slow migration end-to-end remains a habit, particularly Monday in Game 1, and it's a habit in need of immediate breaking. I'm not calling for a radically pushed tempo. The Lakers don't have the personnel to live in transition, and getting into a foot race with the Thunder is a losing proposition. This is simply a matter of milking possessions for their maximum opportunities. Any early deep position gained by
Andrew Bynum
or
Pau Gasol
gets negated if they're watching the ball handler meander upcourt for 3 seconds while a defender pushes them off a spot. The Thunder's defense is being far too much time to set in general. And should any of Game 1's offensive confusion bleed into Wednesday's proceedings, an extra four or five seconds to sort through the mess could go a long way towards salvaging possessions.
January, 9, 2012
1/09/12
6:29
PM PT
10 games into the season, the 6-4 Los Angeles Lakers' on-court product remains, to quote late-80's icon
Nenah Cherry
,
"raw like sushi."
They're learning new offensive and defensive systems under head coach
Mike Brown
, a task made even more difficult due to the lack of practice time available during a lockout-shortened season.
Andrew Bynum
was suspended the opening four games. Better-than-perhaps-expected newbie
Josh McRoberts
has missed four games (
and likely counting
) with a sprained big left toe. The lack of guards capable of breaking down defenses has
thrust second round rookie Andrew Goudelock
-- who wasn't even a lock to make the team -- into a rotation Brown continues to (over?)tinker with like a mad scientist on a bender.
Plus,
Kobe Bryant's
wrist is currently being held together by skin, tape and the caressing fingers of physical therapist
Judy Seto
.
With all that in mind, when asked to grade the team, the consensus was fairly forgiving.
"Right now, I think a 'B' is a good grade," said
Pau Gasol
. "At this point, a fair grade. I think it's a good grade because I think that's where we are right now at this point in the season and the situation that we have. I think it's a work in progress to get to a higher grade, which is by working and getting deeper into the season."
If El Spaniard is among the "students" being graded in this scenario, then his coach would be the teacher doling out marks. But "Professor" Brown, meticulous and studied as he may be, wasn't so specific in addressing the same question.
"I don't know. I haven't really thought of it [that way]. Definitely a passing grade. But I'm not sure what that is just quite yet."
Derek Fisher,
asked to break the tie, echoed Brown's assessment.
"We're 6-4, you can try and analyze the reasons why, but it's a results based business. Out of 10 games, only winning six, that means we have quite some way to go. So that's passing, like Coach said, [but] it's 60 percent."
In other words, it's like those "pass/no pass" classes we all took in college.
"We're doing not necessarily
the best
that we can do, but we're working our way through a lot of changes," said a matter-of-fact Fisher. "Different circumstances. Different personnel on and off the court in terms of coaches as well as players. We're just figuring it out, but I think we're committed to one another and we're committed to the process. And even with some of these early struggles that we face so far and probably will continue to face for weeks to come, it's not shaking our confidence in what our end goal is, and that's to still be a championship caliber team."
January, 1, 2012
1/01/12
8:02
PM PT
The Los Angeles Lakers have yet to win a game in 2012. I imagine that trend will change. For that matter, it would be nice if some others from this loss followed suit. Here are five takeaways from the Lakers' 99-90 loss to the Denver Nuggets:
1. The lack of practices rear their ugly heads offensively for the Lakers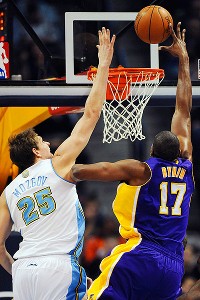 AP Photo/Chris Schneider
Shots this easy on a consistent basis may take time for the Lakers.

Among the zillions of popular cliches in sports is the saying that "defense wins championships." And it's a philosophy that's, in fact, tough to debate. However, I like to add my own personal caveat "assuming you can score" to that expression. Unless teams are capable of holding opponents consistently fewer than 80 points, putting the ball in the net is mandatory. Six games into the season, the Lakers, a team looking to re-establish championship credentials, remain a ragged bunch on the offensive end of the court. I have to imagine this issue is being exacerbated by the lack of regular practice.
No doubt, the problem isn't entirely a lack of communal knowledge about coach
Mike Brown's
playbook. In the first half alone, after doing a terrific job pushing the ball inside and getting
Nene Hilario
and
Timofey Mozgov
into fast foul trouble, they stopped working down low. In the meantime,
Kobe Bryant
was forcing the issue with his jumper, missing 9 of 10 shots, a few of which had no business being launched to begin with. (More on that later.) And a 1-for-11 clip from beyond the 3-point arc will undo any mastery of Brown's schemes.
But between the lack of repetition, plus the additional challenge of implementing
Andrew Bynum
into the mix, the Lakers don't appear jelled with the ball in their hands.
2. Despite the personal milestone, this won't be a game for Kobe's personal time capsule
First things first, congrats to Kobe on reaching the 28,000 career-point plateau. It's an absolutely mind-boggling achievement for the
NBA's sixth-greatest (and rising) in career points
. With those deserved kudos now offered, I couldn't help but wonder if Kobe was determined to reach 29,000 in the same evening. Simply put, dude was out of control.
March, 18, 2011
3/18/11
12:59
PM PT
Of all the impressive wins since the All-Star break, in it's own right,
a victory over the Timberwolves on March 1
provided for me the most convincing proof of the Lakers being fully rededicated. For nearly three quarters, the Lakers couldn't get their offense going against a team exceptionally challenged on the defensive end. Frankly, they're not great on the other end of the court either, which might have provided an excuse earlier in the season to simply coast and expect a win by osmosis or pedigree. Instead, the Lakers cranked up the D and crashed the glass like madmen, treating the inferior hosts like worthy competition until the scoring eventually came around.
Not much about the Wolves has changed in the last 17 days -- i.e., they didn't suddenly become good -- so
a second scouting report within that time frame
feels redundant. Plus, the Lakers are a team insistent that it's more about them than their opponents at the end of the day. Thus, here are a few items, largely in the Lakers' own hands, to keep an eye on once the ball is jumped.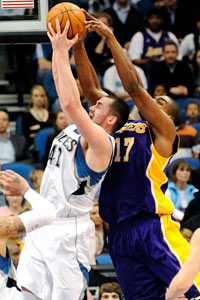 AP Photo/Jim Mone
This battle within the battle could swing the overall outcome.
Andrew Bynum's rebounding against Kevin Love

Bynum's
month of March has been, to say the least, fruitful. Particularly on the glass, where the kid has been relentless; 14.6 rebounds on average, with six consecutive games in double figures. Of course, both totals would be higher were it not for the Minnesota game, where Drew grabbed "just" seven. This isn't to say he did a bad job. His numbers were hardly awful, plus the Lakers won the rebounding battle by a margin of 14 (in part because
Pau Gasol
snagged 17 himself).
Still, it'll be interesting to see if Bynum can maintain his double figures streak while sharing the court with
Kevin Love
, who's been nothing short of a Hoover vacuum this season. The glass is among the few areas the Wolves consistently excel. They're especially prolific on the offensive glass, where they lead the NBA with a 30.65 rebounding rate. This is in part because of Love's presence, but also because rebounding is their life blood. Frequent misses create frequent opportunities for second chance points, and the Wolves need every opportunity possible. Beating Minnesota on the glass is the equivalent of cutting the head off a snake.
By the way, Bynum gobbling all the rebounds these days has left Gasol with scraps, and while Pau is genuinely happy for his teammate, I get the sense he's not thrilled with
his current string of five rebound games
. Gasol joked after the Magic game that his rebound averages are still higher than Bynum's on the season and reiterated the pride taken in rebounding. If Pau's 17 rebound performance against Minnesota isn't replicated in the rematch, my gut says something similar is brewing for the very near future.
November, 7, 2010
11/07/10
2:33
PM PT
The general consensus among ESPN pundits has the Blazers
just a notch below elite status in the West,
much less the standing of squads like the Heat, Celtics or Magic. (
I personally consider Portland as dangerous a squad as the left conference has to offer
, but what do I know?) Still, nobody would deny their talent, even with
Greg Oden
and
Joel Pryzbilla
shelved and
Rudy Fernandez questionable
. The Blazers are a dangerous team, easily the best faced by the Lakers in this young season.
I've had this game circled on the calender as the first true test for the Lakers, between how well the Blazers match up against them and a desire to break through after a few seasons of arrested development. Here are four items to keep an eye on during what should be a very entertaining night at Staples Center.
Ron Artest vs. Brandon Roy
During the 2009 playoffs, then-Houston Rocket
Ron Artest
raised eyebrows by declaring
Roy
"the best player I've played against,
" as far as perimeter scorers go. Asked if he remembered
Kobe Bean Bryant
was still in the league, Artest didn't waver. This being Ron-Ron, the commentary was interpreted as anything from an honest assessment during a heated series to the pre-emptive diss of his semi-finals assignment (Bryant).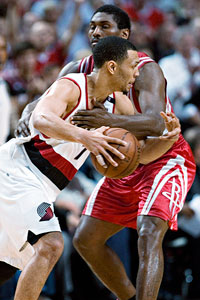 AP Photo/Don Ryan
Artest praised Roy throughout the 2009 playoffs.
But no matter what you make of Artest's words, it doesn't change the fact Roy is truly a bad man on the hardwood. He can get to the cup, drain the mid-range J or hoist from deep (albeit without quite the same success as the aforementioned spots). And while divvying ownership of the rock with
Andre Miller
remains a continual adjustment, he's growing more comfortable playing off ball as well. All in all, there aren't many weaknesses to Roy's game, period. He's just a very complete overall player, among my biggest man crushes in the NBA.
That being said, he could have his work cut for him against his purple and gold admirer, and beyond what's assumed while battling someone with Artest's defensive credentials.
For starters, Roy's 22 points per game arrive courtesy a 41 percent clip from field (rounding up), hardly the most efficient use of his shots. Whether the result of recent knee issues (Roy actually got scoped during the 2010 playoffs) or simply a matter of a shot not falling with ease, his flow clearly hasn't been there to start the season. Artest is a master at disrupting rhythm in any case, but Roy isn't entirely in the zone to begin with, all the better.
That's also not the only way for Ron to wear down the visiting All-Star. Presumably, defensive ace
Nicolas Batum
will be covering Kobe (more on that later), which likely makes Roy-Artest a two-way matchup. Artest has an inch and (at least) 40 pounds on Roy. That size advantage is tiring enough when Ron leans on Roy to prevent scores, but when defensive assignments consist of getting posted up or driven on by a dude built like a middle-linebacker, Roy could really be tuckered out. I'm hoping Artest makes a point of playing physically taxing offense as well as defense.
March, 9, 2010
3/09/10
6:05
PM PT

By Brian Kamenetzky
ESPNLosAngeles.com
Archive
This would be the average number of points the Lakers have surrendered off turnovers in March. Up from 15.4 in February, and up even more from 13.6 in January. For those newer to the game and perhaps unfamiliar with its subtleties, the goal is to make that number go the other direction.
The Lakers are coming off a seven giveaway day Sunday in Orlando. If that stingy squad takes the floor tonight, a potentially explosive Raptors squad won't get any extra help putting the ball in the bucket. Given Toronto's defensive deficiencies, that could be enough snap the Three Game Losing Streak Heard Round the World.
(Figures courtesy of Elias)
Andy previewed tonight's action earlier in the day
with
Sam Holako
of
Raptors Republic
, and to continue getting ready, here's one more piece of completely self-serving ear candy...
my segment today on the Lakers Road 2 Repeat
with LA Sports Live on 710 Radio.