Los Angeles Lakers:

USC Women's Basketball
August, 31, 2011
8/31/11
1:43
PM PT

By Brian Kamenetzky
ESPNLosAngeles.com
Archive
Tuesday afternoon, I was fortunate to spend some time talking with Lakers great
Michael Cooper
, an integral part of five championships with the Showtime Lakers, and now coach of the
women's basketball team at USC
. Long and lean-- very, very lean-- Cooper was nonetheless a fierce competitor, earning All-Defensive Team honors eight times, and the DOPY Award in 1987.
Larry Bird
called him the toughest defender he ever faced. Praise doesn't come much higher.
PODCAST
Brian welcomes Lakers legend Michael Cooper, now head coach of the USC women's hoops squad. Coop talks about defending Larry Bird, the best of his five title teams, Magic's influence beyond the NBA, and why he wore his socks so high.

Podcast

Over the course of about 30 minutes, we had a chance to touch on a wide range of subjects, from where he developed his intensity to the magic of
Magic
, both on and off the court. Among the highlights:
*Why he developed such a strong defensive mindset in L.A.:
"You had to find a niche [with the Lakers]. When I met coach
[Jack] McKinney
, he said, "Coop, we need a player who is going to play some defense. We need a lock down defender at the 1,2, and 3 positions. That was kind of my calling card. I reverted back to all my fundamentals, and my aggressiveness as far as defense goes ... This was my niche to make it on the Lakers team. Everyone likes to score, but I felt that it was how I was going to be able to not only make that team, but stick around. And lo and behold, that worked out well for me."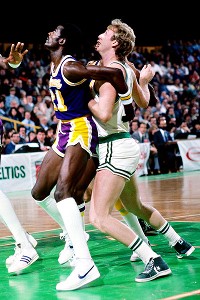 Dick Raphael/NBAE/Getty Images
Larry Bird called Michael Cooper the toughest defender he ever faced.
*On defending Larry Bird:
"I used to study games of his. It would be a month before we would play the Celtics, but I was getting ready for him. Watching him play. What did he do on out of bounds passes? What did he do going around picks? ... Larry was naturally born left-handed, and taught himself how to shoot right handed. He was very ambidextrous so you couldn't force him one way or the other, because he was just as good going to his left as he was to his right. The only tendencies I had [available from film] to pick up with him was how he came off of picks. How he set you up to come off a pick."
*Best of the five title teams on which he played:
I thought our
'84 team
was very good, even though we came up short [against Boston in the Finals]. We had all the necessary parts to win a championship. Of the championships that we won, I'd have to say our
'85 championship
was about as good as we were going to get. Everybody was hitting on all cylinders.
James Worthy
was was just coming into being the type of player he'd eventually become, a Hall of Famer. That team had it all. We had a bench, we could play defense, we could run, we could rebound with you. We could get big, and even became "Riley's Runts," because we could get small. That '85 team was probably our best team, per player, and the camaraderie and the chemistry was very good.
*Coop explained the challenge
of not just beating Boston, but overcoming the mystique they had in big moments.