Los Angeles Lakers:

violations
August, 18, 2011
8/18/11
5:34
PM PT
As part of a continuing series, NBA players share how growing up in L.A. shaped their game.
For Raptors forward
Amir Johnson
, who grew up mainly in East L.A., but also Harbor City and Watts, being an athlete came naturally. The game of basketball itself, however, required work, and getting his high school into gear took even more. His freshman year was split at two schools (Pacific Hills, Narbonne), neither of which featured him on the court. From there, he enrolled in Verbum Dei, where he enjoyed a solid inaugural season of high school ball. He then transferred to powerhouse Westchester -- famous for producing, among others
Trevor Ariza
-- but allegations of recruitment violations resulted in a 2004 postseason ban. Johnson was also forced to sit out his junior year.
That left Johnson making up for lost time during his senior year, but he made the most of it. California's Mr. Basketball. A state title in 2005. And a strong enough showing that, despite still operating at a raw level, he got drafted straight out high school in the second round of the 2005 draft by the Detroit Pistons.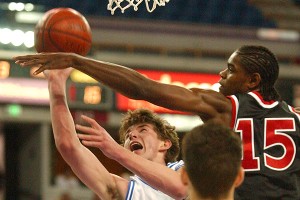 AP Photo/Rich Pedroncelli
Amir Johnson's high school career featured turbulence, but ended with a state championship at Westchester in 2005.
Andy Kamenetzky:
Which parks did you play at regularly growing up?
Amir Johnson:
I actually played in a church league. It was a Baptist church in Inglewood. My mother and my father [signed me up]. I wasn't really into basketball like that. My first sport was track. I was a good track and fielder and I was really into it. I kind of got into [basketball] a little bit more and more.
AK:
I imagine a church league atmosphere is different than a park or a rec center court.
Johnson:
I just wanted to play. I just wanted to have fun. I was just a kid, just running around. I didn't really know how to play the game. I was bouncing the ball, then shooting around. It was fun for me.
AK:
When did you first start taking it seriously?
Johnson:
I was about 12 years old. My father started putting me in a lot of travel leagues. That's when I started learning the game a little bit more.
My first travel league team was [with] ARC
. That's when I first started getting into it a little more.
AK:
Was there anybody on that team who either made it to the pros or played at a high level in college?
Johnson:
Mike Mercer.
He was pretty good. I think he made it to the pros.(AK's note: Mercer never reached the NBA,
but has played in Canada
.)
Bryce Taylor.
He was on the team. There was a couple of other guys, they're overseas now.
We traveled down to Florida. There was a big tournament, I think we made it to fourth place or third place. There were, like, 100 teams.
AK:
You sat out your freshman year at Pacific Hills because of academic eligibility issues, correct?
Johnson:
I wasn't really academically ineligible at Pacific Hills. It was mainly I transferred schools because of our travel. We couldn't get there because it was so far from where we lived. I was with the JV team back then. I felt like, because I'd been playing travel ball, I was ready for the next level. So I kind of went to a different school after that my ninth grade year.
I finished out my ninth grade year at
Narbonne High School
and that's when my grades started to go downhill. Then I transferred to Verbum Dei. My grades went up and I finished out my tenth grade year there. I was more focused. There was no distractions. I focused on my grades and my game and it helped a lot.
AK:
Could you feel yourself growing as a player at Verbum Dei, even with just one year of high school ball?
Johnson:
Absolutely. I guess I had some people come see me play and they thought I had talent. There were coaches that helped me work on my game. It felt like I was getting better and I could get pretty good, so I listened to whatever the coaches had to say and I worked on it.
AK:
What kind of player were you at that stage?
Johnson:
I knew I could run and jump. That was the only thing. I was just, like, a major athlete. Run the floor. Catch the ball. That's pretty much where I was standing. I had to work on my skills. I had a soft touch, [but] I didn't have no jump shot. I had to work on that stuff. I was definitely an athlete.