Los Angeles Lakers:

WarriorsWorld.net
April, 18, 2012
4/18/12
6:43
AM PT
After sprinting through 62 games, including Tuesday's
disappointing loss to San Antonio at Staples
, in what feels like 32 days, the Lakers are in Oakland tonight for a date with a bad Golden State squad. It's the sort of game that, even in this crazy year, should be a cakewalk. Particularly given the question of whether Golden State, having traded or shut down almost all of its high-end talent, is doing whatever it can to lose down the stretch, preserving a first-round pick ticketed for Utah should it fall outside the top seven.


Still, the Lakers would be wise not to take any chances. With guys like
Dorell Wright
,
Nate Robinson
and
Klay Thompson
, at the very least the Warriors will want to get up and down, drawing the Lakers out of their Happy Tempo Zone into something a little too fast.
Kobe Bryant
will likely miss the game, the
last trip to Oracle wasn't exactly satisfying
and the Pacific Division is still up for grabs.
More than incentive to stay focused and bury the Dubs, which, given a season-long tendency to play down to the competition, would actually constitute a genuinely positive evening's work. To help gain a little more insight into the team upon which the Lakers should toss an abundance of dirt, we hit up J.M. Poulard of the
always entertaining Warriorsworld.net
.
1. So word is the Warriors are tanking. True? If so, how's it going?
The Golden State Warriors have lost 17 of their past 22 games, which coincides with the
Monta Ellis
trade to Milwaukee (for
Andrew Bogut
). Mind you, it's one thing to tank and not give the fans anything to cheer about -- yes, Charlotte, I'm looking at you -- but it's something completely different when the team is able to get the young guys a look, get them to play hard and remain competitive for most of the game and then finally fall to a more talented team late.
The Warriors have been tanking since early March but the fans have had the chance to cheer for their team given their effort. So in short, it's been a resounding success!
January, 6, 2012
1/06/12
10:04
AM PT

By Brian Kamenetzky
ESPNLosAngeles.com
Archive
There are things to like about the Golden State Warriors. Their uniform redesign, for example, produced some of the slickest togs the NBA has to offer. Go get yourself a
logo patch
, and maybe a t-shirt or
replica jersey
. The Warriors also have dedicated fans, an association with
Jerry West
(always nice, particularly
when it comes to thinking big
), and a very young, appealing franchise player in
Steph Curry
.
Plus,
David Lee
is from St. Louis, always good for cheap points on this site.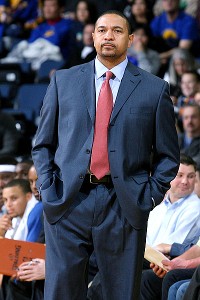 Jack Arent/Getty Images
I'm sure Mark Jackson will look a little more excited once the Warriors are playing better.

What they don't have these days is a culture of consistent winning.
Since 1994-95, Golden State has
won more than 38 games in a season twice, 26 or fewer seven times
, and have made the playoffs once. That ain't good. For a long time the Warriors were saddled with brutally bad ownership under
Chris Cohan
. Now new rich guys are in charge, led by
Joe Lacob
and
Peter Guber
, so there's hope the Warriors might turn a corner. Still, it won't happen quickly. New coach
Mark Jackson
has tried to instil a defensive mindset, and with the understanding all things are relative, in the early going has had some success. Through TK games, Golden State has shaved about four points off opponent's scoring per 100 possessions. Still only good for 22nd in the league, but better than the three previous seasons (26th, 29th, 28th).
Unfortunately, that defensive improvement has come at the expense of Golden State's offense. Once a juggernaut putting ball through hoop, the Warriors have thus far been among the league's most anemic teams, 25th in scoring (90.3 ppg) and efficiency (98.9 points per 100 trips), a huge drop from previous seasons. Blame some of that on Curry's recurring ankle problems, but it still amounts to trouble for Golden State folks may not have expected.
To get a little more insight into tonight's opponent, I sent some questions to Ethan Sherwood Strauss of
WarriorsWorld.net
, your GSW stop on the TrueHoop track.
1. Not to get all judgmental, but things seemed to go off the rails up there as the Don Nelson era wound down, and didn't improve under Keith Smart. How has Mark Jackson impacted the Warriors culture?
Ya, it did get pretty dark and weird back there with Nellie, huh? The best was when he
slurrily called a sports radio show from an Indianapolis bar
, made loud mention of his scotch in hand, and lamented
Stephen Jackson's
terrible trade value. The culture has calmed down since then, but in the wake of cultural chaos we're left with mediocre talent. Perhaps Mark Jackson can motivate athletes, but this team might have no way to pair with a will.
2. What are the prospects for Year 2 of the Monta Ellis/Curry/Lee core? Can it become a playoff contender, or do more changes have to be made?
The prospects are bleak, the team must decide on Monta vs. Steph. It feels as if the catharsis of making the decision matters more than making the right decision. Lee has immense defensive flaws, but I'm enjoying his progress as a pick-and-pop big.