Los Angeles Lakers:

Western Conference Semi-Finals
May, 1, 2011
5/01/11
9:40
AM PT
By the Kamenetzky Brothers
ESPNLosAngeles.com
Archive
In our continuing effort to help get you up to speed ahead of Monday's series opener against the Mavs at Staples, we swapped scouting reports with Jeff Caplan, who covers the Mavericks for ESPNDallas.com. (You've already heard from his compadre Tim MacMahon. You can check out our report at ESPNDallas.com and the Mavericks Blog.)
JEFF CAPLAN'S MAVERICKS SCOUTING REPORT
1. Biggest strength:
Without question it's
Dirk Nowitzki
. He has evolved into one of the most strong-willed, clutch players in the game. He emerged as a dominant fourth-quarter performer in the first round against Portland and displayed an arsenal of offensive weaponry, including far more aggressive driving than we've seen. Although he'll be busy on the defensive end against
Pau Gasol
and
Lamar Odom
, the Lakers haven't found a way to stop Dirk, who averaged 22.0 points and 10.3 rebounds against L.A. this season.
PODCAST
Andy and Brian preview the Lakers-Mavericks Western Conference semifinals with ESPNDallas.com's Tim MacMahon.Podcast

On a team that can't tell you who will be the second-leading scorer from night to night, Dirk will have to play at an MVP level every night. His 27.3 scoring average against Portland, despite shooting only 45.2 percent from the floor, suggests he can.
2. Biggest weakness:
The Mavs' small backcourt didn't hurt them as some thought against Portland's bigger guards, especially on the second units, but the Lakers are a whole other story. It all starts with
Kobe Bryant
. The Mavs don't possess a true shooting guard with size who can defend and score.
DeShawn Stevenson
, the team's 12th man who became a starter first because of
Rodrigue Beaubois
' broken foot and then his ineffectiveness, will start out on Bryant; he typically plays only 13-15 minutes. Behind Stevenson is the 6-foot-2
Jason Terry
, an offensive force, and Beaubois, plus under-6-foot backup point guard
J.J. Barea
, who plays the 2 sometimes next to
Jason Kidd
.
The problem with Kobe then becomes an issue with
Ron Artest
, because the Mavs' answer to Kobe will be small forward
Shawn Marion
, which then leaves the 6-4, 210-pound Kidd to wrestle with the 6-7, 260-pound Artest. We saw that movie once, and the Mavs really don't want to see a sequel.
April, 29, 2011
4/29/11
9:22
PM PT

By Brian Kamenetzky
ESPNLosAngeles.com
Archive
May, 25, 2010
5/25/10
6:56
AM PT
By all rights, this 2004 Western Conference Semi-Finals game should have ended in the San Antonio Spurs' favor and given them a 3-2 series advantage. Having chipped away at a 16-point Laker lead, the Spurs were down by a point with 11 seconds remaining and a big
Kobe Bryant
bucket still etched in their memories. Cue the improbable, as
Tim Duncan
received an inbound pass from
Manu Ginobli
at the elbow, with
Shaquille O'Nea
l all over him and time ticking away. Forward motion blocked, Duncan drifted left across the lane, then flung an off-balance fadeaway just as
Karl Malone
closed in to double him.
Nothing but net, as Duncan fell to the hardwood in a heap.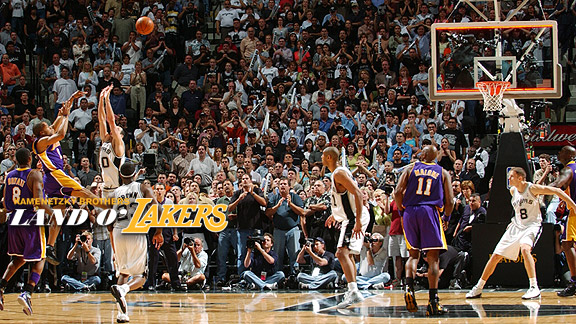 Andrew D. Bernstein/NBAE via Getty Images
".4" is all you need to say, and everyone knows what you mean.
This "lucky shot," as Shaq labeled it,
allowed the Lakers just .4 seconds to pull a rabbit out of a hat. The scenario's near impossibility was further driven home after
Gary Payton
burned the Lakers' final timeout after the original plan --simultaneous screens to free up Kobe for a jumper or Shaq for a lob at the rim -- was sniffed out by San Antonio. Down to their last hope,
Derek Fisher
was tabbed an option and as Kobe drew two defenders in the direction of the arc, Payton zipped his backup a clean pass as he broke towards the sideline. Fisher then twisted and fired a one-touch shot over Ginobli's outstretched arms.
Money.
The stunned Spurs and their fans watched as Fisher, one finger raised, sprinted to the locker room with his jubilant teammates in tow. The officials gave the sequence a careful replay review, then a seal of approval, capping off one of the most improbable sequences in recent roundball memory. Even better, the moment couldn't have belonged to a more consummate pro. The acquisition of Payton had meant Fisher (who was in a contract year) had been forced to take on a reserve role, despite often outplaying The Glove. Fisher had prioritized the team's needs above his own, which is why
Phil Jackson
described the game-winning shot as fitting in his controversial book
The Last Season
:
A game was born, a hero born, a season saved. I could not have been more pleased, for our team and for Fish, who has made as big a sacrifice as any Laker this season. In the last year of his contract, he's lost valuable playing time and perhaps a chance to earn more money on the open market. On occasion he forced the action and once snapped at me for taking him out of a game in Oakland. I don't mind when a player gripes at being removed. He is showing pride, competitiveness. Fish has always kept the ultimate goal in mind, a championship. He made some key shots down the stretch this season and missed others, but I often told my coaches, "Derek really believes in himself. He wants to hit a last-second shot.
"
ESPNLA.com and Land O' Lakers are counting down the ten greatest playoff moments in Laker history. Upon completion, fans will be asked to vote on the single greatest moment of all.
Previous moments include:
-Shaquille O'Neal's near quadruple-double in the 2001 NBA Finals, Game 2
-The Logo's steal in 1962

-Elgin goes for 61 in '62

-Worthy's Game 7 Trip-Dub in 1988
-Kareem's sky hook marks the end of Boston's dominance over L.A.
-Horry wins Game 4, Western Conference Finals, 2002
May, 5, 2010
5/05/10
9:59
AM PT

By Brian Kamenetzky
ESPNLosAngeles.com
Archive
The bigs were gigantic in L.A.'s
Game 2 win over the Jazz Tuesday night
, as
Andrew Bynum, Pau Gasol
, and
Lamar Odom
combined for 50 points (on 18-of-24 shooting), 44 rebounds, and nine blocks. That's a season's worth of work for
Kyrylo Fesenko
and
Kosta Koufos
. Two, maybe. But it wasn't just the Lakers' size.
Andy cited Kobe Bryant's incredible second quarter as a major factor behind the victory: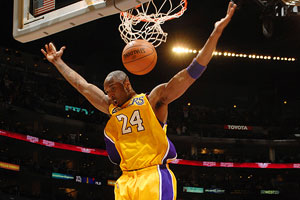 Chris Carlson/AP Photo
Kobe Bryant isn't a "big," but he played plenty large in Tuesday's Game 2 win over Utah.
"...His work during this 4:47 stretch was the roundball equivalent of a conductor with his orchestra or a puppet master controlling seriously athletic marionettes. Just a brilliant manipulation of moving parts... There was also great success as Kobe set up shop several times on the right block... Three straight layups were created from more or less the exact same spot on the floor. Each time, recognition of the approaching help defender and the cutting Laker led to a score so easy, Kobe barely broke a sweat while calling the shots..."
Bynum may be playing through pain, but
as Dave McMenamin notes, in that he has plenty of company
. As a result, peer pressure is playing a big role thus far in L.A.'s playoff run:
"...It's easy to say the difference in the Lakers has been all about Bynum. He missed the last 13 games of the regular season because of a strained left Achilles tendon when the Lakers floundered, and now that he's back the Lakers look right again. But what Bynum is doing doesn't make him any more of a warrior than his teammates. There are two requirements to being a Laker these days: be willing to wear yellow and play through whatever pain is ailing you. "I think the thing with the injuries is everybody kind of looks at each other and tries to figure out which one is going to be the first punk," Kobe Bryant said. "Because we will talk about you like a dog, like a chump. So nobody wants to be a chump..."
And while the Lakers are showing toughness, the Jazz have a softie in the middle-
Kyrylo Fesenko- forced to face L.A.'s phalanx of giants:
"...Fesenko, who may be the last basketball player to actually wear his wristbands on his wrists, is a nice guy, but that's the problem with the Jazz. They are a roster filled with nice guys and none of them are nicer and softer than their seven-footers who are supposed to be protecting the paint and providing a low post presence. (Kosta) Koufos, who finished with two points as well, is such a softie, he dries himself off and gets dressed away from his locker when there are reporters near his area. If he can't muscle middle-aged scribes out of his area, how is he supposed to fare against the likes of Andrew Bynum, Pau Gasol and Lamar Odom..."
Of course, others were ready to weigh in as well. Click below for the rest of the reactions...