Los Angeles Lakers:

wrist
December, 24, 2011
12/24/11
9:19
AM PT
Like Soundgarden, the Lakers have fallen on black days
since the opening of camp.
Chris Paul's painfully brief tenure as a Laker
.
Lamar Odom's
painfully abrupt exit. The Lakers' painfully one-sided loss to the Clippers in the preseason.
Kobe Bryant's
just-plain-painful wrist injury. Granted, we recorded this show before Wednesday's Lakers-Clippers rematch, which presented some positives in a loss. But even as someone who doesn't quite believe the sky has fallen, it's equally difficult to believe the sky's the limit for this squad.
So where exactly do the Lakers stand with Christmas fast approaching?
Along with 710 ESPN's Beto Duran
, we dig into the current state of affairs.
You can hear the entire show by clicking here
, and below is a breakdown of talking points.
- (4:00) To gauge an idea of the current mood, I pose a question. Which atmosphere feels more ominous: The days leading into the 2008 season (preceded by Kobe's radio tour), or now? They both say 2012, and as Beto notes, the increased presence of social media only encourages fans and media to pile on.
- (6:30) We recorded before
Kobe said he'd be "fine" for the Christmas opener
, but the notion of him suiting up doesn't entirely eliminate all concerns. How much will a wrist connected to a shooting hand with mangled fingers affect Kobe? Does playing through the injury mean it won't heal at all this season? But on the flip side, can the Lakers afford to miss his presence for an extended period?
- (8:30)
Mike Brown's
systems on both sides of the ball represent such a radical shift from the recent past, even Kobe is a learner during preseason. Getting up to speed during a compressed season with fewer practices and new faces is a tough battle in and of itself. But on top of that challenge, the Laker core has to deprogram themselves from years of triangular instincts and the
Phil Jackson
way of doing everything. Brian and I call upon a pair of films for suggestions to expedite the process.
- (12:00) As BK recently examined,
the Lakers are now exceptionally short on players capable of creating their own shot
. The list is basically Kobe... plus
Pau Gasol
if someone feeds him the ball. However, the team's filled with good passers, so creating for each other shouldn't be problem. Will that collective skill set be enough to compensate?
- (16:20) After hearing us break down all the doom and gloom, we suspect Laker fans could use a reason to smile. Well, we've gotcha covered:
Callin' Oates, the emergency Hall and Oates helpline!!!
We select option #2,
"Rich Girl,"
and sing away the blues. Or, more specifically, I do most of the singing, while Brian laughs at my singing, and Beto realizes he's never heard of Hall and Oates. Which, to me, is a bigger tragedy than the Lakers somehow ending up a lottery team.
December, 22, 2011
12/22/11
8:44
PM PT
As usual when it comes to
Kobe Bryant
and injuries, he was a man of few, barely audible, highly impatient words.
But as Dave McMenamin reports
, he was willing to utter the ones that mattered most.
"I should be fine," said Kobe when asked about his availability for the Christmas Day season opener against the Bulls.
Of course, "fine" isn't necessarily quite sunshine and lollipops. Kobe described his wrist as "swollen and painful," and I'm guessing that won't change by the time Sunday rolls around. The Mamba has a famously absurd tolerance for pain, but I have a hard time believing lacing 'em up on Sunday won't entail enduring an exceptional amount of discomfort.
There's also the question of the effects the injury will have on Bryant as a player. After all, right-handed players tend to use their right wrists a decent amount of time over the course of a basketball game. Plus, that wrist is connected to a hand with some jacked up fingers. Kobe's handle occasionally suffers due to those digits. With the wrist now a factor, it's fair to wonder how Bryant's shot, or ability to create for himself or others could suffer. Even as one of the best athletes I've ever seen playing through injuries, there are limits, especially as you get older.
Predictably, Bryant downplayed the issue.
"If you can play through the pain and you can catch a ball, pass a ball, you should be fine," he said.
For those concerned playing through the injury will stymie the healing process, that's a valid fear. Why? Because Kobe said so himself. However, this is just being viewed as a fact of life, rather than a sticking point to consider.
"It's not really going to heal," Bryant conceded. "I mean, it's gone. The ligament is gone. So there's nothing I can do about it. But I've dealt with so many hand injuries. It should be all right."
The ligament is "gone?" Wowza, that's dark. I'm not even disagreeing with him. I've just never heard an injury framed in such
"dust in the wind"
terms. Kobe always claims he's not very sentimental. Clearly, he's not kidding.
December, 22, 2011
12/22/11
1:29
AM PT
ESPNLA.com's
Arash Markazi
joins the fun, and while the Lakers did lose again to their Staples Center roommates, there were
certainly positives to take away
. Among the talking points were
Kobe Bryant's
wrist injury, the battle between
Devin Ebanks
and
Matt Barnes
at the starting small forward spot,
Steve Blake's
continued progress,
Metta World Peace's
continuing struggles, and the collective improvement in outside shooting.
Click below the jump for postgame videos with
Mike Brown
and
Derek Fisher
. Interesting stuff from both, on the team's improvement from Monday to Wednesday, Brown's take on Ebanks and his push to start, and more.
December, 21, 2011
12/21/11
1:58
PM PT

By Brian Kamenetzky
ESPNLosAngeles.com
Archive
Dr. Robert Klapper
, chief of orthopedics at Cedars-Sinai Medical Group (and co-host of the
Weekend Warrior Show
), joined
Max Kellerman
and
Marcellus Wiley
on 710 radio this afternoon, breaking down
the injury to Kobe Bryant's wrist.
Listen here for all the details
, but here are a few helpful nuggets:
"Lunotriquetral" represents the different bones in the wrist. "These are tiny ligaments that keep the multiple bones in your wrist together, so you have movement as well as stability," Klapper says.
"You usually don't have to operate on them, but it means that you need to let them rest so you can heal."
Hands and wrists, Klapper says, heal faster than an ankle fracture, for example. He notes that the length of Kobe's absence depends on the specific diagnosis. How severe is the tear? Recovery time could be a month, it could be less. Bryant really could be day-to-day if the tear is "microscopic." God is in the details.
Interestingly enough, Klapper says anti-inflammatory medicines "have been shown to delay the healing." Meanwhile, Vitamin C helps speed healing (and as an added benefit, staves off scurvy, should Bryant take up pirating in his spare time).
Much more information needs to come out on the injury before people know exactly how hard to hit the panic button, but needless to say the day's events don't do much to clear the stormy clouds forming around the 2011-12 season for the Lakers.
December, 21, 2011
12/21/11
1:16
PM PT
Per the Lakers' media relations folks:
EL SEGUNDO

-- Los Angeles Lakers guard Kobe Bryant, who suffered a right wrist injury in Monday night's game against the Clippers, was examined today by Dr. Steven Shin of the Kerlan-Jobe Orthopaedic Clinic and underwent an MRI exam. Results show that Bryant has a torn lunotriquetral ligament.
Bryant will not play in tonight's game against the Clippers and his status is day-to-day.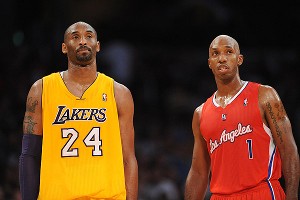 Win McNamee/Getty Images
The Lakers can't seem to catch a break this preseason.
I don't know exactly what a lunotriquetral ligament is. Frankly, I don't even know how to pronounce "lunotriquetral." But a torn "pick any ligament" is never a good thing.
The injury, by the way, happened when Kobe took a tumble after getting blocked at the rim by DeAndre Jordan
early in the second half. That Kobe continued to play deep into the fourth quarter of a preseason game, wrist injured and outcome already decided, raises the question of whether he should have been on the floor in the first place.
As someone who expressed his displeasure at Phil Jackson's tendency to play starters in similar situations
, I certainly get that. But in this case, I have no issue with
Mike Brown
.
Phil used to do this stuff, from everything I've gathered, as a means of maintaining momentum or sending a message, neither a good enough reason to risk injury, in my humble opinion. Brown, however, has two preseason games and a shortened training camp to teach new offensive and defensive systems, figure out floor combinations, develop chemistry and condition his players. Thus, Kobe's time on the floor, even while injured, contained tangible purpose. The setting may not have been ideal, and I wouldn't have blamed Brown if he took the precautionary route with Bryant, but I don't think he deserves any criticism in this case.
It'll be interesting to see how Kobe approaches this injury. He famously grits his teeth through nearly any injury known to mankind, having played with an aching ankle, knee, back and neck, plus that permanently screwed up pinkie. Depending on the severity of the injury (that information is unknown as of now), perhaps this will be present the latest chapter of Kobe gutting it out through pain.
However, this might not be pretty. Kobe's fondness of left-handed shots acknowledged, he's gonna need that right wrist to remain as effective a scorer. And beyond whatever shooting issues could be caused, when you factor in a right hand that's already problematic at times, Kobe's handle in general could be greatly compromised. Whether creating for himself or others, I wouldn't be surprised to see him struggle.
Plus, playing through this injury prevents the healing process from taking effect.