Los Angeles Lakers:

Yao Ming
March, 1, 2012
3/01/12
6:36
PM PT
In November, I wrote about how
Kobe Bryant's never had a true rival
over the course of his career. I'm not talking "Magic-Bird 2.0," but rather a universally acknowledged rival of any kind. There's nobody linked to Kobe, whether through meaningful head-to-head battles or a peer of his era. Of his contemporaries, the closest would be
Tim Duncan
, but such different players make a comparison feel inorganic. (Plus, their playoff battles lacked animosity.)
Shaquille O'Neal
was, technically speaking, a rival, but for all the wrong reasons. Factor in how no contemporary beyond Duncan or Shaq (who are, in fact, constantly compared) have come close to matching his career accomplishments, and trying to name Kobe's rival really becomes an exercise in futility.
Ask
Metta World Peace
, as a few reporters did after the Minnesota win, and he'll echo these sentiments. However, had the stars and planets aligned just right, he thinks Kobe might have experienced the sizzle of a true rival.
"I think I'm really the last person to go at Kobe (With the Houston Rockets during the 2009 Western Conference semi-finals) and I'm (now) on Kobe's team," said MWP Wednesday night. "Nobody else will. If I was playing against Kobe, I would welcome (a rivalry), but some people's scared.
"We had our shot. We had
Yao Ming
. That could have been a potential rival. If we had Yao Ming and
Tracy (McGrady)
would have been healthy and worked hard, and
Dikembe Mutombo
.
That
would have been a rivalry. We would have been
Lakers and the Houston Rockets
for the next couple years. We would have ran the table winning championship back and forth. But Yao broke his foot in Game 3, turned everything around. But if somebody wants to be a rival of Kobe's, he welcomes it. Just talk up and he would welcome it."
James Harden
might disagree with MWP labeling himself the last of a breed willing to tangle with 24, and I've always maintained that series lasted seven games primarily because of the Lakers' uneven focus (and a horribly coached Game 4 by
Phil Jackson
) rather than two teams emerging a surprisingly even match. But MWP's larger point is nonetheless thought-provoking. With more time together with everyone healthy (and in the case of T-Mac, motivated), perhaps those Rox could have shared the Lakers' stage over the last five or so seasons. They always managed to create a sum greater than the individual parts, and heart was never an issue. Remember, in the 2008 season before MWP's arrival, McGrady led the Rockets on a 22-game winning streak mostly without the services of Yao, who missed the final 24 games of the season. Imagine the long term potential with Yao at full strength.
Or, for that matter, MWP arriving in Houston a season earlier.
August, 25, 2011
8/25/11
1:46
PM PT
Kobe Bryant
turned 33 on Tuesday, as good a reason as any to look back at everything The Mamba has accomplished during a HOF career. The
K Bros
and 710 ESPN's
Mark Willard
tackle a few questions that, to say the least, offer options for responses.
Beyond the titles, what is the most impressive aspect of Kobe's career?
What is your prediction for Kobe's next great achievement?
What is your favorite moment of Kobe's career?
Check out what we said, then offer your two cents.
July, 17, 2011
7/17/11
11:26
PM PT
A few days ago, TNT officially announced the hiring of
Shaquille O'Neal
as part of their team of analysts. (For a smorgasbord of opinion on how he'll fare,
click here.
) Among the topics Shaq discussed during his introductory teleconference was
Yao Ming's premature retirement, which delved into a commentary on Dwight Howard
:
"The beasts are now gone, the Goliaths are now gone, so that leaves Dwight Howard out there by himself. So if he doesn't win two or three championships, I'll be very disappointed, because he has no competition out there now. None. Zero."
Well, if you buy
the long-standing rumors about Andrew Bynum being "untouchable",
that's news to
Jim Buss
.
Obviously, Shaq may have been erring on the side of hyperbole while making a specific point about Howard, undoubtedly the NBA's best center and a player with whom he's shared a testy relationship. Then again, he may just think there ain't much doing at the 5 these days in the NBA beyond the "other" Superman. In any event, whether or not you agree with Shaq's omission of Drew, those comments do underscore a certain reality: The competition behind Howard is in fact pretty thin.
Bynum may never pass Howard as the preeminent big in the league, but nobody is standing in his way from automatic mention as a close 1a.
Tyson Chandler
is an outstanding complementary player, but a complementary player nonetheless. I think
Nene
is among the more underrated players in the NBA, but you wouldn't build around him. Ditto
Andrew Bogut
, who's struggled lately to stay healthy.
Joakim Noah
is a fantastic defender and a beast on the glass, but his offensive game is limited.
Brook Lopez
is the bizarro-Noah.
Chris Kaman
is perennially injured.
Al Horford
is terrific, but undersized as a center.
Marc Gasol
is rapidly improving and tough as nails, but still not even the best big man on his own team.
Emeka Okafor
is the dictionary definition of "solid but unspectacular."
Marcin Gortat
has yet to play an entire season as a starter.
Andrea Bargnani
will put up 20 while allowing 40.
DeMarcus Cousins
is talented, but raw and immature.
That's more or less everyone, right?
With Shaq and Yao gone, the stage is set for Bynum to come into a brand new form of credibility. This is about more than making his first All-Star team, which should be a given now that Yao's no longer around. By default, Drew should get the nod as the best remaining center on the highest profile team. It's also about more than his talent, which is obviously high.
What I'm talking about is Bynum's profile, which still remains as much as about being a Laker as his individual skills. As it stands, Drew is undoubtedly -- and rightfully -- viewed as one of the best big men in the league, but I don't quite feel he truly has a persona yet. An identity. And the time is certainly ripe for this particular sea change.
Of course, between the seemingly inevitable injuries, the need to reach yet another level and
a potentially brewing push and pull between him and Kobe Bryant
, the jump may not be so simple. Still, if next season did end without Shaq either revising his statement or looking painfully foolish for clinging to his original words, it would be nonetheless disappointing on some level.
July, 10, 2011
7/10/11
3:13
PM PT
The lockout continues, but so does the ear candy production. In our newest show, we get a visit from
Kevin Arnovitz
, editor of ESPN.com's Heat Index. Among the talking points:
PODCAST
Andy and Brian talk with Heat Index editor Kevin Arnovitz about the one year anniversary of "The Decision," and the sad news of Yao Ming's retirement.

Podcast

- One year after "The Decision," how do we feel about the television special and
LeBron James
? What is the primary reason for the widespread, lingering backlash against LBJ? Is it people upset by a player of his caliber forming a super team? Outrage over players controlling their own destiny? The power of Ohio-based anger? Sour grapes from various fan bases after LeBron shined their city for Miami?
Or is it, as I contend, the most basic and obvious reason: LeBron left Cleveland in a narcissistic, self-absorbed and cruel manner, and has yet to truly acknowledge and accept responsibility for that mistake. Until James mans up, it will remain difficult to recapture his previous likability.
- How long will it take for LeBron to reenter the public's good graces? Many people, including Kevin, subscribe to the popular notion that "winning is the ultimate cure-all." A title equals a problem solved. Personally, I think winning is the second step, and first remains manning up for The Decision.
I don't disagree winning would bolster James' reputation on the court, especially in light of a disappointing Finals against the Mavericks. However, I actually think LeBron would be even more hated if Miami had won the championship, because that's a storyline where "the villain" wins without experiencing any form of comeuppance or lesson learned. It makes no sense that people would instantly cheer a guy they previously hated just because he has a ring.
Along these lines, for all the talk about how the 2009 and 2010 titles resuscitated
Kobe's Bryant
image after Colorado, the three-peat breakup and the Radio Tour, I firmly believe the most critical step was the 2008 season. The Lakers lost the Finals, but that campaign saw Kobe steadily perceived as a less selfish, more approachable teammate. An actual human being. Somebody you'd even want to succeed in the first place. Only then will people other than Laker fans not just admire the idea of Kobe winning championships, but actually appreciate it.
(Brian and I also
discussed this topic with ESPN.com's Brian Windhorst
, who's covered LeBron since his high school days, on ESPNLA On Air.)
- It's ironic that one year anniversary of The Decision would fall on a day with reports of
Yao Ming
retiring due to persistent injuries. Skilled a player as Yao was, he may be remembered most for his dignity, humility and genuinely kind soul. We spend a few minutes sharing our respect for the iconic center.
June, 21, 2011
6/21/11
8:33
AM PT
By the Kamenetzky Brothers
ESPNLosAngeles.com
Archive
The 2011 NBA Draft is Thursday afternoon (4 p.m. PT, ESPN). We've spent scads of time taking stock of where the Lakers stand heading into draft day, and now aim to catch up on the rest of the Western Conference.
Today, the Southwest Division...
San Antonio Spurs
2010-2011:
61-21, lost in the first round to the Memphis Grizzlies 4-2
Picks:
29, Round 1. 59, Round 2.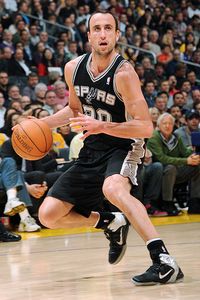 Andrew D. Bernstein/Getty Images
Manu Ginobili will once again lead the Manu/Timmeh/(probably) Parker core, but to say the clock is ticking is an understatement.
Where They Stand:
At the tail end of an era. It was a strange year for the Spurs, who remained remarkably healthy for most of the season, earned the best record in the Western Conference, then saw
Manu Ginobili
hurt himself at the worst possible time and lost in the first round to a Memphis team showing oodles of potential. Now the Spurs have one more year with
Tim Duncan
under contract and two more seasons with Ginobili to go with
Tony Parker
for their Big Three. I suspect the trio will make at least one more run together, and as the 61 wins from this season attest, it's still a very competitive core. Add in solid role players like
Gary Neal
,
George Hill
,
DeJuan Blair
and
Tiago Splitter
, and the Spurs have every reason to give it one more go.
In terms of significant pieces likely gone for next season, the only big name is
Antonio McDyess
, likely retiring after a distinguished 16-year career. Whether he shelves the sneaks or not, the Spurs need some size to bolster the frontcourt and prevent Duncan from being overtaxed. Explosiveness on the wings wouldn't hurt, either, because
Richard Jefferson
essentially became a spot-up shooter last year, with nearly half of his shots coming from beyond the arc. Parker and Ginobili still attack the rack, but one more guy would take a lot of pressure off a core needing every break it can get.
A little defensive help would be a nice touch, too.
Projections (Round 1):
Chad Ford, ESPN.com (Insider Required)
-
Davis Bertans
(SF, Latvia).
DraftExpress
-
Nikola Mirotic
(PF, Montenegro)
--Brian Kamenetzky
Dallas Mavericks
2010-2011:
57-25, won the 2011 NBA championship
Picks:
26, Round 1. 57, Round 2.
Where they stand:
With bigger fish to fry than the draft.
Tyson Chandler
,
J.J. Barea,
and
DeShawn Stevenson
all could depart after playing critical roles in capturing the franchise's first title, and
Caron Butler
, their second best player before a season ending injury, is a free agent as well. The Mavs outlasted the field in part because of their superior depth, thus their bid to repeat depends in large part on retaining as many useful players as possible to surround their lone superstar (
Dirk Nowitzki
, for the benefit of the thick).
PODCAST
Andy and Brian talk with David Thorpe (ESPN.com's Scout's Inc.) about what the Lakers can do in the second round of the draft. Plus, a look at the hot rumor (Pau for Kevin Love/#2 pick) and the vocal stylings of Dirk Nowitzki
Podcast

Still, there are needs beyond maintaining continuity. With
Roddy Beaubois
an unproven commodity, covering their bases with another point guard wouldn't be the worst idea.
Shawn Marion
will need a backup if Butler isn't re-signed. And while
Jason Kidd
isn't quite ready yet to drive
a Rascal
, every year spent counting on a player pushing 40 carries inherent risk. Equally risky is penciling in a shrimp like Barea as a 30-40 mpg lead guard of the future. Again, factors pointing to bolstering the backcourt.
But really, given the team's collective age, prospects at any position are justifiable, particularly since the likelihood of finding a player able to help immediately from their draft position is unlikely.
Projections:
Chad Ford
-
Josh Selby
(PG, Kansas),
Draft Express
-
Justin Harper
(PF, Richmond)
--Andy Kamenetzky
December, 16, 2010
12/16/10
2:17
PM PT
This afternoon the NBA released the early All-Star ballot returns, and at least one result qualifies as less than shocking:
Kobe Bryant, by a considerable margin over Dwight Howard and LeBron James, leads all vote getters
for an automatic spot in February 20th's festivities at Staples Center. I chalk this up to his quality play, and the fact he's Kobe Bryant- five time champ, 12-time All-Star, extremely popular in this country and glowing godlike overseas like
a roundball
C-3PO
among Ewoks.
Among other Lakers,
Pau Gasol
is running second, behind
Kevin Durant
but ahead of
Carmelo Anthony
and
Dirk Nowitzki
, in a wildly competitive group of Western Conference forwards.
Lamar Odom
, certainly playing All-Star caliber ball, is seventh. Generally speaking, it's hard to complain too much about who the fans have voted for in the early going. If by chance, though, you need evidence fan voting is more popularity contest than well-reasoned judgment of first half excellence- and I don't know why you would- I point to the center position in the Western Conference.
Yao Ming
leads with nearly 431,000 votes. He's played all of five games, and
news of a less-than-encouraging MRI puts him on the shelf indefinitely
. In second?
Andrew Bynum
, with all of two games and about 35 minutes under his belt.
C'mon, people, let's do a little more for the good name of quasi-democracy than this. I realize the
crop of pivots on the ballot in the W.C. isn't terribly sexy
- from a pure merit standpoint, more justice is done by including Gasol and
Tim Duncan
as centers, allowing two more slots for deserving guards or forwards- but the list is the list.
Can you blame
Nene
(15.7 ppg/7.1 rpg, 63.3 FG%) for wondering what he needs to do to get a little love?
October, 26, 2010
10/26/10
12:17
PM PT
Tom Petty
noted back in '81 how
the waiting is the hardest part
. Nearly 30 years have passed, and science has yet to discover a cure for the anxiousness during the countdown to an epic event. Like, say, the quest for a third consecutive NBA title. Thankfully, pins and needles can go the way of the T-Rex, because the season is officially on like Donkey Kong!
The two-time defending champion Los Angeles Lakers will do battle tonight at Staples Center against Houston Rockets. Just seeing their boys back in action would be enough for the Laker nation, but against a team capable of a compelling contest? Bonus! Here are a few items worth watching:
Pau Gasol vs. Yao Ming
This marks the Chinese icon's first meaningful NBA minutes since suffering a devastating foot injury during the 2009 playoffs (coincidentally enough, against the Lakers en route to the first of consecutive championships). Yao will be competing on the roundball equivalent of a pitch count, capped at what's been routinely described as a strictly monitored 24-minute mark.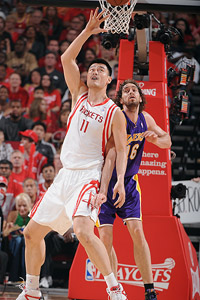 Andrew D. Bernstein/NBAE/Getty Images

The last time these two tangled also marks the last time Yao tangled, period.


While this limit
obviously affects Rick Adelman's substitutions and options
, Yao is nonetheless present, accounted for, and able to play hard. His presence alone, much less his enviable all-around skills, drastically change the complexion of Tuesday's opponents (who still toughed out a 42-40 record last season minus the services of a true star).
Gasol, charged with the task of slowing Yao, knows this:
"It's always a test to play against Yao. Such a big presence inside. So many moves also. So it's always a challenge. So you have to give your best effort against him if you want to be successful against him."
The meaty task is quite possibly a blessing in disguise for Gasol. As ESPNLA.com's
Dave McMenamin
notes, El Spaniard's coaches
haven't been especially pleased with his exhibition season gusto
, and even the player has admitted getting psyched for meaningless October games can be tough after the thrill of back-to-back titles. In fairness, Gasol is hardly the first decorated veteran to feel this way, nor will he be the last. But
with Kobe Bryant still on the mend
,
Andrew Bynum
unavailable, and key players still learning the triangular ropes (see below), the early leg of the season isn't just an opportunity for Gasol to further boost his credentials as a player capable of carrying a team through stretches. It's being counted on.
Playtime now over, Gasol can start taking the challenge to heart.
October, 24, 2010
10/24/10
8:45
PM PT
It begins.
Game of the Week
Tuesday vs. Houston, 7:30 p.m.
There won't be many weeks where it's easier to choose the highlight 48 minutes on the schedule. The banner goes up, the rings come out.
Ron Artest
said Sunday at practice
he's heard this year's hunk of hardware- the one he's going to raffle off in support of mental health- will be even better than last year's. That's saying something, because
after the '09 title
the Lakers didn't exactly hand out
Ring Pops
. Anything larger would have its own gravitational pull.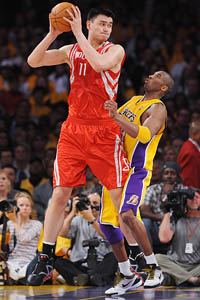 Noah Graham/NBAE/Getty Images
It takes a very tall man to make Kobe Bryant look like a hardwood dwelling hobbit.
Ring nights are great, but strange, events. In a "What have you done for me lately?" sports culture, they offer among the only acceptable opportunities to bask in previous achievements once the new season begins. Between players excited to get their hardware and fans all hopped up to see the banner unveiled, it's easy for the actual game- the first of 82 actually counting for something- to have some life sucked out of it before the opening tip.
As for the Rockets, they're a popular dark horse candidate in the Western Conference.
Yao Ming
is back (for 24 minutes a night, at least), and with
Kevin Martin
gunning from the perimeter,
Aaron Brooks
creating problems from the point, and a roster filled with gritty, team-first performers, Houston has a chance to be formidable as long as they stay healthy.
"As long" may last a week, but on day 1 they're good to go.
Other Games
Friday at Phoenix, 7:30 p.m.
A rematch of last year's Western Conference Finals, except these Suns aren't those Suns now that
Amare Stoudemire
has moved on to New York. Phoenix imported a host of players, including
Hedo Turkoglu, Josh Childress
, and
Hakim Warrick
, to try and fill the void. Whether they will remains to be seen. I'm guessing not- defensive questions aside Stoudemire is awfully good- but am not convinced the Suns will slide off the playoff ladder like some poor sap landing on
space 87 in this whimsical children's board game
.
Steve Nash
is still great, and there's enough around him to make the these guys competitive.
Sunday vs. Golden State, 6:30 p.m.
Having just played the Suns, the Lakers ought to be well prepared for Golden State, assuming consecutive games to finish the preseason didn't do the trick.
September, 20, 2010
9/20/10
7:51
AM PT
With training camp around the corner, we asked a group of local and national roundball experts to weigh in on some of the big Lakers questions heading into the 2010-2011 season. Call it a preseason prognosticationpallooza.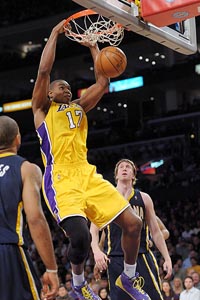 Kirby Lee/US Presswire
Andrew Bynum definitely has the
talent to be an All-Star...
Our panel:
Andy and Brian Kamenetzky (ESPNLA.com Land O'Lakers Blog),
Elliott Teaford
(L.A. Daily News),
Kevin Ding
(O.C. Register),
Kevin Arnovitz
(ESPN TrueHoop),
Eric Pincus
(Hoopsworld),
Chris Clark
(Silver Screen and Roll), J.A. Adande (ESPN.com),
Darius Soriano
(Forum Blue and Gold),
Kurt Helin
(ProBasketballTalk.com),
Mark Medina
(L.A. Times.com), Arash Markazi (ESPNLA.com), and Dave McMenamin (ESPNLA.com)
Today's question:

Will this be the year Andrew Bynum makes the All-Star team?
The Results:
Yes: 7
No: 3
Non-committal: 3

My take:
Tough call.
Amare Stoudemire
migrated east, but
Yao Ming
, armed with a country of voters, should be healthy again. While Drew is definitely among the conference's best reserve candidates,
Marc Gasol
,
Al Jefferson
,
Chris Kaman
, and
Nene
could present viable challenges. (
Pau, Timmy, Dirk, 'Melo, and Durant
are all locks as forwards, so there probably isn't room for two backup fives.) Bynum also needs to stay healthy and look more consistently comfortable alongside El Spaniard. Gun to my head, he gets the nod, but it's not a given.
Other responses:
September, 13, 2010
9/13/10
9:35
AM PT
With training camp around the corner, we asked a group of local and national roundball experts to weigh in on some of the big Lakers questions heading into the 2010-2011 season. Call it a preseason prognosticationpallooza.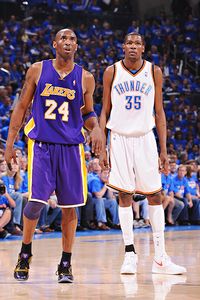 Andrew D. Bernstein/Getty Images
It's a close call, but the majority of our experts panel see Kevin Durant and the Thunder as the team most capable of knocking off the Lakers in a seven-game series.
Our panel:
Andy and Brian Kamenetzky (ESPNLA.com Land O'Lakers Blog),
Elliott Teaford
(L.A. Daily News),
Kevin Ding
(O.C. Register),
Kevin Arnovitz
(ESPN TrueHoop),
Eric Pincus
(Hoopsworld),
Chris Clark
(Silver Screen and Roll), J.A. Adande (ESPN.com),
Darius Soriano
(Forum Blue and Gold),
Kurt Helin
(ProBasketballTalk.com),
Mark Medina
(L.A. Times.com), Arash Markazi (ESPNLA.com), and Dave McMenamin (ESPNLA.com),
Today's question:
Which Western Conference team has the best chance to beat the Lakers in a seven-game series?
The Results:

Oklahoma City
- 5.5 votes
Portland
- 3.5 votes
Dallas
- 2 votes
Houston
- 1 vote, but a lot of love as a serious dark horse

Nobody
- 1 vote
My Take:
Two teams -- Oklahoma City and Portland -- stand out. Both have the ability to make life difficult for the Lakers. A healthy Blazers team has backcourt strength (
Brandon Roy
), a stong wing defender (
Nicolas Batum
) and frontcourt depth (
Greg Oden, LaMarcus Aldridge, Marcus Camby
, plus
Joel Przybilla
, if he recovers from knee surgery). We saw last season what OKC was capable of, and if the Thunder get decent play from
Cole Aldrich
and more development from
Serge Ibaka
(thus beefing up the frontcourt), I'll give them the slightest of edges over Portland, probably because it's hard for me to picture a healthy Portland team.
The wild card? Houston, with
Yao Ming
,
Kevin Martin
,
Aaron Brooks
, and the standard dose of Houston grit, would be no picnic to face.
Other responses:

July, 16, 2010
7/16/10
12:16
PM PT
Brian already examined the biggest threats to the Lakers should they appear in their fourth consecutive Finals
, but before reaching that hallowed ground, a conference must be won. The hoopla that was "Summer 2010" relocated a couple of big names (
Amare Stoudemire
,
Carlos Boozer
), but the west is still the superior conference. Emerging as its postseason kahuna remains tough as ever.
Are the Lakers still the best team left of the Mississippi? In my estimation, yes, but there remain some powerful challengers looking to steal the crown. With free agency's whirlwind largely settled, here's a look at the Lakers' western challengers.
Unless They're Just Plain Cursed, The One Scaring Me Most
Portland Trail Blazers
Heading into last season, on paper, the Blazers struck me as the team posing the biggest threat to the Lakers' top dog status. Then the team was bitten by the injury shark. (A mere bug isn't fierce enough to do this kind of damage). A comical
311 games were lost to injury
, and despite an impressive collective resolve, bad health ultimately derailed the season.
But on the plus side, it's almost impossible by definition to relive this experience. No basketball god is
that
vengeful, right?
The Blazers didn't do much moving or shaking this summer, but assuming the bodies are all present and accounted for, it's the same well-constructed team set to battle the Lakers. Between oodles of length (
Marcus Camby, Greg Oden, Joel Pryzbilla and LaMarcus Aldridge),
available wing defenders (
Nic Batum, Wes Matthews
), penetrating point guards (
Andre Miller
,
Jarryd Bayless
) and
Brandon Roy's
all-around talents, additional fire power wasn't really necessary. Unless an offseason of inexplicable front office firings creates a sour atmosphere, the Blazers can pick up where they left off: More than capable of providing fits for the Lakers.