Los Angeles Lakers:

Zach Lowe
March, 23, 2012
3/23/12
8:57
AM PT
I was working on something like this, but it turns out
Zach Lowe of SI.com not only beat me to the punch, he picked cooler numbers to look at
. The eyeball test shows how much better the Lakers have been offensively since the arrival of
Ramon Sessions
, so it's not all that surprising to see the math tells the same story.
The sample size is small (four games, 100 minutes) and certain numbers are unsustainable (Sessions isn't going to shoot 57 percent, as he's done in purple and gold, for the rest of the year), but early returns are very solid. Writes Lowe:
In the 100 minutes Sessions has played, the Lakers have scored 114 points per 100 possessions, a mark that would lead the league by a mile, according to NBA.com's stats tool. The Lakers have been more efficient in just about every way possible during those 100 minutes, but two micro-trends stick out:

" They have shot many more three-pointers per minute with Sessions on the floor and made them at a very high rate. This is a great thing for a team that has been one of the two or three worst three-point-shooting teams all season, a damaging flaw that prevents the Lakers from spacing the floor and playing the kind of inside-outside game a team with such great post players should be able to play. The Lakers have attempted the equivalent of 20 threes per 48 minutes with Sessions manning the point, hitting 48 percent. In the 92 minutes Sessions has sat during those four games, the Lakers are still the Lakers, clanking away to the tune of 25 percent from deep on just 14.6 tries.

Some of this has to do with personnel. Sessions has spent half his minutes with Troy Murphy and only 12 minutes total with the Pau Gasol/Andrew Bynum duo. This helps explain not just the three-point tries, but also why the Lakers have gotten to the free-throw line much less often with Sessions playing. Sessions has also shared 91 of his 100 minutes with Matt Barnes, with whom he has immediately developed a nice chemistry, especially in transition. But part of this has to do with the simple fact that Sessions can, you know, run a pick-and-roll (usually with Gasol), get into the lane, draw defenders and make good passes....Bryant has shot more often and more accurately with Sessions on the court, per NBA.com. He has attempted 28 field goals per 48 minutes, a giant number that is nonetheless about equivalent to how often Bryant shot before the Sessions deal. But he has shot 46 percent with Sessions, compared to just 33 percent without him over four games and 43 percent for the season, and he has been deadly from three-point range with Sessions running things. Kobe has hit 6-of-10 from deep since the trade, and at least a few of those looks have been more open spot-up chances than he usually gets."
The impact of Sessions on the offense can be measured in other ways, too.
August, 23, 2011
8/23/11
7:19
PM PT

By Brian Kamenetzky
ESPNLosAngeles.com
Archive
Over at SI.com,
Zach Lowe has published his list of the NBA's 100 best players
- ESPN.com's
NBA page is rolling out our edition over the next several weeks
- and as is always the case with this sort of thing the rankings have beget plenty of debate. Locally, some Lakers fans might look at
Kobe Bryant
(#5) and wonder if he's too low, or question a lofty ranking for
Pau Gasol
(#10) following his shoddy postseason. Both are totally legitimate topics of conversation at the water cooler or your local tavern (or your local tavern's water cooler), but as it relates to the team's chances of recapturing a title next season, the exact landing spot for any individual Lakers player on a list like this is totally irrelevant.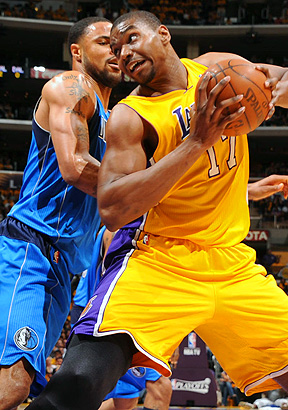 Andrew D. Bernstein/Getty Images
Andrew Bynum is the key to making L.A.'s elite top four elite-ier.
What matters is the total amount of talent on board, and using Lowe's reasonably presented rankings as a guide, the Lakers have plenty of it. Four players in the top 38, including Bryant and Gasol along with
Lamar Odom
(#33) and
Andrew Bynum
(#38, a ranking pinned to the injury-related limitations on Bynum's body of work, not his on-floor potential- Lowe admits the placement could look "ridiculous" by the end of next season if Bynum stays healthy). This constitutes more top 40 players than any other team in the NBA, and while no two writers would arrange the names identically, none of the Lakers are wildly out of place.
The Lakers clearly have the front end talent to win, especially considering their riches in length along with the versatility and skill of their top four. What they lack is reliable depth through the rest of the roster, along with certain skill sets. Once they're again allowed to go shopping, this is where the emphasis should be placed. (For a refresher on L.A.'s needs, click
here
,
here
,
here
, and
here
.) Improvement won't come easy given their salary constraints, but the notion the Lakers need some sort of high end talent injection to ride shotgun with Kobe remains as inaccurate now as it did at the end of the season.