Los Angeles Lakers:

Jeremy Lin
October, 17, 2014
Oct 17
3:49
PM PT
By Baxter Holmes
ESPNLosAngeles.com
Archive
EL SEGUNDO, Calif. – Three-pointers are in. They've been in for a while, too. NBA teams are firing from long range more than ever – a record 21.5 3-point attempts per game last season, which broke the record set the season before that (20), which broke the record set the season before that (18.4). You get the picture.
That figure has steadily risen through the years since the NBA introduced the 3-point shot in the 1979-80 season, but it has skyrocketed of late, especially as advanced statistics have shown it to be a more efficient option on offense, particularly if taken from the corner.
But the
Los Angeles Lakers
are bucking that trend, at least so far in the preseason. Through four exhibition games, they're averaging about seven 3-point attempts and have made just six of 29.
Worse: the Lakers have shot 1-for-19 from long range in their last three games, including going 0-for-8 in their last two.
Even worse: the Lakers haven't made a 3-point shot since the first quarter of their second preseason game – an 11½-quarter drought.
ESPN.com's Tom Haberstroh also found that there are 24 players who have made more 3-pointers this preseason than the entire Lakers team.
Though first-year Lakers head coach Byron Scott admitted that injuries to perimeter players such as
Jeremy Lin
,
Steve Nash
,
Ryan Kelly
and
Nick Young
have hindered their 3-point efforts, Scott didn't hide how he felt about the league's steep rise in long-range attempts.
"You've got a lot of teams that just live and die by it," Scott said after the team's practice here Friday. "Teams, general managers, coaches, they kind of draft that way to try to space the floor as much as possible. But you have to have shooters like that; you also have to have guys that can penetrate and get to the basket, because that opens up the floor."
But does Scott believe in that style?
"I don't believe it wins championships," he said. "(It) gets you to the playoffs."
Seven of the last eight NBA champions led all playoff teams in 3-point attempts and makes.
And it's not as though Scott isn't familiar with the 3-point shot. During his second season with the Lakers as a player, he led the NBA in 3-point field-goal percentage in 1984-85 (43 percent) and was in the top-10 in that category in three other seasons. Scott also ranked sixth in the NBA in 3-point attempts (179) and ninth in makes (62) during the 1987-88 season.
But are the Lakers' low 3-point attempts this preseason a reflection of injuries or of how the Lakers will really end up playing this coming season?
"I don't think that's an indication of what we'll be when we're fully healthy," Scott said. "I think it will still be 12, 13, 14, 15 (attempts per game), somewhere in that area, when we're fully healthy."
Only two NBA teams averaged between 12-15 3-point attempts during the 2013-14 regular season: New Orleans (15.9) and Memphis (14). No team averaged fewer. Houston averaged the most 3-point attempts (26.6), and 20 teams averaged at least 20 attempts per game.
October, 8, 2014
Oct 8
3:35
PM PT

By Arash Markazi
ESPNLosAngeles.com
Archive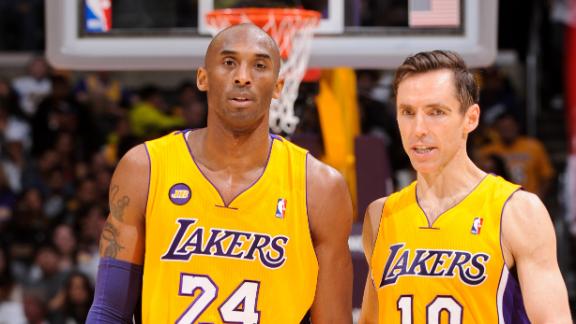 EL SEGUNDO, Calif. –
Kobe Bryant
and
Steve Nash
will start in the backcourt again for the
Los Angeles Lakers
in their second preseason game against the
Golden State Warriors
on Thursday.
Both started together Monday for the first time since March 30, 2013, and Thursday will mark the first time since March 23, 2013 that they will have started a game together at Staples Center.
Lakers coach Byron Scott said both will play limited minutes again after they played around 20 minutes in Monday's preseason opener against the
Denver Nuggets
.
"As we get closer to the end of the preseason we'll ratchet it up a little bit," Scott said. "We're going game by game and day by day. A lot of this is based on how [Kobe] feels. In the last week in a half he says he feels great. He got through training camp feeling really good and he got in great shape."
Bryant and Nash both went through practice with the team Wednesday, but Nash was pulled early, as has been the case during training camp. While Scott believes Bryant can play 82 games and become the 25 points-per-night player he used to be, he has been much more cautious with Nash, who will turn 41 in February.
While the Lalkers will start the season with Nash as the starting point guard,
Jeremy Lin
is effectively the starter in waiting. He will likely play more minutes than Nash and could finish the season starting more games as well, depending on Nash's health.
"He's got to be ready every night," Scott said of Lin. "Every game might be different. That's one of the things we have that we just don't know with Steve right now. Jeremy knows every game he's going to play, but there's going to be games that he's going to start and he's going to have to play a lot more minutes."
July, 11, 2014
Jul 11
6:33
PM PT
It was an injury to
Carmelo Anthony
that led to
Jeremy Lin
's meteoric rise to basketball relevance in New York more than two years ago. Now it appears that indecision on Anthony's part could lead to Lin trying to recapture the magic in Los Angeles.
The Lakers still hadn't heard any official word from Anthony on Friday, according to a league source, when they pulled the trigger on a trade with the
Houston Rockets
to acquire Lin and Houston's 2015 first-round pick in exchange for cash considerations and the rights to an undisclosed player stashed overseas.
[+] Enlarge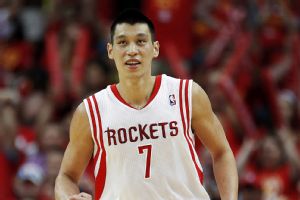 Andrew Richardson/USA TODAY SportsIn addition to providing consistency at point guard, one of Jeremy Lin's biggest assets is his ability to drive to the basket and convert.
While Lin hardly has the reputation now he had back in February 2012 when "Linsanity" reached its height of euphoria thanks to him dropping 38 points on the Lakers of all teams during a Friday night game at Madison Square Garden, it's not as if he's some bum either.
There's no denying that the last we saw of him on the court, Lin struggled. Lin shot just 21.7 percent on 3-pointers in Houston's first-round playoff loss to Portland and was particularly ineffective early in the series, scoring five points on 1-for-5 shooting in Game 2 and four points on 1-for-6 shooting in Game 4 as the Rockets fell behind 3-1 before eventually losing in six games.
But that rough series, combined with the Rockets' preference for Patrick Beverly at the point, ended up clouding the player that Lin really is today.
The fact is, he's a better player than when he was setting the world on fire during that streak with the Knicks. Lin may have averaged fewer points (12.5 compared to 14.6) and assists (4.1 compared to 6.2) last season than he did when he was in New York, but he's more efficient (35.8 percent from 3, up from 32.0 percent, while his attempts have gone from 2.1 to 3.2 per game), more reliable (82.3 percent from the foul line, up from 79.8) and also more in control (2.5 turnovers per game, down from 3.6).
At 6 feet 3, 200 pounds, Lin is a bigger point guard than most think, which perhaps has something to do with his durability. Lin played in 71 games last season and all 82 games the season before that. Having a stable point guard would certainly be a welcome addition for the Lakers after
Steve Nash
,
Steve Blake
and
Jordan Farmar
all missed so many games because of injuries in the last two seasons.
January, 8, 2014
Jan 8
10:50
AM PT
HOUSTON -- After
Kendall Marshall
's impressive 20-point, 15-assist night in his first game starting at point guard for the
Los Angeles Lakers
, coach Mike D'Antoni was so charged by the performance that he likened Marshall to the most surprising success story of his coaching career:
Jeremy Lin
.
The "Linsanity" run during New York's 2011-12 season coincided with a seven-game winning streak by the Knicks, led every step of the way by Lin putting up points and dishing out assists as the starting point guard.
The Lakers are just 1-2 since Marshall took over starting point guard duties last week, but the former D-Leaguer (just like Lin) has been superb, averaging 15.7 points, 12.7 assists and 5.0 rebounds on 56.3 percent shooting in those three starts.
"He's done a great job," Lin said when asked about Marshall after the
Houston Rockets
' shootaround Wednesday in preparation for the Lakers. "He's a phenomenal passer and he's just a smart, smart player. He's definitely taken advantage of the opportunity and all the injuries that they have and really done a great job. So, I think people are happy for him, for sure."
D'Antoni compared Marshall's inauspicious first appearance with the Lakers, when the North Carolina product had four turnovers in six minutes against the
Golden State Warriors
, with Lin's game against the
Boston Celtics
just before his memorable run started when Lin had just two points, one assist, one turnover and two fouls in seven minutes.
"The first time he went out in Boston it was awful, and I'm thinking, 'Oh my gosh,'" D'Antoni recalled following the Lakers' 110-99 win over the
Utah Jazz
last week in Marshall's first start. "Then, obviously it happened to him. It does happen to guys."
A lot has happened to Lin since his days being coached by D'Antoni, most notably signing a $25 million contract with Houston, receiving critical acclaim after releasing the documentary "Linsanity" detailing his rise to fame and just this week, inking a new endorsement deal with Adidas AG.
"We'll still text back and forth throughout the season," Lin said of this relationship with D'Antoni. "He came out and was there for the 'Linsanity' documentary premiere (at the TCL Chinese Theater in Hollywood) and he let me work out at the Lakers' facility when I was down there in L.A. this summer. So, I think we'll always have a special bond just because of everything that happened."
Lin said that D'Antoni's coaching style helped him grow.
"I think he lets guards play through their mistakes," Lin said. "I think he gives them a lot of freedom and creativity and I think he's really good at finding ways to get mismatches on the floor and he's really innovative when it comes to that type of stuff. So, he does a great job and he makes you feel like (you're important). He empowers you, basically."
Lin said that he even notices D'Antoni's coaching influence on the sets that Rockets coach
Kevin McHale
runs in Houston.
"I think in general the league has adopted a lot of what he started," Lin said. "Him and Golden State 'small ball' and stuff like that, you see lot of that just filtering into all different teams right now."
January, 8, 2013
1/08/13
11:51
AM PT
HOUSTON -- It seems like nothing short of a miracle delivered straight from the basketball gods could get the Lakers winning again, with Dwight Howard (torn labrum in his right shoulder), Pau Gasol (concussion) and Jordan Hill (torn labrum in his left hip) out of the lineup indefinitely.
Lakers coach Mike D'Antoni experienced some seemingly divine intervention last season with the Knicks when Amare Stoudemire and Carmelo Anthony went out and the then unknown Jeremy Lin saved the Knicks' season with a hot streak that will be forever referred to as "Linsanity."
Could it happen again for D'Antoni and the Lakers with Robert Sacre?
"I said yesterday Darius (Morris), but it's probably more maybe 'Sacresanity' or 'Sacsanity' has to happen," D'Antoni said following Tuesday's shootaround in preparation for the Lakers game against the Rockets. The coach said Monday that "Morrisanity" could be coming around the corner but hedged a bit Tuesday because Sacre is definitely starting while D'Antoni has not decided, at least publicly, whether Morris or Antawn Jamison will be with the first five.
"We'll see," D'Antoni said. "You know what? Couldn't be a better guy that deserves it because he's over there, he's the most energetic, best guy on the bench that you can have. So, it couldn't happen to a better person as it did to Lin, it couldn't happen to a better person. We'll see. He's got an opportunity. We'll see if it strikes twice."
Sacre, selected with the final pick of the second round of the NBA Draft out of Gonzaga, is averaging 0.5 points and 0.8 rebounds in 4.2 minutes per game in 13 spot appearances this season.
The 7-foot, 260-pound center fared better in the preseason when he filled in for Howard while the All-Star was still recovering from offseason back surgery. Sacre has also produced with the L.A. D-Fenders, the Lakers' D-League affiliate. In five games with the D-Fenders, Sacre averaged 12.0 points, 8.6 rebounds and 1.0 blocks per game.
While his statistics with the Lakers have been negligible, he has managed to contribute to the culture of the team nonetheless. Sacre is already a fan favorite for his "Sacrebrations" on the bench in support his teammates. The 22-year old says his celebratory moves are in part inspired by Yosemite Sam of the Looney Tunes.
"You can't help but notice his spirit," D'Antoni said of Sacre's antics. "If good things happen to good people, we got a good opportunity to have that adage go forward."
Sacre was at the D-League Showcase in Reno, Nevada on Monday when the news broke about the Lakers' big men being injured. With the Lakers' chartered flight already en route to Houston, Sacre had to fly commercial from Reno to Los Angeles and then from L.A. to Houston on Monday night to join the team.
D'Antoni said the Lakers had a longer walk-through than usual on Tuesday to benefit Sacre, but it wasn't necessary to get him up to speed.
"He knew it anyway," D'Antoni said. "That's why he's great. Because he's always practiced hard, kept himself in shape and he's ready to go."
Dave McMenamin covers the Lakers for ESPNLosAngeles.com. Follow him on Twitter.
December, 4, 2012
12/04/12
9:16
AM PT

By Andy Kamenetzky
ESPNLosAngeles.com
Archive
Under the best of circumstances, conventional wisdom dictated the Lakers would require some time to jell. With so many new faces (and at the time, a new offense, which eventually sparked the decision for a new coach), instant chemistry would be a tall order. However, the opening 17 games on the schedule were, in theory, a reprieve of sorts. Home-heavy with few games against contenders from either conference, this slate of contests was made to be exploited ... or frittered away through poor execution, inconsistent play, injuries and periodically middling energy, whichever makes the most sense.
The Lakers are now 8-9 and staring down nine December road games. The first comes against the Houston Rockets, a similarly rebuilt team tasked with coming together on the fly. After a slow start, they're seemingly in better sync these days, having won four of their past five games. Not that the Lakers have earned the right to take any team lightly -- just ask the Orlando Magic -- but Houston may offer a tougher contest than I certainly figured a month ago.
For more perspective on the Rockets, I sent some questions to Rahat Huq, who covers the team for the TrueHoop network's
Red94 blog
. Below are his responses.
Andy Kamenetzky: When these teams met at Staples Center on Nov. 17 for an eventual Rockets loss, Houston was 3-6 heading into the game. They're now 8-8. What's happened to explain this?
Rahat Huq:
Offensively, the Rockets have been playing out of their minds, averaging 113 ppg on 49 percent shooting overall (46 percent from deep) during their current five-game home winning streak. They've also gotten consistent contributions across the board, with all five starters in double figures in each of their past three home games. In the most recent outing against Utah,
seven Rockets finished with at least 13
.
Plus, third-year forward Patrick Patterson has been a revelation. The Kentucky product has put in
at least 20 points in four of Houston's past five games
, scoring from an assortment of spots, including the corner 3. In his past 10 games, Patterson has averaged 17 ppg on 55 percent shooting from the field and 43 percent from behind the arc.
February, 10, 2012
2/10/12
8:07
PM PT

By Brian Kamenetzky
ESPNLosAngeles.com
Archive
Hope nobody got used to that whole "4-2 road trip" thing. Linsanity continued for another night at Madison Square Garden, and the Lakers lost to the Knicks 92-85, meaning with a win over Toronto on Sunday, the best the Lakers can do is 3-3.
On the heels of an impressive win in Boston, it was definitely a disappointing 48 minutes for the purple and gold. Here are five takeaways: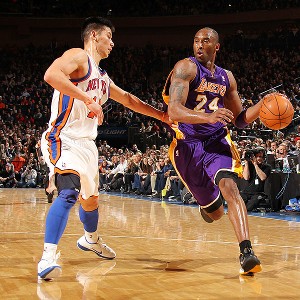 Nathaniel S. Butler/NBAE via Getty Images
Jeremy Lin stole the show from Kobe Bryant Friday at MSG.
1. Andrew Bynum struggled against extra attention.
Mike D'Antoni's
defensive scheme was basically to throw bodies at
Kobe Bryant
on nearly every touch and at Bynum whenever he caught it in the post. While Bynum has shown reasonably steady improvement in working through double-teams, on Friday night, he couldn't get it going. He struggled to anticipate how bodies would be sent at him and from where. Sometimes he went for his shot too slowly, other times too fast, and as the misses mounted, so did Bynum's frustration. In the third, Bynum got the ball on the left block, turned to the basket and found a wall of white jerseys. He made the right play, passing out to the perimeter, but his shoulders dropped immediately. The body language was clear.
By the end, Drew was missing chippies at the rim. He finished with three points, missing all but one of his eight shots.
Defensively, Bynum did his best to seal off the paint and got after it on the glass (13 rebounds), but in a game I'm sure he thought he'd dominate on both ends, things never opened up. In part because ...
2. The Lakers give teams absolutely no reason to lay off the post.
As it was in Boston, the Lakers' 3-point shooting was again suspect, at 6-of-24 overall. And generally speaking, these weren't the hand-in-the-face variety, either. The Lakers simply missed more wide-open triples than any NBA team should. Kobe was 1-for-5,
Steve Blake
1-of-8. If the Lakers can't space the floor, even undersized teams will have the ability to cheat down on L.A.'s bigs and clog the paint.
February, 10, 2012
2/10/12
9:04
AM PT
By The Kamenetzky brothers
ESPNLosAngeles.com
Archive
The Lakers are coming off a quality OT win in Boston, which in theory creates the chance for a 4-2 Grammy roadie. The trek concludes in Toronto against a shoddy Raptors crew after a trip to meet a Knicks team that is missing superstars
Carmelo Anthony
and
Amare Stoudemire
, who weren't exactly laying a winning foundation, anyway. Even acknowledging their three-game winning streak, the shorthanded hosts should play the role of carcasses to the purple and gold vultures, right?
Well, that's exactly what was expected from a recent game in Milwaukee with
Andrew Bogut
and
Stephen Jackson
sidelined. For those with short memories, that emerged an embarrassing Lakers loss. In other words, this game may be imminently winnable, but the Lakers won't be awarded a W by default. They gotta play the game.
For some perspective on the Knicks, we talked to
Jared Zwerling
, who covers the team for ESPN New York. Here are his thoughts on five questions.
Land O' Lakers: Jeremy Lin has been huge during this recent surge. What in particular does he provide that the Knicks were lacking?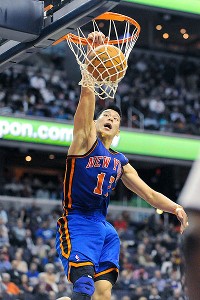 Brad Mills/US Presswire
Linsanity is taking over New York!
Jared Zwerling:
For starters, he's very composed. Lin entered a very challenging situation, as the Knicks were desperate for substantial point guard play. He could have buckled under that pressure in an increased role in only his second year in the league. Not to mention, he's playing for the Knicks, in New York City, scrutiny taken to a whole other level. I was chatting the other day with
Idan Ravin
, one of the top NBA trainers in the world, and he said he's been most impressed with Lin's calmness and selfless approach. Sports psychologists say those are defining factors in superstars. They don't get rattled and make others look good. Lin has excelled in both.
Beyond his mental makeup, Lin's pick-and-roll game has been exquisite. He maneuvers well around screens, is patient and even has the dribbling ability to split double-teams like a
Dwyane Wade
. His standout pick-and-roll game has enabled
Tyson Chandler
more opportunities at the basket and the Knicks' shooters more open looks from downtown. When Lin is on the court, the Knicks are scoring more points in the paint and shooting a higher percentage.
July, 20, 2010
7/20/10
11:09
PM PT

By Brian Kamenetzky
ESPNLosAngeles.com
Archive
July, 19, 2010
7/19/10
5:51
PM PT

By Andy Kamenetzky
ESPNLosAngeles.com
Archive
Our man
Dave McMenamin may not know his "Machine Gun" from his "Rerun,"
but he does know how to track down information. And according to the ESPNLA.com scribe, the Lakers
could be on the verge of offering undrafted Harvard guard Jeremy Lin to a contract.
At 6'3" and 200 pounds, the Cali product -- Palo Alto High, where he won a state championship -- built quite the buzz while playing for the Dallas Mavericks' Summer Pro League team in Vegas. (In particular, after a showdown with number 1 overall pick
John Wall
largely went Lin's way.)
Lin has already traveled an interesting basketball road, having wound up a member of the Crimson
after his successful high school career elicited no D-1 scholarship offers
. On the court, he made the All-Ivy League First Team twice. Off the court, he was editor of the school paper (although presumably kept his nose out of the sports section, as it would be a conflict of interest). This would be yet another noteworthy twist, should he end up part of the Laker roster. While there are steps still in need of walking before we reach this point, here are a few quick thoughts on Lin getting offered a contract, should he and the Lakers actually reach an agreement:
- If the contract isn't fully guaranteed, Lin may be nothing more than a training camp body looking to make his bones. But if the money is secure, I think it sends a potential signal about the roster's direction. McMenamin mentioned Lin as a potential "backup" to
Kobe Bryant
and
Derek Fisher.
My guess is he'd be far back. I'd be stunned if the front office already has Lin penciled into the rotation. All joking aside, the kid has acquitted himself nicely, but
Smush Parker
shredded the Summer League, so perspective must be maintained. I can't speak with absolute certainty about Lin's readiness for a steady role, but even picturing such a scenario feels like a cart considerably ahead of the horse.