July, 7, 2014
7/07/14
2:18
PM PT

By Dave McMenamin
ESPNLosAngeles.com
Archive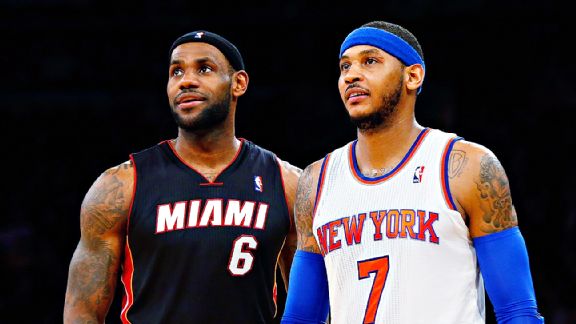 Jim McIsaac/Getty Images
EL SEGUNDO, Calif. -- While the
Los Angeles Lakers
tried to move forward with actual basketball Monday, gathering their group of summer league invitees for the first of a handful of practices before summer league tips off in Las Vegas on Friday, there's still a lot of waiting going on.
Rookie
Julius Randle
, medically cleared by a foot specialist last week to play on his right foot without any further surgical procedures, is waiting to sign his contract before he can participate in the summer league games.
"We'll see," Randle said when asked if he would be suiting up for the Lakers first game against the
Toronto Raptors
on Friday. "It's kind of really out of my hands right now. I'm ready to play whenever, but it's not really in my hands right now."
The Lakers, of course, are waiting to actually ink Randle to his rookie deal as long as they are pursuing
Carmelo Anthony
and
LeBron James
, because they want to keep as much cap space open as possible to facilitate the deals.
ESPN writer and salary cap expert Larry Coon explained the Lakers' reasoning in an email to ESPNLosAngles.com:
"Free agents, first round draft picks and exceptions have 'cap holds' which are used to account for the money that is expected to be spent, reducing the amount the team can spend on other teams' free agents. As the Lakers' first round draft pick (and number seven overall), Julius Randle has a cap hold on the Lakers' books for $2.497,800. If the Lakers were to make a free agent offer to, say, Carmelo Anthony, they can't offer him any of the money that's in Randle's cap hold -- it's set aside for Randle.

"The amount of Randle's cap hold is determined by the league salary scale, however teams can sign their first round picks for up to 120 percent of the scale amount, which means Randle will be eligible to sign for up to $2,997,360. High draft picks almost always sign for the full amount for which they are eligible. As soon as Randle signs his contract, his cap hold goes away and is replaced with his actual salary -- so instead of counting approximately $2.5 million on the Lakers' books, he will count nearly $3 million.

"So when a team like the Lakers is chasing free agents, it makes sense to delay the signing of their first round draft picks. If the Lakers were to sign Randle first (assuming he will get the full 120%, which is a near certainty), they would have approximately $500,000 less to offer a free agent."
Lakers point guard
Kendall Marshall
has also had his patience tested. He's on a non-guaranteed contract for next season worth approximately $915,000. Despite starting 45 games last season for L.A. after being plucked from the D-League, he will be playing on the Lakers' summer league team.
"I feel like I still have a lot to prove," Marshall said of the summer league assignment. "For some reason, there's always a reason why I'm successful or why I'm not successful. So I kind of need to put that doubt to rest and just go out there and prove I can play."