Los Angeles Lakers:

Landry Fields
February, 10, 2012
2/10/12
9:04
AM PT
By The Kamenetzky brothers
ESPNLosAngeles.com
Archive
The Lakers are coming off a quality OT win in Boston, which in theory creates the chance for a 4-2 Grammy roadie. The trek concludes in Toronto against a shoddy Raptors crew after a trip to meet a Knicks team that is missing superstars
Carmelo Anthony
and
Amare Stoudemire
, who weren't exactly laying a winning foundation, anyway. Even acknowledging their three-game winning streak, the shorthanded hosts should play the role of carcasses to the purple and gold vultures, right?
Well, that's exactly what was expected from a recent game in Milwaukee with
Andrew Bogut
and
Stephen Jackson
sidelined. For those with short memories, that emerged an embarrassing Lakers loss. In other words, this game may be imminently winnable, but the Lakers won't be awarded a W by default. They gotta play the game.
For some perspective on the Knicks, we talked to
Jared Zwerling
, who covers the team for ESPN New York. Here are his thoughts on five questions.
Land O' Lakers: Jeremy Lin has been huge during this recent surge. What in particular does he provide that the Knicks were lacking?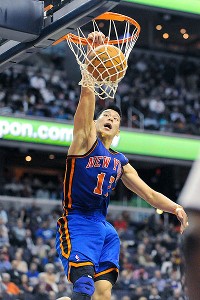 Brad Mills/US Presswire
Linsanity is taking over New York!
Jared Zwerling:
For starters, he's very composed. Lin entered a very challenging situation, as the Knicks were desperate for substantial point guard play. He could have buckled under that pressure in an increased role in only his second year in the league. Not to mention, he's playing for the Knicks, in New York City, scrutiny taken to a whole other level. I was chatting the other day with
Idan Ravin
, one of the top NBA trainers in the world, and he said he's been most impressed with Lin's calmness and selfless approach. Sports psychologists say those are defining factors in superstars. They don't get rattled and make others look good. Lin has excelled in both.
Beyond his mental makeup, Lin's pick-and-roll game has been exquisite. He maneuvers well around screens, is patient and even has the dribbling ability to split double-teams like a
Dwyane Wade
. His standout pick-and-roll game has enabled
Tyson Chandler
more opportunities at the basket and the Knicks' shooters more open looks from downtown. When Lin is on the court, the Knicks are scoring more points in the paint and shooting a higher percentage.
February, 11, 2011
2/11/11
10:27
AM PT

By Andy Kamenetzky
ESPNLosAngeles.com
Archive
Can the Lakers, to use
Kobe Bryant
's typical parlance, "keep the train rolling?" Well, the New York Knicks have improved by leaps and bounds over last season, but they're also reeling at the moment. In the meantime, the Lakers have strung together a couple of weeks' worth of quality ball, and Kobe has a habit of flourishing under the Madison Square Garden lights. The second half of a back-to-back is never an easy task, particularly after a hard-fought win like the one in Boston, but the Lakers' chances certainly don't look bad on paper.
To get an idea of why the Knicks are suddenly sputtering, we contacted
Jared Zwerling, who covers the Knicks for ESPN New York
. Issues include defense inside and along the wing, energy recently lacking and minds occupied by a certain small forward in Denver. No, not
Renaldo Balkman
. The other guy.
Q:
The Knicks are 4-6 in their past 10 games, the most recent loss while hosting an undermanned Clippers team. Is there something specific causing problems? Do you think the Melo Drama plays any role in the struggles?
Jared Zwerling:
Actually, the Knicks are 5-11 in their past 16 games, so they're not even that good. After the Clippers loss last night,
Mike D'Antoni
,
Amare Stoudemire
and
Raymond Felton
all pointed to the fact they've been playing with a lack of focus and energy. I think the
Carmelo Anthony
drama definitely has something to do with that.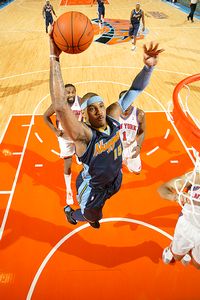 Nathaniel S. Butler/NBAE/Getty Images
Even if the Knicks do get Carmelo, it won't be in time for this game.
For example,
Wilson Chandler
has said flat-out he doesn't want to play in Denver. Imagine if you're an employee of a company, and were just notified they're relocating to another city in a few months you don't want to go to. That's what Wilson and I think several other members of the team are dealing with to a greater extent. Even D'Antoni wants Knicks fans to stop chanting, "We want Me-lo." I'm sure every player has a feeling of uncertainty about where they're really going to be come Feb. 24 -- or even before.
There are other things on the court, too. On the season, the Knicks have a minus-1.4 first-quarter scoring margin average, which ranks them tied for fifth worst in the league with the Nets. They're not coming out ready to play -- it's as simple as that. They especially need that energy to prevent them from becoming a stagnant, shot-happy team. When they get better ball movement, good things happen for the Knicks. When Felton has a double-double in points and assists, they have a strong winning record.
Defensively, a lack of an interior presence and perimeter quickness has hurt. To the first point, I will say I have been impressed with
Timofey Mozgov
's energy and rebounding. After him, though, Stoudemire has no support protecting the paint, and it doesn't help that
Ronny Turiaf
is out with an ankle sprain. But he's really just another energy guy, honestly. Too many times this season, an opposing power forward has gone off on the Knicks.
Luis Scola
,
David Lee
,
Elton Brand
. Even
Carl Landry
!
Kevin Love
had an historic 31-point, 31-rebound night!
January, 8, 2011
1/08/11
11:49
PM PT
It's been a long time coming, but
Lakers vs. Knicks finally has a little cachet again
. New York, after a 3-8 start, now sits at 21-14, having won three straight, including a very strong win earlier this week against San Antonio at the Garden.
Those Spurs, I hear, are pretty good.
PODCAST
Andy and Brian preview Sunday's Lakers vs. Knicks tilt at Staples with Jared Zwerling, contributor to ESPNNewYork.com

Podcast

Nor are the Knicks all that lopsided, having actually won more games on the road (11) than at home. As is customary for a
Mike D'Antoni
squad, the Knicks play fast (averaging a robust 99.2 possessions a game, second in the NBA), pile up points (108.1 ppg, tops in the league), and do it with admirable efficiency (
108.8 points per 100 possessions
, good for third).
Defensively, call it either a work in progress or par for the course with a D'Antoni squad. Either way,
they're in the bottom third in efficiency.
They're also not terribly bulky. Where the Knicks have an advantage with outside shooting and athleticism up and down the floor, the Lakers have more size than New York ought to be able to handle. "They're playing at a high level. Their offense is clicking right along, and seemed to go by the
[Danilo] Gallinari
injury [he'll miss the game with a bad knee] without a hitch.
[Wilson] Chandler
and
[Raymond] Felton
are playing really well, and the addition of
[Amare] Stoudemire
has obviously been a big boost,"
Phil Jackson
said Saturday.
"We have to impose our will on the game. If they impose their game on our team, it's going to be a long night for us. They're going to score a lot of points."
Stoudemire, making an early argument for MVP, is the catalyst for everything the Knicks do, averaging 26.3 points, nine rebounds and 2.3 blocks per game. He's obviously a player with whom the Lakers are familiar, but the rebuilt Knicks as a group are more a mystery. To get a better handle on Spike Lee's crew, we spoke with
Jared Zwerling
, part of
ESPNNewYork.com's
coverage of the Knicks. For his full breakdown, click on the podcast link to your right.
Lovers of the (type-)written word, read on ...
What you need to know about the Knicks, courtesy of Jared Zwerling:
1. They're not a great defensive team, but the Knicks hawk the ball:
"It's their athleticism and length. They're leading the league in blocked shots, and that's just due to great reaction time and athleticism. They might be late on some of the back picks and cutting, but they're getting to the basket quickly and blocking shots.
Ronny Turiaf's
done a great job. Against the Pacers, it was a very tight game but Turiaf had six blocks in that game -- a great one on Darren Collison with about 30 seconds to go which really sealed the game for the Knicks -- so I would credit length and athleticism. But against very skillful, good half-court teams like the Lakers and Celtics, the Knicks struggle a little bit, and I think it's probably due to size, first of all. They're getting beat with bodies. Off penetration, I think the Knicks do a bit of a better job blocking shots off the guards, but against the big guys, that's really where the Knicks have a big hole."
January, 8, 2011
1/08/11
1:03
PM PT

By Andy Kamenetzky
ESPNLosAngeles.com
Archive
Ear candy! Get your fresh ear candy! Here is the latest batch, all scrumdilicious and waiting for consumption. Among the talking points:
PODCAST
The Lakers hit- they hope- rock bottom last week vs. Memphis. Have they truly turned things around? Andy and Brian discuss, plus questions on Kobe's knee, and thoughts on Pau's All Star candidacy.

Podcast

-We recorded before
Friday's victory over the Hornets
, which extended the Lakers' winning streak to three. Is this even more proof that a team once appearing quite vulnerable has turned the proverbial corner?
Honestly, that's probably too bold a statement, considering the small sample size and relative lack of competition, but there are definitely positive signs to build on. Whether you're citing
Ron Artest's
increased comfort,
Andrew Bynum's
increased explosiveness or simply the team's increased focus and purpose, the direction is certainly promising.
-
Peter Vecsey's article about Kobe Bryant's decreasing knee cartilage and practice participation
had the NBA world in a tizzy yesterday, so we naturally weighed in. As far as revelations go, that Kobe tends to observe elements of practice more than not doesn't qualify. This fact has been reported by the local media, if not necessarily hammered home on a daily basis. Bryant recently opting to lace 'em up in El Segundo can motivate teammates and improve on-court chemistry, but we don't expect this to become a regular occurrence. It's simply not practical for Kobe.
As for Kobe's statement his knee is essentially "bone on bone," it's new information in that the guard has never been so specific with details. (If anything, he typically won't talk about the knee, period.) And no question, "bone on bone" sounds ominous and chilling. But when you ponder the situation logically, between all the years under Kobe's belt and the multiple procedures on that knee, it's actually more or less expected. Dude's knee has been through the wringer.
Bryant insisted all is well after the Hornets win (
"Do I look worried?"),
and for the time being, I'm also calm. But the comments do provide legitimate reason to wonder about Kobe's effectiveness over the next few seasons, not to mention respect for how hard Bryant works to stay on the court.
(If you're looking for more medical perspective on Kobe's situation,
listen to Dr. Michael Kaplan's appearance on Friday's Mason and Ireland show
.)
- Is
Pau Gasol,
currently third among forwards for All-Star voting, still worthy of a spot of in light of a fairly unimpressive December and January, scattered high points notwithstanding?
Brian posed the question on the blog yesterday
, and we debate the topic. For the time being, I wouldn't, unless he's serving as a center. But unless he finishes January strong, I've got him behind
Lamar Odom, Kevin Love
and
Blake Griffin
among forwards, and fellas like
Luis Scola
,
Paul Millsap
and a surging
LaMarcus Aldridge
are making strong cases to bump him.