Los Angeles Lakers:

Mike Dunleavy
June, 10, 2014
Jun 10
6:40
PM PT

By Dave McMenamin
ESPNLosAngeles.com
Archive
It was surely a jarring scene for the
Los Angeles Lakers
' fans who turned their televisions to any of a number of sports stations Tuesday morning. There were their former coach and former starting point guard standing in front of a jumbo-sized
New York Knicks
logo, embarking on a joint mission to bring the same championship success they last shared in L.A. in 2010 to NYC.
The Lakers' faithful have had close to three months to digest the news that Phil Jackson won't be coming back through their door for a third stint coaching the team, but seeing
Derek Fisher
become the 26th head coach in Knicks history -- rather than the 25th head coach in Lakers history -- surely had to open up old wounds.
[+] Enlarge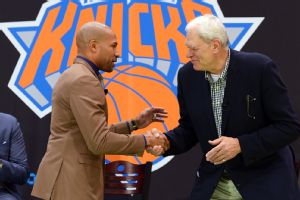 Jennifer Pottheiser/Getty ImagesDerek Fisher, left, and Phil Jackson shake hands Tuesday at a news conference to announce Fisher as the Knicks' new head coach.
The Lakers got out in front of the story over the weekend, with the Los Angeles Times reporting that the team had decided it wasn't interested in Fisher (or any other candidate without previous head coaching experience) and had moved on from the notion of bringing back the five-time champion.
Fisher said otherwise. According to the freshly retired, 18-year veteran, the Lakers indeed expressed interest in him, but he told them he was already so far down the road with Jackson and the Knicks that they shouldn't bother with exploratory talks unless they were ready to talk serious business.
"I was surprised, as some of you were, that they made the announcement they made that they wouldn't pursue me," Fisher said during his introductory news conference. "I don't think they ever intended to. That's fine. I respect it. I never thought of that or tried to compare the two opportunities. This was an opportunity that spoke to me right away. I was excited about that from the beginning."
Whether the Lakers really believe they are better off with a more experienced coach or they were merely saving face to avoid it looking like their former player spurned them for the same guy they had spurned in November 2012 (in Jackson) can be debated.
It is certainly better for the Lakers to make a blanket statement and say they aren't interested in current college coaches or candidates with no head coaching experience in the league than to have the narrative be that a bunch of the guys they had initially targeted -- Fisher, Connecticut's Kevin Ollie, Kentucky's John Calipari, Southern Methodist's Larry Brown, former
Atlanta Hawks
assistant coach Quin Snyder -- all chose to be somewhere other than with the Lakers moving forward.
Ollie and Calipari both inked lucrative deals to stay with their schools -- five years, $14 million for Ollie and seven years, $52 million for Calipari. This after Calipari turned down a Godfather-type deal from Cleveland that would have netted him close to $80 million over 10 years, according to ESPN.com's Marc Stein. Brown told USA Today Sports that he wasn't interested in L.A. because his goal is to capture another NCAA national championship to pair with the one he won with Kansas in 1988. And Snyder, who was previously a Lakers assistant under Mike Brown, was hired to coach the
Utah Jazz
last week.
December, 6, 2011
12/06/11
10:58
AM PT
Sometimes only certain players can adequately answer a team's "Help Wanted" ad.
The Lakers, for example, don't have an amorphous need for someone with good handle and passing skills, but a genuine need to upgrade at point guard, which can only be satisfied with a point guard. Unfortunately for them (but fortunately for me, at least in regards to this post), the free agent rolls at the 1 are so thin and their means of improving the roster so limited, for the Lakers to solve that particular problem through a straight signing is basically impossible.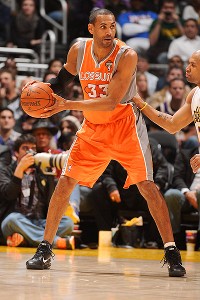 Andrew D. Bernstein/NBAE/Getty Images
On the list of players L.A. has even a reasonable chance to sign, Grant Hill fills a lot of needs. Plus, he plays the piano.

Other needs remain relatively position specific, but it's easy to get bogged down in the classification on a player's bubble gum card and lose something often far more important: Skill set. Much of what the Lakers can use might be provided just as easily from a power forward as a shooting guard.
What follows, then, is the Skill Set Guide to Free Agency. I limited this list to players the Lakers might realistically have a chance to sign with only a mini mid-level (worth just over $9 million for three years) and veterans minimum deals,
all relatively disheartening stuff when pitted against the excitement of Chris Paul/Dwight Howard talk
.
But let's assume for a mundane minute the Lakers have to improve without blockbuster trades. They have a lot of boxes to tick, and in the end the players ticking the most good ones might be best, even if positionally the fit isn't perfect.
SHOOTERS -
Players who can help stretch the floor in one way or another...

•
Grant Hill, F, UFA (Phoenix)-
Not traditionally thought of as a shooter, Hill has in his last two seasons shot 39.5 and 43.8 percent from 3, and is a high end mid-range shooter, both of which would come in handy.
•
Shane Battier, F, UFA (Memphis)-
Big on the corner 3, generally in the mid-to-high 30 percent range from downtown. Not a deadeye, but limits poor shot choices.
•
Mike Dunleavy, G/F, UFA (Indiana)-
In theory, at least. In the last two seasons in which he was (more or less) healthy, Dunleavy was strong from downtown and in long twos.
•
James Jones, SF, UFA (Miami)-
Per John Hollinger, Jones took exactly one shot at the rim in over 1,500 minutes. Why? He's shooting lots and lots of 3's, with a career mark at 40 percent.
•
Peja Stojakovic, SF, UFA (Dallas)-
Certainly showed Lakers fans he can still bomb away. When healthy doesn't dip far below 40 percent from 3, often rises well above.
•
Daequan Cook, SG, RFA (Oklahoma City)
- Hit 42.2 of his 3's last year. Has advantage of youth, as well.
•
DeShawn Stevenson, SG, UFA (Dallas)-
In his last two healthy seasons ('07-'08, '10-'11) was around 38% from beyond the arc.
•
Jason Kapono, F, UFA (Philadelphia)-
Does almost nothing else well, but as a career 43.7 3-point shooter can space the floor.
(NOTE: Kapono has already visited with the Lakers)
•
Reggie Williams, SF, RFA (Golden State)
- Almost surely out of L.A.'s price range, in part because he's 25 and shoots so well from downtown (42.3% last season).
•
Marco Belinelli, SG, UFA (New Orleans)
- Never worse than 38% from 3 during his four year career, and solid with long 2's, as well.
•
Anthony Parker, G, UFA (Cleveland)
- From 3, he's trending down from 44.1 percent in '06-'07 to 37.9 percent last year, but remains a productive performer from distance.
•
Michael Redd, G, UFA (Milwaukee)
- It' almost impossible to predict how the market will treat Redd, who was once a top shooter/scorer but has basically lost the last two seasons due to injury.
•
Other candidates: Vladimir Radmanovic
(seriously),
Mo Peterson
(in theory, though recent shooting numbers are very questionable),
Steve Novak
,
Roger Mason Jr
. (see Peterson, Mo).
FRONTCOURT DEPTH
- Guys who can the burden on Pau Gasol and Andrew Bynum...
July, 22, 2011
7/22/11
3:54
PM PT
By the Kamenetzky Brothers
ESPNLosAngeles.com
Archive
It was a lively afternoon on Lakers Late Night!
First, we talked about
Andrew Bynum
. Not so much the parking issue, but whether there could be a conflict next season between Bynum's ambition and the established hierarchy of the team. From there, we hit on the hole that was small forward last season, and how the Lakers might fill it. Can
Ron Artest
rebound from a poor 2010-11 season, or
do they have wade into the free agent pool?
July, 22, 2011
7/22/11
10:28
AM PT
If there was a benefit to last year's bottom-of-the-barrel production at the point, it's that it provided a nice distraction from the relative wasteland at small forward.
Purple and gold 3's ranked 23rd in efficiency differential
, 25th in field goal percentage, and 19th in 3-point percentage. This despite that
Kobe Bryant
guy soaking up some minutes there. The main combination of
Ron Artest
and
Matt Barnes
wasn't up to snuff. Some of it was circumstance:
Barnes was playing well
, providing more or less exactly what the Lakers expected (offensive rebounding, off-ball movement, energy, defensive effort) until hurting his knee in January, and never fully bounced back. At least he had an excuse. Artest, healthy enough all season,
fell off at both ends of the floor relative to his first year in L.A..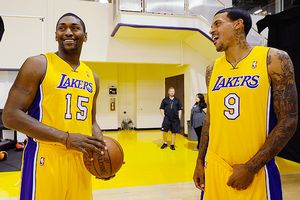 Kevork Djansezian/Getty Images
The combination of Ron Artest and Matt Barnes didn't exactly set the world on fire last season.
It's reasonable both to expect a healthy Barnes to once again look more or less like the perfectly useful player he was starting last season and to wonder if Artest's slide will continue. A new system could benefit Ron Ron, but then again, it isn't the system making it tough to slide a deck of cards under his feet when he jumps. The decline in his explosiveness is worrisome. How the Lakers might juggle things if they're willing and able to add another small forward is an outstanding question, but fair to say from a productivity standpoint, even if Barnes bounces back there's room for improvement.
As it was with the shooting guards
-- some of whom could also slide to the 3- the free agent rolls provide a few
pinkie-to-the-mouth
options.
Here's how it breaks down:
THE YOUNG, INTRIGUING, AND TOTALLY UNREALISTIC
Thaddeus Young (Restricted Free Agent, Philadelphia)
Wilson Chandler (RFA, Denver)
After showing promise in his rookie and sophomore seasons, Young seemed to backslide in his third year. Fair to say he ended that trend in his fourth. As a guy who drafted Young in the late rounds of his fantasy draft, I can attest firsthand how well he played last season. Career highs in field goal percentage (54.1) and points per 40 minutes (19.6) and an improved rebound rate. Only 23, Young is a great athlete who should continue improving. Some might say he's more accurately listed as a power forward. For our purposes here, I say the distinction is irrelevant, because the Lakers can't afford him. Philly has made a $4 million qualifying offer, and would easily match whatever L.A. can present. Chandler, young, athletic, and smooth to the bucket (with an improved outside shot) is also not a viable option, financially.
IF YOU SQUINT HARD ENOUGH, IT'S SORT OF POSSIBLE TO SEE THE POSSIBILITIES
Caron Butler (Unrestricted Free Agent, Dallas)
He's coming off a major knee injury, right? Teams will be scared off, right? And Butler, with good skill offensively and tenacity at the other end, was tight with Bryant during his one year in L.A., right? He'd be a nice fit playing a supporting role for a good team, like he did in Dallas last season, right?
May, 26, 2011
5/26/11
11:25
AM PT
I'll cop to some healthy skepticism about his skills, his overall qualifications and, particularly, his fit with the current roster when
I learned Mike Brown would be the next head coach of the Lakers.
PODCAST
Andy and Brian discuss new Lakers coach Mike Brown with ESPN.com's Brian Windhorst. Windhorst covered the Cavaliers for the Cleveland Plain Dealer while Brown was the coach.

Podcast

Admittedly, it was based on an outsider's viewpoint. I certainly watched a fair share of Cavs games when Brown was the coach, but at no point was I a dedicated follower of the day in, day out, insider business of Cleveland basketball. My knowledge was shallow. Conversations with people who know more about Brown and his tenure there, including these with
TrueHoop's John Krolik
and
ESPN.com's Brian Windhorst
left me feeling better about his qualities as a coach and the results he was able to wring out of his teams. The resume he brings is strong, particularly relative to the field of available candidates.
Still, real questions remain, from how Brown's coaching philosophies mesh with current Lakers personnel to his ability to guide a more-or-less ready-made product filled with strong personalities individually and a long history collectively. (On the flip side, zero questions remain about Brown's ability to knock a job interview out of the park. He should write a book.) I wonder about the process by which he was hired and, even while acknowledging some of the drawbacks of
Brian Shaw
, what seems to be a driving need to sever the Lakers so cleanly from the
Phil Jackson
era.
Jim Buss
clearly
sought to make a statement
. Only time will tell if he did so for sound reasons.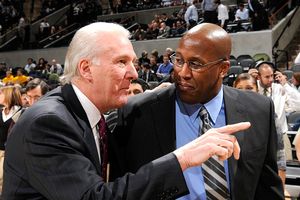 D. Clarke Evans/NBAE/Getty Images
Do you trust the guy on the right? What about the guy on the left? He's one of the guys who taught the guy on the right.
Nonetheless, the days of Mike Brown are here, and with them come a whole host of questions. Here are a few:
1. What will Brown do with the offense?
As Windhorst noted, give the offense to someone else to run. Among the members of his staff will be an "offensive coordinator." The idea the Lakers can't have a productive, high-end attack with Brown at the helm is belied by Brown's last two years in Cleveland, where his teams finished
4th
and
6th
, respectively, in efficiency. While his rep is rightly on the defensive side of the ball, Brown doesn't have a moral opposition to scoring points. The ineptitude of Cleveland's offense in Brown's early years can be attributed in large part to personnel.
Some of those guys just weren't very good. He won't have that problem in L.A..
It's hard to determine exactly what sort of attack Brown and his staff will look to create, but he was with
Gregg Popovich
in San Antonio when the Spurs were a frontcourt-driven team. While the triangle is no more, as Jackson and his staff frequently noted, many of the offense's principles exist in other systems and approaches, including the Spurs'. I'd be surprised if Brown and his staff try to completely reinvent the wheel with the Lakers. Expect an approach taking advantage of the team's strengths -- length, versatile ball movers, intelligence -- in similar ways.
Particularly given the likelihood of a shortened regular season, with compressed practice schedules and abbreviated training camps, teams able to hit the ground running will have an advantage. Again, that puts a premium on continuity and playing to strengths the team already has.
2. How will he get along with Kobe Bryant?
Welcome to the eleventy-billion dollar question.
May, 24, 2011
5/24/11
8:56
AM PT

By Andy Kamenetzky
ESPNLosAngeles.com
Archive
With each passing day, the anticipation builds as to
Phil Jackson's
eventual successor.
Despite a disappointing final season in L.A.
, PJ obviously leaves massive shoes to fill. The primary names reportedly in the hat include
Brian Shaw
(
who also interviewed with the Warriors
),
Chuck Person
,
Mike Dunleavy
,
Rick Adelman, and Mike Brown
, with perhaps even more to surface.
In an effort to compare two of the candidates, I gave a call to former Laker
Josh Powell
, who spent a season under Dunleavy with the Clippers before his two in purple and gold. Powell, who felt his time with Dunleavy helped prepare him for some occasionally important minutes during two title runs, offered thoughts on the very different systems of Dunleavy and Shaw (should he continue running Jackson's system as expected), plus the way the two communicate.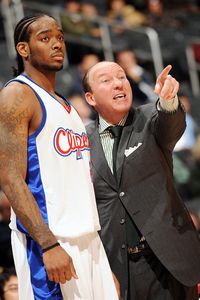 Win McNamee/Getty Images
Powell had to learn a boatload of plays under Dunleavy, but also got his first taste of extended minutes.
Powell, on the differences in the systems of Dunleavy and Jackson
"With Coach Dunleavy, he's more of [a deliberate] execution, in terms of slowing the game up and calling out more plays and just control from that standpoint. Which isn't a bad thing. It's just his method and his way of doing things, controlling the flow of the game.
"Phil has a different approach from the standpoint of he allows the players to be in much more control of what things are being run and executed out there on the court. Of course, during time outs or certain situations, he wants to come up with a play. But more so than not, he definitely puts that responsibility on the players."
On how long the differences between Dunleavy's and Jackson's systems took getting used to
"It didn't throw me for a loop. It's something to get used from that standpoint, because you're literally out there with the guys just calling and running through the plays. The triangle is a different offense, because it's not necessarily things that are called. It's just based on where the ball goes and things like that. We were just out there going with the flow. It was definitely great. I got used to it very quickly."
On whether Dunleavy's playbook is as thick as rumored
"He definitely has a large playbook and at the same time, everything is all with numbers. So that took a while to getting used to. But once you get used to the sets and everything, that's pretty much easy. Just like any other offense, once you start going through it, it becomes second nature. It's nothing."
On how long it would take for the Lakers, especially those who've been in the triangle for years, to get used to a more conventional system
"I'm sure it'll be tough, because you have an offense that basically dictates itself from the standpoint of its continuous movement. Nothing stops one other thing. And when you go to a [more conventional] set, if that option runs out, then you gotta be creative, you know? You're going from something that's continuous to now, you have to call a play. You run through that play. The first option doesn't work. The second option doesn't work. 'Oh, no. What do you do?' You gotta be creative, from that standpoint.
"Either way, that organization, they're very talented with the group of guys that they have. I'm sure that they'll find a way to make it where that group is successful.
May, 20, 2011
5/20/11
10:21
PM PT
By the Kamenetzky Brothers
ESPNLosAngeles.com
Archive
May, 13, 2011
5/13/11
3:01
PM PT
Ramona Shelburne and Dave McMenamin reporting
:
"The Los Angeles Lakers have had to replace two coaching legends in the last 20 years: Phil Jackson and Pat Riley. The only time it's worked out well, the team turned to Mike Dunleavy. They're thinking of doing the same again this time. Dunleavy was contacted by the team this week and is said to be on the team's current "short list" to succeed Jackson, according to a source with knowledge of the situation...

...Dunleavy is currently awaiting judgment in his arbitration hearing with the Los Angeles Clippers, who stopped paying the balance of his contract after they fired him as general manager last year. Dunleavy earlier had resigned as coach after going 215-326 with the Clippers. Though his recent history with the Clippers was unsuccessful, Dunleavy is still viewed as a strong tactician with an impressive history of postseason success. He was the NBA Coach of the Year in 1999 with the Portland Trail Blazers.

The Lakers have always thought fondly of the job he did in replacing Riley in 1990, leading the team to an upset over the Trail Blazers in the 1991 Western Conference finals before losing to Jackson's Chicago Bulls in the NBA Finals. Dunleavy has maintained a friendship with Lakers owner Dr. Jerry Buss and his son, Jim Buss. As recently as last year, he watched Lakers games with Buss from his suite at Staples Center. He also has a long history with Bryant, whom he courted and nearly convinced to join the Clippers as a free agent in 2004..."
Dunleavy's name is
one that came up relatively early in the process
, thanks to the good relationship with ownership and management referenced in the story, as well as a decent history in the league. Still, it seems very unlikely the Lakers would actually go his direction. For one thing, from a P.R. standpoint, it would be a nightmare. While he's had a great deal of success over the course of his career, Dunleavy is far too closely associated with the Clippers to make this work. The citizenry would storm the castle. It's not necessarily fair, but for a team like the Lakers, this sort of thing matters.
Moreover, stylistically Dunleavy seems a poor fit. He's more a micromanager, keeping a tight grip on everything on the floor. Beyond the idea that the Lakers have a versatile roster filled with high I.Q. guys deserving of more latitude, I don't know if Dunleavy and
Kobe Bryant
would mesh all that well together, despite what appears to be a perfectly cordial relationship. Granted, his approach could be different with a veteran group like L.A.'s but it still seems like a bad idea.
The Lakers could very well be doing Dunleavy a solid, helping get his name out there to pump up interest in other open jobs around the league. I can't imagine he'll actually be the guy here, when the dust settles.
January, 15, 2010
1/15/10
10:22
PM PT
Stephen Dunn/Getty Images
The Lakers won so easily Friday night against the Clippers, Kobe Bryant had time to hand-buff Lamar Odom's head to a fine polish.
Back in the salad days of the 2009-10 season, when the biggest problems for the Lakers came from beating teams by 16 instead of 26, the purple and gold routinely came out of the locker room after halftime and blew the proverbial doors off the opposition, crushing spirits and giving fans ample time to complain about the end of the bench. Those days weren't so long ago to call
Friday's 126-86 win over the Clippers at Staples
"Turn Back the Clock Night," but insofar as something happening six or so weeks ago can be viewed with nostalgia, the evening's events must have felt positively Rockwellian for the Staples crowd.
The Lakers generally controlled the first half against a
Chris Kaman
-less Clippers squad, but the LAC used an 11-0 run to start the second to turn a 28-25 Lakers lead into an eight point advantage. The Lakers chipped away and finished the half up by three, but at the very least gave the red, white, and blue reason to believe they could turn tonight
into Upset 2.0.
That ended coming out of the break.
Quickly.
January, 15, 2010
1/15/10
9:28
AM PT
We may have spent the weekend trying to figure out exactly what sort of title and power Pete Carroll will have over the Seahawks- we may still be trying to figure it out, actually- but while "total control" is a major buzz-phrase across sports, at least for one high profile guy, coaching is enough. Before last Friday's loss to the Clippers, Phil Jackson was asked if he'd ever want the sort of centralized control held by LAC coach/GM Mike Dunleavy.

"No," he said. "(General manager is) a very difficult job, and I'm thankful that I've never had to do that."

PJ's distaste for a role in upper management goes beyond the burden of clocking extra hours at the office. Even when he's done walking (metaphorically, for the most part, in his case) the sidelines, a management job isn't on Jackson's radar. "I have no interest in that. I don't want to have to deal with agents. I don't want to have to lie. Those are things you don't feel you want to do." Jackson quickly tried to soften a fairly harsh statement, likely because he didn't want to insult so nakedly GM's across the league (including his own, presumably).

Sort of.

"I don't want to just throw it out there, "lie," but you have to do (some) negotiating with truth a lot of times in that situation. I don't like that."


January, 7, 2010
1/07/10
10:11
AM PT

By Andy Kamenetzky
ESPNLosAngeles.com
Archive
Andrew D. Bernstein/NBAE via Getty Images
Baron Davis led the Clippers to a win over the defending champs.
The purple and gold entered Staples Center a consensus fave against L.A.'s "other team," what with a superior record, ownership of nine consecutive wins against their local rival, franchise history firmly on its side, yada, yada, yada. This chatter has gotten to Clippers coach
Mike Dunleavy
--particularly when generated on 710 ESPN, it would appear
-- who thinks talking heads haven't taken into account enough his team's injury history over the years. (And lord knows Dunleavy's done his best to tell people about it whenever possible, so those reminders falling on deaf ears is understandably frustrating.) Now at full strength --save
Blake Griffin
-- he thinks the Clips can hang with the defending champs. Certainly appeared a believable theory last night, if nothing else.
Of course,
the Lakers are dealing with health issues of their own right now
.
Kobe Bryant's
sprained right index finger.
Ron Artest
kicking off the cobwebs from a concussion.
Lamar Odom, Josh Powell and DJ Mbenga
shaking various bugs.
Luke Walton
out with a back injury. And of course,
Pau Gasol,
day-to-day with a hamstring injury. The Lake Show largely succeeded over its opening eleven games sans the services of El Spaniard, but didn't emerge a beatdown-handing juggernaut until he was back in the fold. The O.C. Register's
Kevin Ding
felt this game served as a harsh reminder of that reality, one not lost on many a scribe. My brother felt
Gasol's ability to move the ball is desperately missed in an offense turned gummy
and Ball Don't Lie's
Kelly Dwyer
was often
astonished by the lack of flow
:
And while I salute the Clippers for bringing the defensive intensity, the Lakers more or less abandoned their sideline triangle for either a series of fruitless screen and roll attempts (you're telling me anyone has to guard a Ron Artest and Josh Powell two-man game?), or Kobe Bryant one-on-one rat-a-tat. Kobe was brilliant in this game's third quarter, scoring 17 points with two assists, but it was fool's gold. He kept trying to score on isolation or screen/roll plays after that, good shots rimmed out or wouldn't fall, and the Lakers never got back into a rhythm after that. I'd say the team missed Pau Gasol and his work in the apex, but in a stadium with Kobe, Phil Jackson, and Derek Fisher(notes), this team should have known better.
December, 19, 2009
12/19/09
10:51
PM PT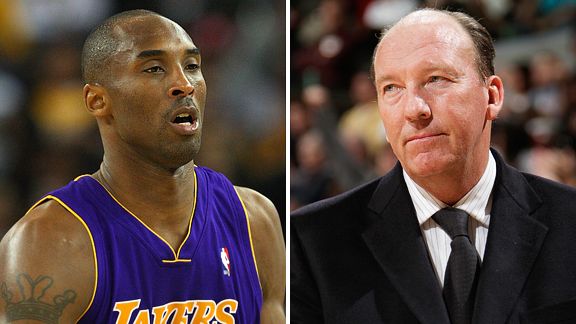 Kobe Bryant: Credit Jed Jacobsen/Getty Images, Mike Dunleavy: Credit Ron Hoskins/NBAE via Getty Images
Kobe Bryant against the Golden State Warriors, Nov. 28, 2009. Mike Dunleavy vs. the Pacers, Nov. 25, 2009.
"Kobe went through a stretch after we tried to get him (after the 2004 season), where I didn't love the way he played. Maybe it was the pressure of that whole situation, but I didn't think he played as good of a teammate. The one area that I thought he might have been falling short was in the leadership capacity.n the sense that I'm not sure his teammates liked him. To get the most out of everybody, I think your teammates really have to like you, and they really want you to succeed. That's the best chemistry you can have. The last two years, that's changed back to where I love the way he plays. Tremendously, in everything he's doing. Whatever it is, I feel like he's changed. He understands that leadership role, that dynamic better. Or he has more confidence in those guys that they can do it with
Pau Gasol
obviously. But right now, I love the way he plays."
More Evolution of Kobe Bryant:
--Mike Dunleavy is the coach and general manager of the Los Angeles Clippers, and coached the Trail Blazers during their epic seven-game Western Conference Finals in 2000.