NFL@L.A.:

New England Patriots
January, 24, 2012
1/24/12
8:34
PM PT
New gig: Allen was hired as the Raiders' head coach Tuesday night.

Previous job: He was the defensive coordinator in Denver for the past season.

Age: 39. Allen will be the NFL's youngest active head coach — six months younger than Pittsburgh's Mike Tomlin.

Coaching history: From 2002-10, he was an assistant in Atlanta and New Orleans.

Playing history: He was a standout safety at Texas A&M and earned an invitation to Buffalo's training camp in 1996.

Known for: He is an aggressive, smart coach who has seen several players develop under his guidance.

Did you know? New England coach Bill Belichick is the only other active NFL coach who was hired directly from a division rival. He was with the Jets prior to joining the Patriots in 2000.
October, 7, 2011
10/07/11
7:35
PM PT
Each Friday we will update you on the four NFL teams most likely to move to Los Angeles; ranking them in order of the likeliest to call L.A. home within the next few years.

1. SAN DIEGO CHARGERS (3-1)
•
Last week:
San Diego beat the Miami Dolphins 26-16 at Qualcomm Stadium. It is only the second time since 2002 that the Chargers have started the season 3-1 and they have done it by defeating three winless teams. After so many years of starting the season slowly, however, the Chargers will take their fast start anyway they can get it. "The only thing faster would be 4-0," Chargers quarterback
Philip Rivers
said. "It's a little faster than it has been around here. It's usually a flip of 3-1."
•
This week:
The Chargers finally face a team that has won a game, although the 1-3 Denver Broncos aren't exactly a juggernaut. San Diego will travel to Denver Sunday afternoon for an AFC West game and a win would give the Chargers a three-game winning streak and a 4-1 start to the season for the first time since 2006. Rivers, who had thrown six interceptions through the first three games of the season, finally went a game without throwing a pick but the team is still 16th in the NFL in red-zone efficiency, scoring eight touchdowns on 17 trips inside the 20-yard line.
•
L.A. Story:
Chargers special counsel
Mark Fabiani
is still pushing for the public to largely finance a football stadium in downtown San Diego, which would also serve as an extension to the San Diego Convention Center but after having the idea criticized by politicians and convention center officials, all involved the parties have "clammed up." San Diego Mayor
Jerry Sanders
, convention center spokesman
Steve Johnson
, Sanders' stadium point man,
Fred Maas
, spokesman for San Diego's hoteliers,
Mike McDowell
, and Fabiani all
declined to speak to the San Diego Union-Tribune
about the project this week. "It's time to have the discussion, but nobody wants to convene the discussion," Tom Lemmon , business manager for the San Diego County Building and Construction Trades Council, AFL-CIO, told the Tribune.
October, 2, 2011
10/02/11
7:38
PM PT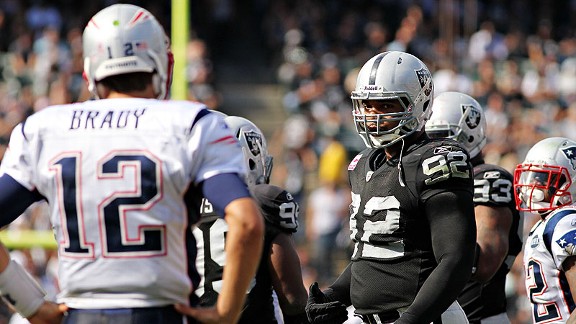 Cary Edmondson/US PresswireOakland defensive end Richard Seymour racked up three penalties in a loss to the Patriots.
OAKLAND – The Oakland Raiders' loss to the
New England Patriots
isn't devastating in the grand scope of the season.
Oakland is now 2-2 and trails San Diego by one game in the AFC West. Not being ready to hang with
Tom Brady
and friends is not the end of the world for a program that is growing early in the season. The Raiders still can be good in 2011.
But what the
31-19 loss
to the Patriots did show the Raiders is they are not yet ready to be considered a top AFC team. They can get there and now know exactly what they have to do to take the next step.
They must play better defense, they most stop the self-destructive penalties and quarterback
Jason Campbell
has to play mistake-free.
All three areas were major issues for Oakland in a game where it simply couldn't keep up with a better team.
"We just didn't play well," Oakland coach Hue Jackson said. "That's the way it is."
New England's offense moved the ball at will. Brady, who was more efficient than electric Sunday, threw for 226 yards and the Patriots ran for 183 yards. New England spark-plug receiver
Wes Welker
picked on a young, hurt secondary as he caught nine passes for 158 yards. The Raiders have now allowed 113 points in the first quarter of the season.
Oakland helped the Patriots by committing nine penalties for 85 yards. The Raiders, who have been the most penalized team in the league in recent years, have committed at least seven penalties in each game this season.
Campbell endured his first poor game of the season even though he passed for 344 yards. Campbell, who has been efficient, threw two terrible interceptions. An interception in the second quarter in the end zone by New England safety
Patrick Chung
was the turning point of the game. Campbell threw the ball right at Chung.
"I don't make those kind of mistakes," Campbell said. "As soon as a I threw it, I said, 'Oh shoot, I hope he drops it.'"
It wasn't dropped. However, Oakland did drop an opportunity to show the Patriots and the rest of the conference it is ready to make a serious run at the playoffs for the first time in nine years. Oakland came roaring into this game off the glow of a tremendous win over the
New York Jets
last week at home.
The Raiders were opportunistic and authoritative in that game. They dictated the game. That never happened Sunday.
Oakland knows it has shoring up to do.
The mood in the Oakland locker room after Sunday's game was as it should have been. It was quiet, but there was not an air of despair. The Raiders know they were outplayed Sunday and they know their mistakes were too plentiful. But they aren't packing in it because of a loss on October 2.
"One game doesn't change a season, but we do need to play better," said Oakland defensive end
Richard Seymour
, who was clearly fired up to play the team that traded him two years ago. Seymour committed two 15-yard penalties on the Raiders' first defensive drive. He added another 5-yard penalty later.
"They outplayed us. We couldn't make enough plays. But we can fix those things," Seymour said.
Oakland's most urgent issue to address is the defense. There are talented players on this unit, however, it continues to get gutted in both the run and passing game. If Oakland's stellar defensive line doesn't harass the quarterback, the Raiders' defense fails. Brady was sacked just once and he was hit just four times Sunday.
[+] Enlarge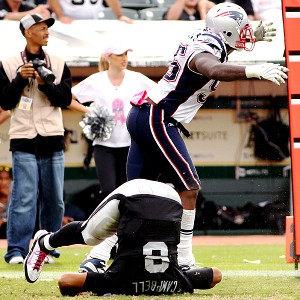 Cary Edmondson/US PresswireJason Campbell had his worst game of the season in a loss to the New England Patriots.
New England kept Oakland off balance because it passed and ran the ball so well. According to ESPN Stats & Information, the Patriots ran for 174 yards on 21 carries (an average of 8.3 yards per carry) when the Raiders played seven or fewer defenders in the box. The Raiders entered the game allowing 6.6 yards per carry in those situations, which led the league.
Oakland was no better against the pass. They had no answer for Welker. This secondary has been picked on all season. Opponents -- beginning at potent Houston next week -- will continue to peck away Oakland's secondary until the Raiders prove they can make stops defensively.
Jackson and defensive coordinator Chuck Bresnahan have a lot of work to do, or the Raiders will simply have to outscore opponents all season.
Campbell wasn't up to that task Sunday. Once the Patriots started taking control in the third quarter, it was evident the Raiders couldn't keep up. According to ESPN Stats & Information, Oakland sputtered deep in New England territory. Campbell completed just 54.5 percent of his passes inside the Patriots' 35-yard line. He completed 67.9 percent of those passes outside New England's 35.
"We'll learn from this game," Campbell said. "That's the good thing."
This game will provide plenty of coaching points for Jackson and his staff this week. These Raiders now know what they can't get away with against the NFL's elite teams.
October, 2, 2011
10/02/11
7:32
PM PT
OAKLAND – A look at
a down day
for the Raiders:


What does it mean:
The Raiders aren't ready to compete with the game's elite. Not yet, at least. After an impressive win over the
New York Jets
last week, the Raiders were handled pretty easily by New England. The Raiders need to clear up mistakes or its playoff hopes will be dimmed at some point. Oakland is heading in the right direction, but it hasn't arrived yet.
Tomorrow's talker:
The Raiders' defense is a problem. It couldn't stop the Patriots on the ground or in the air. New England had 410 yards of total offense. Defense has been a problem in the early season for the Raiders. It has to be addressed. There is too much talent on that side of the ball for it to get routinely gashed. The least amount of points the Raiders have allowed the season is 20.
Trending:
This was Oakland quarterback Jason Campbell's worst game of the young season. He has become a solid game manager. Sunday, Campbell threw two terrible interceptions, including a crucial pick in the end zone late in the second quarter, which was the turning point of the game.
Keep your cool, Richard:
This game clearly meant something to Oakland defensive end
Richard Seymour
. It was the first time he played New England since it traded him to the Raiders in 2009. He had two 15-yard penalties on the Patriots' first offensive drive of the game and he added another five-yard penalty. Seymour is Oakland's leader. I know he was amped, but he has to keep better composure.
What's next
: The Raiders finish a tough three-game stretch at Houston next week. The challenge doesn't get any easier for the Raiders' challenged defense.
September, 18, 2011
9/18/11
8:16
PM PT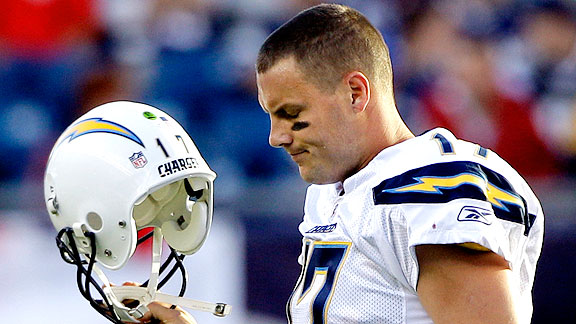 AP Photo/Stephan SavoiaSan Diego quaterback Philip Rivers was out-played by New England quarterback Tom Brady in a loss on Sunday.
FOXBOROUGH, Mass. -- I have written several times this year that
Philip Rivers
is the best player in the NFL who doesn't own a Super Bowl ring.
Sunday, he showed he may not be quite ready to shed that complimentary, yet potentially haunting title.
The fact that the
San Diego Chargers
traveled three time zones and
lost
to the
New England Patriots
in Week 2 of the NFL season doesn't mean a whole lot. The Chargers' season is not shot. They are still the favorite to emerge from the AFC West. However, Sunday's defeat was a reminder to San Diego, which can get well quickly with back-to-back home games against Kansas City and Miami in the next two weeks, there is one thing missing from its quest to be the best:
Tom Brady
.
As long as Brady is quarterbacking the New England Patriots, the San Diego Chargers can't be considered an AFC favorite to play in February. The Chargers can't stop Brady on defense and Rivers can't keep up with Brady on offense. Until those facts change, the Chargers will be a level behind the Patriots.
Sunday's game proved that once again.
The Chargers were not blown out. They had their chances. They failed when it counted. Brady didn't.
Rivers, who took over San Diego's offense in 2006, is now 0-5 in head-to-head matchups against Brady. The only time Rivers has beaten New England was in 2008 when Brady was out with a torn ACL.
Rivers was good Sunday, as he usually is. But he wasn't flawless. He threw two interceptions, both in key situations. In all, the Chargers had four turnovers, including a killer fumble by running back
Mike Tolbert
in New England territory with San Diego attempting to take the lead.
New England? It didn't have any turnovers.
Miscues have long killed the Chargers, who have played the role of the lesser team in this rivalry for a solid half decade. San Diego coach Norv Turner has preached the importance of eliminating key turnovers early in the season, where the Chargers stumble most. It was another sloppy effort that has caused the Chargers to fall to 7-9 in September under Turner. The Chargers haven't started 2-0 in five seasons under Turner.
Watching the film of this game will burn the Chargers. They made it into New England territory on all eight of their possessions. Yet, they scored just three times. San Diego punted the ball once. Turner will have to find a way to stop the mistakes.
Bill Belichick has no such concerns. Brady doesn't seem to make mistakes. He surely capitalizes on them.
While Rivers was forced to ruminate on his two picks (he also lost a fumble late in the game on a sack), Brady took advantage of San Diego's offensive miscues.
When San Diego couldn't punch the ball in from inches on fourth down in the second quarter (the Chargers were primed to take a 14-10 lead), Brady engineered his offense on a 10-play, 99-yard touchdown drive to give the Patriots a 10-point lead.
Shortly after, when
Vince Wilfork
intercepted Rivers, Brady jumped off the bench to hit
Deion Branch
for two short passes on two plays to spark a field goal and give New England a 13-point lead at the half. Moments earlier, it was Rivers who seemed poised to lead his team to a crucial field goal. He failed. Brady pounced.
When Tolbert fumbled at the New England 39, Brady smelled blood. His team was up by six with just over 10 minutes to play. The Chargers' defense was actually starting to have their way with Brady. The Patriots were stopped in their first two series of the second half after scoring on all four of their first-half possessions.
Brady put an end to San Diego's momentum by leading his team on a four-play, 61-yard touchdown drive to convert the Tolbert mistake into a 14-point lead. After San Diego struck quickly to pull within seven, Brady led the Patriots on an 80-yard touchdown drive to seal the win.
In the end, Rivers just couldn't keep up with Brady.
Rivers, who led San Diego on 10-of-12 third-down conversions, threw for 378 yards on 29-of-40 passing with two touchdown passes, highlighted by connecting with receiver
Vincent Jackson
10 times for 172 yards. But Brady was better as he also unleashed 40 passes. He completed 31 for 423 yards. He threw three touchdown passes.
Rivers' defensive teammates didn't do him any favors. After keeping
Donovan McNabb
to 39 yards passing last week and holding Minnesota to 26 yards of offense in the second half of a comeback win, the San Diego defense simply couldn't harass Brady enough. Brady completed a team-record 23 passes for first downs.
"You never knew what the call was," San Diego pass-rusher
Antwan Barnes
said. "I didn't know what it was."
When Brady had to be stopped, he wasn't. When Rivers had to be perfect, he wasn't.
That's the difference between these two quarterbacks right now, other than the three Super Bowl rings in Brady's possession.
"We lost a game and the guys hate to lose. but we know this season is a 20-week deal, at least that is what the goal is to make it a 20-week deal and we are only in two weeks," Rivers said.
Rivers is right. This loss wasn't the end of the season for the San Diego Chargers. Still, it has to be in the back of their heads. If the Chargers are going to finally get a chance to play in the Super Bowl, they must get past Brady at some point.
They simply weren't ready to do it Sunday.
September, 18, 2011
9/18/11
6:08
PM PT
FOXBOROUGH, Mass. – A look at a game where
the Chargers couldn't hang
with the Patriots.


What it means:
The Chargers are a step or two behind the Patriots. This wasn't a crucial game. Of course, the Chargers wanted to win, but they knew it would be a tough road game. Yet, the Chargers found out they are too sloppy on offense and too vulnerable on pass defense to come across country and beat a team like the
Tom Brady
-led Patriots.
Tomorrow's talker:
The mistakes. The Chargers had trouble early in the season under coach Norv Turner because they turned the ball over. Sunday, quarterback
Philip Rivers
had two interceptions (and a late fumble) and
Mike Tolbert
fumbled in New England territory with the Chargers having a chance to take the lead. San Diego was also stopped on fourth down and inches at the goal line. You can't go to New England and make those types of miscues and win.
Trending:
Rivers is now 1-5 against the Patriots. He's 0-and-5 in head-to-head matchups against Tom Brady. Rivers is terrific. He's not Brady.
Jackson makes his presence felt:
After being invisible much of last week's game, San Diego receiver
Vincent Jackson
had a monster game. He had 10 catches for 172 yards. Still, it wasn't enough.
What's next:
The Chargers host the reeling Chiefs next Sunday. The Chiefs have been outscored 150-27 in their past four games. The Chargers have back-to-back home games and they can get well soon.