He was born on Independence Day in 1929, just before the Great Depression, at a time when this nation was desperately in need of those with maverick, innovative mentalities. For the young among us, rife with short memories, limited historical perspective and abound with cynicism, Al Davis was old and beyond his prime, deemed as someone who should've left the Oakland Raiders -- and the game -- long before he eventually left us all.
But in the hours after his passing at 82 on Saturday, as a football nation reflected on all the things he did, we learned that history will be much kinder to the iconic figure who single-handedly personified Raider Nation over the past four-plus decades.
As well it should.
The Stephen A. Smith Show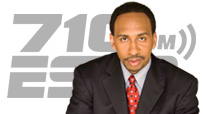 Catch Stephen A. on 710 ESPN, weeknights 6-8 p.m. More »
On this day, and undoubtedly in the days to follow, we won't hear too much about seven consecutive years of double-digit losses, laughter at slogans like Commitment to Excellence and Just Win Baby, or lamentations about the Raiders wasting a No.1-overall pick on JaMarcus Russell. What we'll hear instead is something a bit more apropos for a man recognized as an aficionado and a pioneer, as responsible for progress in the NFL as anyone, even if most of it occurred before the past decade.
We'll hear about the championship game appearances and three Super Bowl titles. We'll hear about the mystique of the Silver and Black and how Davis relished the Raiders' menacing reputation. But what we should hear about most is Davis the pioneer, of his fearless approach toward integrating minorities on an elevated level from the playing field, ensuring that one's character and productivity weighed more heavily than one's ethnicity and gender.
"That's what I'll remember most about him," ESPN analyst and former NFL player Keyshawn Johnson said on "Sunday NFL Countdown."
And to that, all of us should hum a collective "Amen."
Long before the NFL introduced the Rooney Rule in 2003, requiring NFL teams to interview minority candidates for head coaching and senior football operations opportunities, Davis had already hired Tom Flores, who is Hispanic, in 1979 and won two Super Bowl titles with him.
Long before Tony Dungy won a Super Bowl in 2007, Davis had already hired Art Shell in 1989 as the first black head coach in NFL history.
And at a time when no one in the male-dominated NFL fraternity thought about women contributing to their game, Amy Trask, a former intern in Oakland, was brought into the Raiders' organization fulltime by Davis in 1997. She serves as the only female chief executive officer in the NFL.
It was nice to hear Mike Ditka credit Davis for the league being "one entity" in this day and age, recognizing that the NFL and American Football League would not have merged had it not been for Davis' willingness to pursue NFL players when he was serving as AFL commissioner in 1966. Several football analysts made sure to do the same throughout Week 5 of the NFL season Sunday, as every home team dedicated a moment of silence to pay homage.
"It's fitting," NFL commissioner Roger Goodell said in a televised interview during the Philadelphia Eagles-Buffalo Bills game. "There are not many people who contributed to the NFL the way Al Davis did. As a commissioner, a coach, an owner, a GM. … I think that's the standard that will not soon be met. He leaves a tremendous legacy and his passion for the game is unmatched."
Along with his fire.
Davis never forgot anything along his path toward football immortality. The wars he waged against the NFL were fresh in the 1960s, when owners, knowing he was against the merger, merged anyway. They were fresh, and tense, when he won the Super Bowl in 1980 and his nemesis, former NFL commissioner Pete Rozelle, had to present him with the Lombardi Trophy.
That same mentality was evident when he benched future Hall of Famer Marcus Allen for two seasons in the 1990s and when he lambasted former coach Lane Kiffin in a nationally televised news conference. It was also evident two months ago when owners voted 31-0 to ratify their multibillion, 10-year collective bargaining agreement with the players. Davis' Raiders were the only team to abstain from voting.
Love him or not, agree or disagree, Davis was the NFL's Frank Sinatra: He did it his way.
He had 17 Hall of Famers on his roster, as well as three Heisman Trophy winners (Tim Brown, Charles Woodson and Bo Jackson) and a two-time runner-up (Darren McFadden). He unapologetically drafted a punter (Ray Guy) and kicker (Sebastian Janikowski) with first-round picks, further evidence of how all things concerning Raider Nation would occur the Al Davis way.
With attitude.
With conviction.
But also, evidently -- and thankfully -- with a conscience.
We remember that now that Davis has waved goodbye one last time. Perhaps, however, it's a little too late, since we should've never forgotten all he's done. For that, I personally am sincerely sorry. Judging by what has been heard about Davis in his waning years, maybe we all should be.
Follow Stephen A. Smith on Twitter.