NFL@L.A.:

2011 week 4 wrap ups
October, 2, 2011
10/02/11
7:31
PM PT
A look at
a tidy win
by the Chargers.


What does it mean:
The Chargers are 3-1. They have to be ecstatic to get to the first quarter pole with a winning record, knowing their recent history of stumbling into the season. The Chargers haven't been perfect, but this is a nice start by a team that is dealing with a lot of injuries.
Tomorrow's talker:
San Diego quarterback
Philip Rivers
played well. He threw for 307 yards and he was not intercepted. Rivers threw six turnovers in the first three games and he was shaky at times. Sunday, he was solid as he led the Chargers to a 411-yard offensive performance.
Trending:
Larry English
had two sacks. Yes, Larry English. The No. 16 overall pick of the 2009 draft has had a very slow start to his NFL career. The Chargers are dying to find another pass-rusher. If English can keep pressuring the quarterback, it'd be a huge boost to the defense.
What's next:
San Diego plays at Denver on Sunday. If the Chargers can win that game and go into their bye week 4-1, it will do a lot to erase the pain of past slow starts.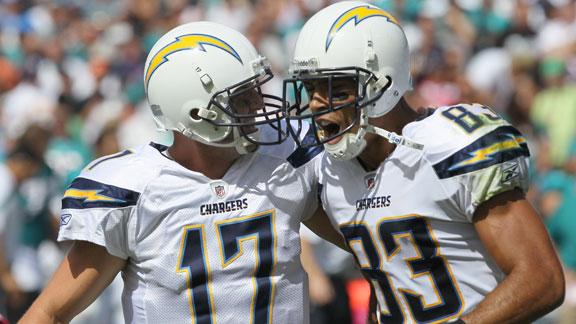 October, 2, 2011
10/02/11
1:50
PM PT
Thoughts on the
St. Louis Rams
'
home loss
to the
Washington Redskins
in Week 4:


What it means:
This would have seemed unfathomable not long ago, but the 2011 Rams have often appeared as bad or worse than the 2009 team that finished with a 1-15 record. They are 0-4 and reeling heading into their bye week, with a trip to Green Bay waiting for them on the other side. It's tough to blame the Rams' problems solely on injuries. In other words, they are not
Danny Amendola
and a cornerback away from contending. The Rams will need to dominate their division schedule late in the season to dig their way out.
What I liked:
The Rams did not fall behind immediately, as they had against Baltimore a week earlier. This game was closer than that one. The Rams' pass defense prevented
Rex Grossman
from enjoying the spectacular success
Joe Flacco
enjoyed when repeating hitting deep passes for touchdowns. Cornerback
Justin King
, beaten deep by the Ravens, picked off a pass in the second half when the Rams needed a boost.
Sam Bradford
's 15-yard scoring pass to
Steven Jackson
in the fourth quarter made this a one-score game with 5:45 remaining.
James Laurinaitis
followed with another interception for the Rams, setting up in Washington territory in the final minutes.
What I didn't like:
Rarely did the Rams pose a threat on offense until it was nearly too late. Bradford found himself under pressure again, too often unable to find anyone open. He continued taking far too many sacks. And when he did find receivers down the field, they too often couldn't make plays for him. Steven Jackson's return to a more prominent role made little impact. Jackson had trouble getting anything going on the ground when the Rams needed production early in the game. The defense wasn't all that bad on the touchdown reception
Santana Moss
made to open the scoring. Moss made a good play on the ball. The Rams don't have anyone making those types of above-average-but-not-great plays. Meanwhile, the Rams' disappointing run defense continued to have problems, enabling
Ryan Torain
's fourth career 100-yard rushing performance. The Rams' defense would be in much better position if the offense would score a few points on occasion.
Told you so:
The Rams shrugged off concerns about their talent at receiver. It was going to be more about Josh McDaniels' system than raw talent at wideout. But with so many returning receivers coming off injuries, the Rams could have done more to protect themselves. It's not like having a healthy Amendola would strike fear in opposing defenses. The Rams need more offensive firepower.
What's next:
The Rams have a bye in Week 5 before visiting Green Bay in Week 6.