October, 8, 2011
10/08/11
11:12
AM PT
The shock of losing Al Davis is just settling in. Today is about tributes and remembrances of a truly one of a kind sports icon who died Saturday morning at the age of 82.
However, there is a looming question that has to be addressed immediately: What's next?
For the first time since Davis moved over from the old American Football League rival San Diego Chargers in 1963 to join the Raiders, Oakland must move on without him.
Someone else will be in charge of the Raiders. Stunning to read, isn't it?
Davis, who attended Sunday's loss to New England, ran the Raiders until his death. He made every major decision involving the team. It's safe to write that no owner in professional sports history was as closely involved in his team's operations as Davis. He was the Raiders.
[+] Enlarge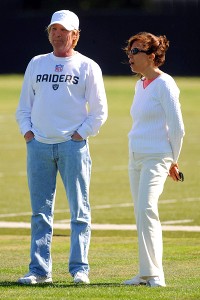 Kirby Lee/Image of Sport-US PresswireAl Davis' son, Mark, and Raiders CEO Amy Trask may figure heavily in deciding the future of the team.
The first order of business for the organization is to play Sunday at Houston. Then, the real questions begin. There has been speculation for years about who would run the team after Davis' death. Now that it's occurred there are no clear answers.
Expect the future of the Raiders to be a prime topic in the NFL for the next several months.
There are minority owners of the team, but the majority of the team is owned by the Davis family. Davis has said in past interviews that his wife, Carol, and son Mark would inherit the team. However, it is doubtful either Carol Davis or Mark Davis would assume a hands-on role that Davis had on the organization.
I'd expect CEO Amy Trask -- the first and only woman to be a CEO of an NFL team -- to take on much of Davis' non-football duties.
There is a lot to do.
The Raiders are trying to get a new stadium in Oakland. They have been mentioned as a possible candidate to relocate to Los Angeles, although the Chargers appear to be the favorite. Davis moved the Raiders to and from Los Angeles before. If Los Angeles posed the best option for the team in the future, I'm sure the new regime would consider it though keeping the team in Oakland is the team's preference.
Expect sales rumors to persist. While I'm sure everything will be on the table, I have a difficult time seeing the Davis family parting ways with the team. Everyone knows what owning the Raiders meant to Davis and I'm sure he would never want the control of the team to fall outside of his family.
The impact of Davis' death also greatly affects the team on the field. Until his death, the Raiders' roster was controlled by Davis. He made the decisions to keep every player on the roster.
He picked this year's draft class and he made the decision to keep or not keep every free agent during the post-lockout frenzy. He talked to agents recently.
Someone will have to assume the decision-making role moving forward. NFL decisions are made every day. Again, we're in guessing mode here, but I'd think first-year coach Hue Jackson will have a major role in decision-making. In recent years, Davis has allowed his head coaches more of a personnel role although every move was his call.
The Raiders have an unusually small scouting department because Davis had such a big role.
Down the road, I could see the team changing its personnel department and perhaps even hiring a general manager to make decisions.
Like he did in life, Davis' death affects everything about the Raiders.
We'll just have to sit and see how the Raiders evolve post-Davis, but change is Oakland will be immediate and could eventually be dramatic.
October, 8, 2011
10/08/11
9:16
AM PT
The NFL stopped for a moment Saturday.
Oakland Raiders
owner
Al Davis has died
. He was 82 years old.
There is going to be a lot said and even more written about the Raiders' owner as we prepare to kick off another NFL weekend.
Soak it all in. Use any word you want to describe Davis: legend, pioneer, outlaw, renegade. Each applies. He will never be duplicated or forgotten.
[+] Enlarge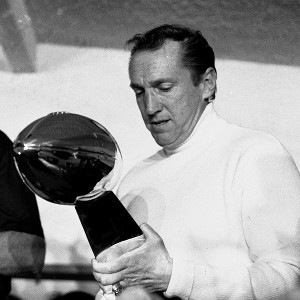 AP PhotoThe Raiders won three Super Bowl titles under the ownership of Al Davis.
Davis did it all his way. He didn't always make friends in the NFL over the years, but he earned a lot of respect. Expect the tributes to fly in faster than a classic Raiders wide receiver.
He fought wars with the league, other owners and even some of his coaches and players. He was a difficult man to deal with for a lot of people over the years.
But he was also a caring man who bled Silver and Black.
Sadly, this news isn't a shock. Davis has been in poor health for some time. He has been using a walker for years. He did not travel to Buffalo in Week 2 in the Raiders' last road trip.
But make no mistake -- Al Davis will be in Houston with his team Sunday as the Raiders try to boost their record to 3-2. The Raiders were Davis' life. That's all he lived for.
The man famous for coining the phrase "Just win, baby" lived his life that way. I'm truly convinced All Davis cared about nothing other than seeing his team win. It is bittersweet that his death comes at a time that his team is finally showing signs of resurgence. If the Raiders do push their way into the playoffs for the first time in nine years, it will be because of Davis' work. There's a lot of talent in Oakland and every player on that roster is there because Davis picked him.
Despite his declining health and advanced age, Davis ran this team nearly up until the time of his death. He picked the players in the last draft and he even negotiated most of the contracts himself. Many agents have told me of their intense conversations with Davis as recently as last month. He worked every day trying to make the Raiders a winner.
The Raiders were always and will forever be Al Davis's team.
There will be questions about what happens to the Raiders now following Davis' death. All that will be sorted out. What is important now is a time to reflect on a man who changed football.
The Raiders flew to Houston late Friday night and awoke to the news of Davis' death Saturday morning. A team spokesman said it's a very "difficult" time for the team.
First-year Raiders coach Hue Jackson loved Davis. He called him "Coach Davis." Jackson relished the chance Davis gave him to coach an NFL team and he relished the opportunity to pick Davis's brain.
Raiders players also loved Davis. He had his players' backs and he often paid them handsomely. Several Raiders have been the highest paid at their positions in recent years because Davis valued them so much.
This is not just a sad day in Oakland. It's a sad day for the entire sports world. We lost a legend, a pioneer, an outlaw and a renegade.