October, 6, 2011
10/06/11
9:32
AM PT
Welcome back to the NFL@LA mailbag where I'll be answering your NFL in Los Angeles questions every Thursday. You can send me a question in the comments section below, on
Twitter
or you can find me on
Facebook
. We're pretty flexible around here. And remember if you didn't get your question answered or want to discuss anything further we will have an
NFL@LA chat on Friday at 1 p.m.
OK, now let's get to this week's questions.
Which team has the best chance of moving into L.A.?
--trojan1953

I've been saying for the past year the team that has the best chance of moving to Los Angeles is the San Diego Chargers. Quite simply, I don't see how the Chargers are going to get public funding for a new stadium. After a decade of trying and being turned down from one location to the other, I believe they will move two hours north to Los Angeles where they will be in the second biggest media market, play in the league's newest stadium and become one of the most valuable franchises in sports. Since AEG wants to own a third of the team that moves into Farmers Field first, they also make sense because the Chargers are willing to sell Alex Spanos' 36 percent share of the team for estate planning purposes.
Are the Rams losing games on purpose just to ease the move back to LA?
--paintpim
Interesting thought but, no, that's not the reason why the St. Louis Rams are 0-4. The same goes for the 0-4 Minnesota Vikings. Those teams are just that bad with no ulterior motives. They will be in competition all season with the Indianapolis Colts, Miami Dolphins and Kansas City Chiefs for the top pick in next year's NFL draft.
Is it possible that Chargers might be able to pay less to move because they could claim that they already have a market? Is it possible that that the NFL might say you would actually have LA and San Diego and therefore pay full or even more to move?
--Darrinsca
September, 25, 2011
9/25/11
7:54
PM PT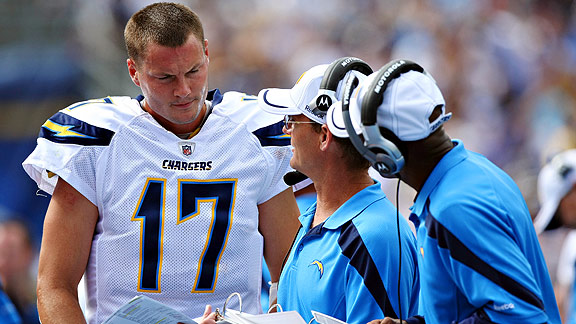 Donald Miralle/Getty ImagesChargers quarterback Philip Rivers has thrown six interceptions in his first three games this season.
SAN DIEGO -- This was the kind of game the San Diego Chargers would have found a way to lose the last five years, and if they were playing anyone else but the Kansas City Chiefs, they probably would have done just that.
The Chargers are 2-1 for only the second time since 2006 and San Diego's players and coaches will tell you this is all that matters. They will take a win any way they can get.
We, of course, should know better than that.
When you're as talented as the Chargers and beginning a season with Super Bowl aspirations, a couple of nail-biting wins at home against the Minnesota Vikings and Kansas City Chiefs -- two of only five teams in the league still winless after three weeks -- isn't going to cut it.
Yes, the Chargers are 2-1 and will try to move to 3-1 next week for only the second time since 2002 against the Miami Dolphins, another winless team, but this is far from a Super Bowl contending team right now.
If anything it looks like a familiar squad filled with the same characteristics Chargers fans have become all too familiar with in the postseason -- underachieving, mistake-prone, and ultimately, self-destructing.
Against the likes of the Vikings and Chiefs, who can't get out of their own way this season and will probably find new and exciting ways to lose each week, the Chargers can afford to shoot themselves in the foot a few times and still come away with a win. The Chargers, however, proved last week they can't do that against a good team like the New England Patriots and won't be able to get away with careless turnovers and poor clock management against most teams in this league and come away with a win.
"The whole thing for me and it's important for our team is that we're 2-1," coach
Norv Turner
said, echoing the feeling of the team after the game. "Our long-range goal is to be 3-1. We got a lot of work to do. I don't know if I've ever been around a group of guys that cares more, that works harder than this group does. We're good enough to get better. We have to get better there's no question."