November, 27, 2011
11/27/11
5:19
PM PT
SAN DIEGO -- A look at an overtime thriller on an 80-plus degree day by the sea, where the
Denver Broncos
beat the
San Diego Chargers
16-13
:
What it means:
Denver is now 6-5 and has won five of
Tim Tebow
's six starts. It trails Oakland by one game. San Diego has lost six straight games and is 4-7. Cue the Norv Turner-gets-fired talk. It will probably happen at the end of the season.


Tomorrow's talker:
What do you think? Tebow's second NFL overtime game ends in victory. The kid got better as the game went on and once again he proved he gives this team a chance to win. The NFL's wildest, unlikeliest story continues.
Miller (and Doom) time:
Denver pass-rushers
Elvis Dumervil
and
Von Miller
are continuing to be a nasty duo now that Dumervil is healthy. Dumervil had two sacks and Miller had one Sunday. Dumervil has all 5.5 of his sacks in the past four games. Miller now has 10.5 sacks this season. He is four sacks off of
Jevon Kearse
's NFL rookie sack record.
Philip Rivers' protection caves in:
The Chargers are playing without six offensive linemen. Think about that. That's mind-boggling. They did a solid job last week at Chicago and for parts of Sunday's game, but the protection did collapse late.
Third-down conversion:
Denver football leader John Elway said he wants to see Tebow improve on third down. Denver improved some, but it wasn't great. It was 5-of-16.
Mathews comes on strong:
San Diego running back
Ryan Mathews
played well -- and he didn't fumble, which was has been a problem. He had 137 yards on 22 carries. He played winning football Sunday.
What's next:
San Diego plays at Jacksonville on "Monday Night Football" and Denver plays at Minnesota. Both are very winnable roadies.
September, 13, 2011
9/13/11
11:24
AM PT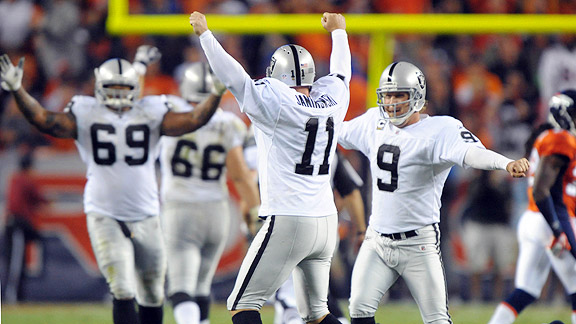 Kirby Lee/Image of Sport/US PresswireSebastian Janikowski's 63-yard field goal tied an NFL record and helped the Raiders top the Broncos.
DENVER --
Sebastian Janikowski
wasn't overly impressed.
It was much prettier in his dream Sunday night.
"To be honest, I didn't hit it very well," Oakland's rifle-legged kicker said of his NFL record-tying 63-yard field goal that was the difference in the Raiders'
23-20 win
over the
Denver Broncos
in a sloppy game Monday night.
"I just saw the replay. It barely made it."
Janikowski was much more enamored with his dream sequence from the night before the opener. While in his Mile High City hotel, Janikowski dreamt he tied the NFL record -- which he now shares with Tom Dempsey and
Jason Elam
-- and sent the game to overtime. He said he was going for the record in overtime in his dreams.
"It was weird that it all happened," Janikowski said.
Prior to the game, Janikowski knew his dream could become a reality when he drilled a 70-yarder in warm-ups. He was also much more impressed with that effort than the record-tying kick. Janikowski said Oakland coach Hue Jackson saw the 70-yarder before the game, which gave him confidence in his kicker.
"The Denver air is unbelievable," Janikowski said. "The ball really carries."
It is the field goal record capital of the NFL. Elam's kick came in the Old Mile High Stadium.
Still, Janikowski benefited from a 15-yard penalty by Denver late in the second quarter. Oakland seemed satisfied with running out the clock before a face-mask penalty on Broncos DT
Kevin Vickerson
. Then the Raiders got aggressive and gave Janikowski a chance. He said he was ready for the opportunity when it came.
But Janikowski is always ready for the chance. The 63-yarder was his seventh field goal of 55 yards or more in his career. His previous career high was a 61-yarder at Cleveland in 2009.
This 63-yarder barely made it. But it was good enough to tie the record and help Oakland win the game. While it gave Oakland a 13-point cushion at halftime, the Raiders needed the points as they held off Denver's second-half comeback.
"He's phenomenal," Jackson said of his kicker. "What Sebastian did is unheard of."
Here are some other key aspects of the game:
Denver doesn't do it the Fox way:
Coach John Fox's mantra is simple: Run the ball on offense, stop the run on defense. The Broncos did neither in his debut.
In fairness to Fox, Denver's defense looks much more competitive than it was last season when it was ranked No. 32 in the NFL. But Denver's offense is way out of sync and was mistake-prone. Denver miscues sparked all of Oakland's points.
The Broncos could not ignite the run game (38 yards on 13 attempts).
Kyle Orton
threw the ball 46 times. Fox will want to change that approach moving forward.
Defensively, in the end, Denver was beaten up in the run game. It allowed 190 yards on the ground. Oakland star rusher
Darren McFadden
had 150 yards on 22 carries.
Seeing his team end up minus-152 yards in the rushing yardage outcome will frustrate Fox. Expect him to pound that into his team this week.
Injuries mounting for Denver:
Key defensive standouts
Elvis Dumervil
and
Champ Bailey
have injuries. The extent of the injuries is unknown, but Denver can't afford for either player to be out for an extended period of time. Dumervil said he hurt his shoulder in practice last week. Dumervil, who missed all of last season with a pectoral injury, played only on passing downs Monday night.
Bailey, the team's star cornerback, left the game with a hamstring injury in the fourth quarter. He did not return. Running back
Knowshon Moreno
(hamstring) and receiver
Brandon Lloyd
(groin) were also banged up. This ugly night could end up getting worse for the Broncos.
McFadden is a McStud:
The Broncos pressed their luck with McFadden and got burnt. After Orton lost a fumble with Denver driving to potentially take the lead early in the fourth quarter, McFadden made him pay for the miscues. He blasted a 47-yard run to the Denver 1-yard line to set up a touchdown that gave the Raiders enough of a cushion to win.
McFadden broke out in his third NFL season last year and became one of the league's most dynamic runners. He continued it in his opening game of his fourth season. He is a legitimate NFL workhorse.
Hooray for Hue:
The win wasn't pretty and the Raiders will have to do something about those 15 penalties, but this was a big night as Jackson debuted with a victory. Jackson was beaming in his postgame news conference. He knew the win broke some nasty streaks.
The Raiders won to open the season for the first time since 2002. That season ended in the Super Bowl. It also broke an 11-game prime-time losing streak for a team that once dominated the "Monday Night Football" landscape. Oh, and the Raiders remain the kings of the AFC West. They have now won eight straight division games, dating to 2009. It's the longest such streak in the NFL.