November, 6, 2011
11/06/11
8:26
PM PT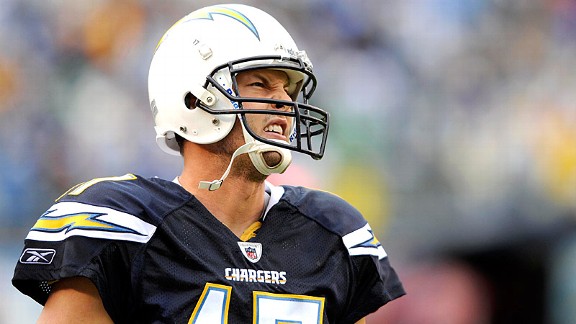 Christopher Hanewinckel/US PresswireFor the first time in his NFL career, Chargers QB Philip Rivers threw three interceptions.
SAN DIEGO -- Here come the
Denver Broncos
?
Why not? It's the AFC West and everything appears to be on the table.
With half the NFL regular season remaining, anything is possible in what is developing into the NFL's wildest race. It is plausible that any team in the AFC West could win the division crown and any team could finish in last place.
On a day the
Kansas City Chiefs
and
Oakland Raiders
could end up long regretting, the Chargers, Chiefs and Raiders started in a three-way tie and ended in a three-way tie after all three teams lost home games. They are all 4-4 at midpoint of the season. Denver -- yes, Denver -- looms at 3-5.
Week 9 has to be particularly disheartening for Kansas City and Oakland. Both teams had to be looking forward to improving to 5-3 Sunday and seeing if the other teams in the scrum would keep up. Kansas City was entertaining winless Miami and the Raiders were hosting hapless Denver, fresh off a 35-point home loss to Detroit.
"You never know what is going to happen," San Diego defensive lineman
Tommie Harris
said after the Chargers lost 45-38 to Green Bay on Sunday. "That's why we just have to bounce back quickly."
The Chiefs – who came into Week 9 on a four-game win streak -- were dismantled 31-3 by the Dolphins. Oakland, in the first start of the
Carson Palmer
era, was run over 38-24 by the Broncos.
Both the Chiefs and the Raiders may be guilty of looking ahead. The Chiefs came out of a huge Monday night win over the Chargers last week thinking they'd be 6-3 after home dates against Miami and Denver. After starting 4-2, the Raiders had designs on going 6-2 with home games against Kansas City and Denver on the horizon.
Things can quickly change.
Just ask the Chargers. Three weeks ago, they were defending their somewhat shaky play by pointing out they were 4-1. Now, they are simply another shaky .500 team after three straight losses that featured critical fourth-quarter miscues by struggling quarterback
Philip Rivers
.
Rivers threw three interceptions (for the first time in his NFL career), including two that were brought back for touchdowns in the first quarter and another one that scuttled a potential game-tying touchdown drive in the final minute in a wild loss to unbeaten Green Bay.
Had the Chargers been able to come back to beat Green Bay, they would be looking good at 5-3 in this division. Instead, the three-way logjam continues.
None of these three teams can say they are currently a good team. All three have issues moving into the second half of the season.
If I had to peg a favorite to emerge from the AFC West heap right this moment, I'd probably say the Chargers -- who host the Raiders in a critical division game Thursday night.
It just seems that they currently have fewer major questions than the other teams in the division. The Chargers are skidding, but they aren't playing terribly. San Diego needs some tweaking, but it doesn't seem to be in any major upheaval. The Chargers could have won any one of the three past games.
While Rivers is clearly making way too many crucial mistakes, he is still making a lot of plays. It's not like his game is in total disarray. If he can clean up the problems, the Chargers should be fine.
What's worrisome about Kansas City is that on Sunday it reverted back to the first two games of the season when it was beaten by a combined score of 89-10. No contending team should be hammered like that at home by a bottom feeder like Miami. Plus, the Chiefs' schedule gets extremely difficult in Weeks 11-15. They have road games at New England, the Jets and Chicago and home games against Pittsburgh and Green Bay.
The Raiders are a bit of a mystery right now.
They are 0-2 since trading two premium draft picks for Palmer. He has thrown six interceptions in six quarters with the Raiders. Oakland has problems on defense and its offense is clearly out of sorts with the sudden quarterback change from
Jason Campbell
to Palmer. The Raiders have loads of talent, but they have to quickly get their house in order.
The Broncos are the least talented team in the division, but the truth is, they are still in the hunt. Truly, anything can happen out West in the next two months.
Count the Chargers among those who are grateful to be in the race.
"Whether we're 8-0, 2-6 or 4-4, we're tied for first place," safety
Eric Weddle
said. "That's all that matters … let's see what happens after 16 games."
There's no question that this muddled, imperfect race has the feel of one that will go the distance.
September, 25, 2011
9/25/11
7:54
PM PT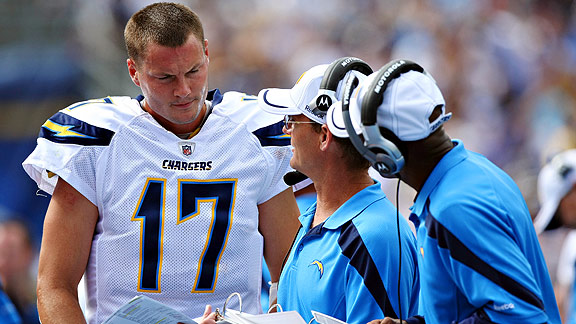 Donald Miralle/Getty ImagesChargers quarterback Philip Rivers has thrown six interceptions in his first three games this season.
SAN DIEGO -- This was the kind of game the San Diego Chargers would have found a way to lose the last five years, and if they were playing anyone else but the Kansas City Chiefs, they probably would have done just that.
The Chargers are 2-1 for only the second time since 2006 and San Diego's players and coaches will tell you this is all that matters. They will take a win any way they can get.
We, of course, should know better than that.
When you're as talented as the Chargers and beginning a season with Super Bowl aspirations, a couple of nail-biting wins at home against the Minnesota Vikings and Kansas City Chiefs -- two of only five teams in the league still winless after three weeks -- isn't going to cut it.
Yes, the Chargers are 2-1 and will try to move to 3-1 next week for only the second time since 2002 against the Miami Dolphins, another winless team, but this is far from a Super Bowl contending team right now.
If anything it looks like a familiar squad filled with the same characteristics Chargers fans have become all too familiar with in the postseason -- underachieving, mistake-prone, and ultimately, self-destructing.
Against the likes of the Vikings and Chiefs, who can't get out of their own way this season and will probably find new and exciting ways to lose each week, the Chargers can afford to shoot themselves in the foot a few times and still come away with a win. The Chargers, however, proved last week they can't do that against a good team like the New England Patriots and won't be able to get away with careless turnovers and poor clock management against most teams in this league and come away with a win.
"The whole thing for me and it's important for our team is that we're 2-1," coach
Norv Turner
said, echoing the feeling of the team after the game. "Our long-range goal is to be 3-1. We got a lot of work to do. I don't know if I've ever been around a group of guys that cares more, that works harder than this group does. We're good enough to get better. We have to get better there's no question."
September, 25, 2011
9/25/11
5:51
PM PT
SAN DIEGO -- A look at a game that was much closer in the end that it should have been.


What it means:
The Chargers need to learn the create separation between themselves and their opponents. They dominated this game, but the Chiefs came back in the fourth quarter. The Chiefs had an opportunity to try to tie the score with a field goal in the final minute before San Diego safety
Eric Weddle
sealed it with an interception off a poor decision by Chiefs quarterback
Matt Cassel
. San Diego is now 2-1. The Chiefs fell to 0-3.
Tomorrow's talker:
There could be some hope for the Chiefs. They played much better in the second half offensively. The Chiefs didn't convert a first down in the first half. It was the first time that has happened in the NFL since December 2009, according to ESPN Stats & Information. Yet, Todd Haley's team did not lay down Sunday. That has to be encouraging.
Trending:
San Diego quarterback
Philip Rivers
has thrown two interceptions in all three games this season. He has never thrown three interceptions in a game. His highest season interception total is 15. Rivers is playing well, but he has been far from perfect.
Mathews' maturation:
San Diego running back
Ryan Mathews
is a much better player in his second season than he was last year. He had 98 yards rushing and added 51 yards receiving. He is running with a lot of confidence.
What's next:
The Chargers host winless Miami on Sunday. Barring a meltdown, the Chargers should emerge from the first quarter of the season with a 3-1 record. That would help quiet the worry over slow starts under Norv Turner. The Chiefs go back home, looking for their first win when they host former star defensive end
Jared Allen
and the
Minnesota Vikings
. It will be the first time Allen has played against the Chiefs since they traded him in 2008.
September, 11, 2011
9/11/11
7:38
PM PT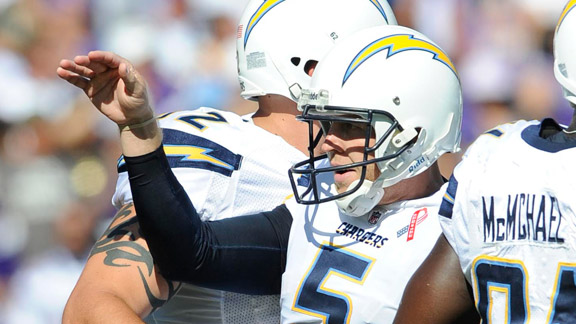 Christopher Hanewinckel/US PresswireMike Scifres is congratulated by teammates after connecting on a 40-yard field goal in the fourth quarter Sunday against the Vikings.
SAN DIEGO --
Mike Scifres
didn't exactly know how to feel when he found out he would have to handle kicking duties after the opening kickoff of the San Diego Chargers' season.
Scifres has been the Chargers' punter since 2003 but hadn't attempted a field goal since he was at Western Illinois and he didn't even want to think about that attempt.
"I tried not to think about it," he said.
San Diego and Scifres, however, didn't have any other options when Chargers kicker
Nate Kaeding
injured his left knee on the opening kickoff, which was returned 103 yards for a touchdown. Not only were the Chargers down 7-0 but they were also down their Pro Bowl kicker with nothing more than a punter, trying to forget his kicking days as an option.
"That first extra point was the first time I had been behind the line with a snap and a hold since college," Scifres said. "I'll tell you that last field goal I kicked in college wasn't pretty, but I hadn't done it in a while."
That last kick came 10 years ago at Western Illinois on a desperation 61-yard attempt Scifres said didn't even get 10 yards off the ground before dying in mid-air. Scifres did admit he made a game-winning 56-yard field goal in his first career field-goal attempt in 1999 but couldn't remember much else.
"That was a long time ago," said Scifres, who signed a five-year, $20 million contract extension with the Chargers this week.
Chargers coach
Norv Turner
wasn't going to put Scifres in a situation where he had to kick a 56- or 61-yard field goal Sunday against the Minnesota Vikings. Then again, he didn't know the range of his punter who practices field goals maybe once every month by his estimation and never practices kickoffs.