October, 26, 2011
10/26/11
12:29
PM PT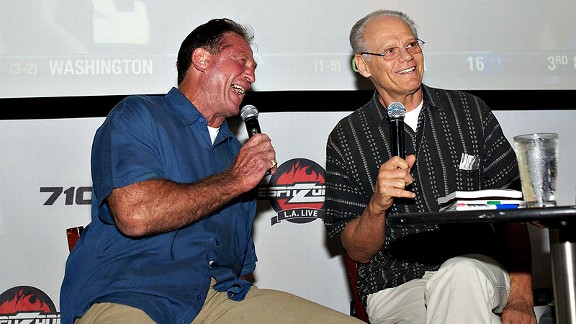 Christopher GrisantiJack Youngblood and Fred Dryer together again in Los Angeles promoting Youngblood's book.
Jack Youngblood
is sitting on a balcony overlooking Downtown Los Angeles as he smokes a cigar and marvels at the transformed city he and his former Los Angeles Rams teammates once owned.
The city has changed drastically since he retired in 1984. The Rams, for one, have been in St. Louis since 1995 and an entire generation of fans has grown up here without a pro football team.
Youngblood, however, hasn't changed much since his playing days when he was labeled the "
John Wayne
of football." When a waitress comes around to take his order, Youngblood takes one quick look at the menu and says, "Just bring me the biggest beer you got and the nastiest burger you can make with bacon and cheddar and avocado and bring me that bad boy."
He has just spent the past three hours signing copies of his new book,
"Because It Was Sunday: The Legend of Jack Youngblood"
along with his friend and former teammate
Fred Dryer
.
Youngblood, who lives near Orlando, and Dryer, who lives in Los Angeles, hadn't seen each other for years but keep in touch regularly. "Thank goodness for the internet," Dryer said.
If the Rams still played in Los Angeles or if the current Rams organization in St. Louis kept ties with the players who played for the team before 1995, perhaps the two friends who combined for 255 sacks would be able to see each other more regularly at games and alumni events. As it is, e-mail is their only connection these days.
"We are their legacy but they forgot us," Youngblood said of the current Rams. "They don't have anything to do with us, really. I find that unfortunate because you look at other franchises, even those that have moved, and they use their alumni in their marketing and in their organization. They use their hall-of-famers as an example for the players who are there today. They use their alumni but the Rams have cut us out of the picture."
October, 19, 2011
10/19/11
4:59
PM PT
First things first,
Jack Youngblood
will be signing his new book,
Because it was Sunday: The Legend of Jack Youngblood
this Sunday, Oct. 23 at the ESPN Zone at L.A. Live at 11:30 a.m. He will be there with his former Los Angeles Rams teammates
Fred Dryer
,
Vince Ferragamo
,
Rich Saul
and a few other surprise guests. I will be there as well to answer any NFL@LA questions you might have.
Also, we'll be doing our weekly NFL@LA mailbag on Thursday so send your NFL@LA questions in the comments section below or through my
Twitter
or
Facebook
accounts and I will answer them here on the blog. I will also again be
hosting a live chat
on Friday at 1 p.m. if I miss any questions or if you want to discuss anything further, so stop by and join the discussion.