September, 29, 2011
9/29/11
3:30
PM PT
By
Steve Springer
| ESPNLosAngeles.com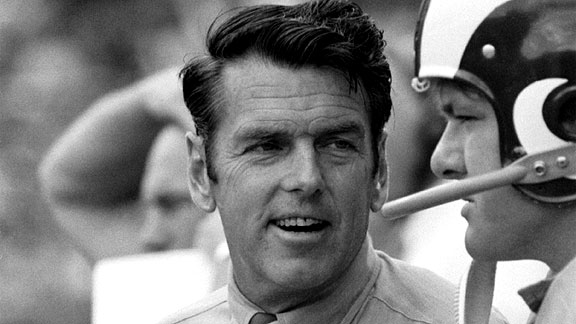 Diamond Images/Getty ImagesGeorge Allen was very good at carrying the losing-is-like-dying philosophy to the extreme.
I thought I had pulled the quote of the week -- heck, the quote of the season -- right out from under the noses of the national media.
Ok, so I was a na´ve rookie sportswriter with the now-defunct Thousand Oaks News Chronicle, covering my first, big pro event. It was a 1974 divisional playoff game between the-then Los Angeles Rams and the Washington Redskins at the Coliseum, played several days before Christmas.
After the Rams' 19-10 victory, I walked up to Redskin head coach George Allen, whose back was to me, and tossed out a softball question to begin the conversation: "Looking forward to getting back to Washington as soon as possible so the team can enjoy Christmas?"
Allen turned to face me, his eyes red, and replied, "When you lose, there is no Christmas."
What a great line, I thought, a line I can build a story around.
What I didn't know was that it was a typical Allen line, the type that filled the notebooks and tape recorders of those who covered him on a regular basis.
He certainly wasn't the first, or the last football coach to articulate the losing-is-like-dying philosophy. But few carried it to the extreme Allen did, partially because he believed in it, but also to perpetuate his image as the ultimate workhorse in the coaching fraternity.
This is a man who once said he called the opposing coach's office after 10 o'clock on a Wednesday night and, if no one answered, he knew he would win that week's game.
This is a man who once ordered an assistant to sit in the Coliseum at dusk in the days before a Super Bowl to chart the exact spot where the sun set below the stadium's rim in order to factor that into the game plan.
This is a man who, before that Super Bowl, told his players, "To win this game, I'd let you stick a knife in me and draw all my blood."
This is a man who preferred to live on milk, vitamins and ice cream because, as his wife, Etty, once told her kids, according to daughter Jennifer, "Chewing's a distraction. Your father's afraid it might take his mind off football."
This is a man who once became so obsessed with the time the players were "wasting" eating lunch during training camp that he decided to divide those waiting for soup into two lines, one for those wanting crackers and one for the crackerless.
So why did owners put up with Allen?