October, 23, 2011
10/23/11
8:12
PM PT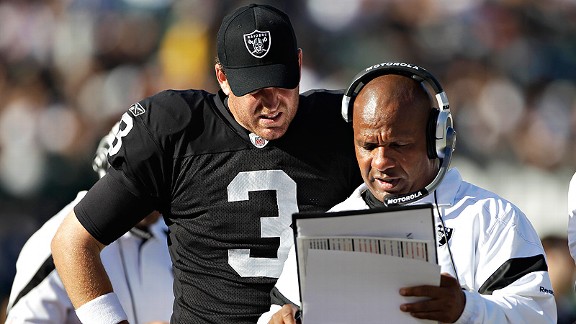 AP Photo/Paul SakumaRaiders coach Hue Jackson, right, tried his best to tutor quarterback Carson Palmer during the game, but it was a rough debut.
OAKLAND -- In simpler times, when both
Hue Jackson
and
Carson Palmer
were younger and the colors they wore were cardinal and gold, not silver and black, Jackson had a saying to calm his young protege down.
"Just run the old brown shoe," he'd tell him. Palmer would nod, knowing exactly what his offensive coordinator meant.
"Yeah," Palmer recalled. "He'd always say, 'You could just run the old brown shoe and win.' "
In other words, keep it simple and let your talent take over. The plays, the offense, the protections don't matter. Just play, don't over-think it.
A decade later, and a whole lot more at stake, Jackson would have been better served heeding his own advice.
Palmer never had a chance to make much of a difference in Sunday's game, a 28-0 loss to the Kansas City Chiefs.
He had time to learn only three or four protections and a small fraction of the team's plays. He's still learning his receivers' names, let alone their tendencies. Oh, and the first time he'd thrown in pads in 10 months was Sunday, when he entered midway through the third quarter.
Jackson knew all this. So did Palmer. Heck, so did the Chiefs.
But instead of buying Palmer and the Raiders some breathing room by saying Palmer would need a week or two to acclimate after a daring blockbuster trade last Monday, Jackson elevated the expectations for immediate success by calling it "the greatest trade in football," then playing coy about whether Palmer would start.
Gamesmanship, Jackson called it afterward. And it would've been great if the Raiders had won.
Instead it seemed like Jackson faked out his entire team -- including Palmer, who said afterward he was never expecting to play this week.
"I didn't think I was going to play so I didn't have much expectation," Palmer said. "I expected to get a feel for watching from the sidelines, seeing coverages unfold, seeing protections be picked up and watch the running game, different play action things to watch from the boundaries.
"But as soon as it's time to go, it's time to go. When your number's called, you've got to be ready to go."
October, 17, 2011
10/17/11
9:56
AM PT

The transition was never going to be easy. Life without Al Davis was going to be sad and strange for the Oakland Raiders no matter what. But they must have thought they would have some time before big decisions needed to be made and a new direction needed to be established.

Time to grieve and mourn. Time to adjust and get their bearings. Time to figure out whether Mark Davis really wanted to assume his father's role, and whether former coach John Madden might want to become more than a trusted voice from the past.

Well, that time is up. After what appears to be a season-ending injury to quarterback Jason Campbell, the Raiders future begins now.

What happens next will give the rest of the league a pretty clear picture of who will run the franchise in Al Davis' stead, the way they will run things, and just how different life after the cantankerous legend will be.

Kyle Boller can probably get the Raiders through the next few weeks, but nothing he's done in his NFL career suggests he's the guy to lead a team to the playoffs.

Rookie Terrelle Pryor is still in the project stage of his career and months away from being ready for game action.

And the NFL's trade deadline is Tuesday afternoon, so any effort to pry Carson Palmer away from Cincinnati owner Mike Brown's stubborn grip will need to happen stat.

There are other options on the free agent market out there: David Garrard, Trent Edwards, Brodie Croyle and Jake Delhomme are available, and Kyle Orton or Brady Quinn could probably be taken off Denver's hands for a set of decent draft picks.

But the Raiders don't really have any of those until 2013.

None of these options would really look any better if Davis were still running things. (Actually, if Davis were still in charge, I suspect Daunte Culpepper would already be booked on a flight to Oakland.)

And yet somehow it seems worse now. The uncertainty of how involved Mark Davis wants to be going forward, the timing so soon after Davis' passing, the real promise the team had begun to show this season.

Campbell's injury, in one swift fall, has brought home the reality of Davis' death.

The Raiders need to do something big, and they need to do it quickly. This team is too good to stand pat and hope Boller and Pryor can do the job.

Darren McFadden and Michael Bush make up arguably the best backfield in the NFL. Jacoby Ford and Darrius Heyward-Bey are making plays. Tight end Kevin Boss looks like a brilliant free agent replacement for Zach Miller. The Raiders defense is young, talented and hungry. Coach Hue Jackson has won the locker room over. Nobody has mentioned Robert Gallery in a while. And Nnamdi Asomugha's name only comes up in passing.

The Raiders aren't yet great again or even sniffing that level, but after so many years of being so bad, there is reason to believe in them.

Though Davis had been deteriorating for years, his death felt sudden.

But now, the time for being sad or stunned has ended. The Raiders might not be ready to move on, but they have to now. Whoever is calling the shots in Oakland has a big call to make.

It can't wait.

EXTRA POINT: The NFL is such a specialized game, you wonder sometimes how much influence a head coach really has. Maybe most are like political candidates; good at the big picture, locker room speeches, and managing the many competing voices within an organization. But two very different men proved something Sunday. Coaching still matters.

The Philadelphia Eagles won for embattled coach Andy Reid. And the San Francisco 49ers might just have won because of new coach Jim Harbaugh.

All last week, the Eagles players defended Reid to his critics. Sunday, in an ugly, gut-it-out kind of win over the Washington Redskins, they walked that walk to give Reid his first bit of breathing room in months.

In San Francisco the story -- and the reputation (for good and bad) of Jim Harbaugh -- is growing by the game. His bluster, toughness and attention to detail have transformed this team into a contender in the NFC West faster than anyone could have imagined. His team clearly believes in him. An entire city is starting to.

In the short term, people will remember the 49ers' win over the Lions Sunday for the post-game altercation between Harbaugh and Lions' coach Jim Schwartz (I have no idea how Pete Carroll had enough self-control not to tweet anything in reaction, by the way), but if San Francisco keeps playing winning football, the win will mean a lot more than that.

What's Harbaugh's deal? He can coach.




October, 16, 2011
10/16/11
6:53
PM PT
OAKLAND –
Oakland Raiders
quarterback
Jason Campbell
is
expected to miss the rest
of the season with a broken collarbone.

Campbell
He suffered the injury in the second quarter of the Raiders' 24-17 win over Cleveland on Sunday.
Kyle Boller
finished the game.
Oakland coach Hue Jackson would not discount the possibility of Oakland adding another quarterback. Former Jacksonville quarterback
David Garrard
is a free agent.
Kyle Orton
was replaced in Denver. The NFL trading deadline is Tuesday.
I will be back with more later.