December, 24, 2011
12/24/11
5:34
PM PT
A look at a thrilling
16-13
Oakland win:
What it means:
The Raiders are still alive. The Chiefs are not. When
Sebastian Janikowski
's 36-yard field goal went through the uprights, the Raiders became 8-7 and tied with Denver for first place in the AFC West. Denver owns the tiebreaker and can win the division title with a home win against the Chiefs next Sunday. Oakland will win the division with a home win against San Diego and a Kansas City win at Denver. If the Chargers lose at Detroit on Saturday, and if Denver and Oakland both lose in Week 17, Denver will win the division. Oakland is a game out in the wild-card race. It will need to win next week and hope for some help to make it as a wild card. Kansas City fell to 6-9 and was eliminated from playoff contention. It won the AFC West last year. It was Oakland's fifth straight win at Kansas City, which is a team record. The Chiefs have gone eight straight games in which it has scored 19 points or less.


Big arm at the right time:
After winning the coin flip to open overtime, Oakland quarterback
Carson Palmer
hit
Darrius Heyward-Bey
for a 53-yard reception deep in Kansas City territory to set up the game-winning field goal. Palmer was decent on Saturday, but he came up big when he was most needed.
Seymour is a chip off the old block:
Oakland defensive lineman
Richard Seymour
blocked two
Ryan Succop
49-yard field goal attempts, including one at the end of regulation. Succop had tied a team record of 22 straight field goals made before the first block.
No shame for Romeo:
I wouldn't think this loss severely damaged Romeo Crennel's hope to become the permanent head coach. Kansas City beat Green Bay last week to help Crennel's chances. The Chiefs played hard on Saturday under Crennel and that will go a long way in helping his cause when the Chiefs evaluate the situation after the season.
Orton not great:
In his second start as the Chiefs' quarterback,
Kyle Orton
was just OK as he compiled 21 of 36 passes for 300 yards. Orton, though, threw two interceptions with the Chiefs driving that ending up killing Kansas City. The Chiefs are 2-for-9 in the red zone with Orton.
Penalties pile up:
There were 26 penalties for 180 yards. Oakland was penalized 15 times for 92 yards. The Raiders are on pace to set an NFL record for penalties and penalties yardage in a season.
Wasting a fake:
A penalty wiped out an Oakland touchdown on a fake field goal. That's terrible. Sooner or later, opponents are going to catch onto Hue Jackson's penchant for fakes. To waste a touchdown on a penalty is horrible.
Good defense
: Both defenses failed late, but they both hung in for the most part. Oakland came into the game allowing 13 touchdowns in the past three games.
Bowe comes up big when it counts:
Kansas City receiver
Dwayne Bowe
was great at the end of the game and he tied the game with a short touchdown reception; it was his first score in 53 catches.
What's next:
Oakland hosts San Diego and Kansas City plays at Denver.
October, 16, 2011
10/16/11
6:53
PM PT
OAKLAND –
Oakland Raiders
quarterback
Jason Campbell
is
expected to miss the rest
of the season with a broken collarbone.

Campbell
He suffered the injury in the second quarter of the Raiders' 24-17 win over Cleveland on Sunday.
Kyle Boller
finished the game.
Oakland coach Hue Jackson would not discount the possibility of Oakland adding another quarterback. Former Jacksonville quarterback
David Garrard
is a free agent.
Kyle Orton
was replaced in Denver. The NFL trading deadline is Tuesday.
I will be back with more later.
September, 13, 2011
9/13/11
11:24
AM PT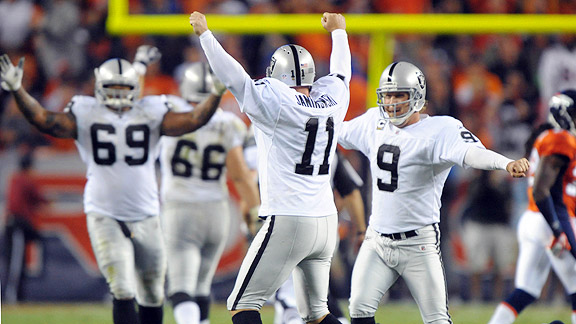 Kirby Lee/Image of Sport/US PresswireSebastian Janikowski's 63-yard field goal tied an NFL record and helped the Raiders top the Broncos.
DENVER --
Sebastian Janikowski
wasn't overly impressed.
It was much prettier in his dream Sunday night.
"To be honest, I didn't hit it very well," Oakland's rifle-legged kicker said of his NFL record-tying 63-yard field goal that was the difference in the Raiders'
23-20 win
over the
Denver Broncos
in a sloppy game Monday night.
"I just saw the replay. It barely made it."
Janikowski was much more enamored with his dream sequence from the night before the opener. While in his Mile High City hotel, Janikowski dreamt he tied the NFL record -- which he now shares with Tom Dempsey and
Jason Elam
-- and sent the game to overtime. He said he was going for the record in overtime in his dreams.
"It was weird that it all happened," Janikowski said.
Prior to the game, Janikowski knew his dream could become a reality when he drilled a 70-yarder in warm-ups. He was also much more impressed with that effort than the record-tying kick. Janikowski said Oakland coach Hue Jackson saw the 70-yarder before the game, which gave him confidence in his kicker.
"The Denver air is unbelievable," Janikowski said. "The ball really carries."
It is the field goal record capital of the NFL. Elam's kick came in the Old Mile High Stadium.
Still, Janikowski benefited from a 15-yard penalty by Denver late in the second quarter. Oakland seemed satisfied with running out the clock before a face-mask penalty on Broncos DT
Kevin Vickerson
. Then the Raiders got aggressive and gave Janikowski a chance. He said he was ready for the opportunity when it came.
But Janikowski is always ready for the chance. The 63-yarder was his seventh field goal of 55 yards or more in his career. His previous career high was a 61-yarder at Cleveland in 2009.
This 63-yarder barely made it. But it was good enough to tie the record and help Oakland win the game. While it gave Oakland a 13-point cushion at halftime, the Raiders needed the points as they held off Denver's second-half comeback.
"He's phenomenal," Jackson said of his kicker. "What Sebastian did is unheard of."
Here are some other key aspects of the game:
Denver doesn't do it the Fox way:
Coach John Fox's mantra is simple: Run the ball on offense, stop the run on defense. The Broncos did neither in his debut.
In fairness to Fox, Denver's defense looks much more competitive than it was last season when it was ranked No. 32 in the NFL. But Denver's offense is way out of sync and was mistake-prone. Denver miscues sparked all of Oakland's points.
The Broncos could not ignite the run game (38 yards on 13 attempts).
Kyle Orton
threw the ball 46 times. Fox will want to change that approach moving forward.
Defensively, in the end, Denver was beaten up in the run game. It allowed 190 yards on the ground. Oakland star rusher
Darren McFadden
had 150 yards on 22 carries.
Seeing his team end up minus-152 yards in the rushing yardage outcome will frustrate Fox. Expect him to pound that into his team this week.
Injuries mounting for Denver:
Key defensive standouts
Elvis Dumervil
and
Champ Bailey
have injuries. The extent of the injuries is unknown, but Denver can't afford for either player to be out for an extended period of time. Dumervil said he hurt his shoulder in practice last week. Dumervil, who missed all of last season with a pectoral injury, played only on passing downs Monday night.
Bailey, the team's star cornerback, left the game with a hamstring injury in the fourth quarter. He did not return. Running back
Knowshon Moreno
(hamstring) and receiver
Brandon Lloyd
(groin) were also banged up. This ugly night could end up getting worse for the Broncos.
McFadden is a McStud:
The Broncos pressed their luck with McFadden and got burnt. After Orton lost a fumble with Denver driving to potentially take the lead early in the fourth quarter, McFadden made him pay for the miscues. He blasted a 47-yard run to the Denver 1-yard line to set up a touchdown that gave the Raiders enough of a cushion to win.
McFadden broke out in his third NFL season last year and became one of the league's most dynamic runners. He continued it in his opening game of his fourth season. He is a legitimate NFL workhorse.
Hooray for Hue:
The win wasn't pretty and the Raiders will have to do something about those 15 penalties, but this was a big night as Jackson debuted with a victory. Jackson was beaming in his postgame news conference. He knew the win broke some nasty streaks.
The Raiders won to open the season for the first time since 2002. That season ended in the Super Bowl. It also broke an 11-game prime-time losing streak for a team that once dominated the "Monday Night Football" landscape. Oh, and the Raiders remain the kings of the AFC West. They have now won eight straight division games, dating to 2009. It's the longest such streak in the NFL.