NFL@L.A.:

Los Angeles Dodgers
November, 3, 2011
11/03/11
9:49
AM PT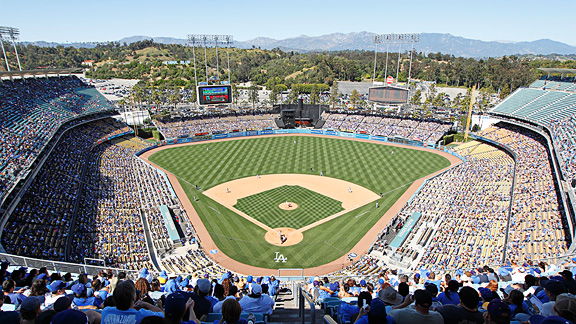 Paul Spinelli/MLB Photos/Getty ImagesThere was a time when an NFL stadium could have been on the horizon in Chavez Ravine.
With the news that former Dodgers owner Peter O'Malley and former Dodger executive vice president and general manager Fred Claire are a part of groups looking to buy the Dodgers, we thought it would be timely to revisit the story of why O'Malley sold the Dodgers in the first place. In all likelihood he would still be the owner of the Dodgers and an NFL team would be playing at a football stadium in Chavez Ravine if it hadn't been for, you guessed it, politics. The following is an excerpt from our story in February on the NFL's 16-year rocky relationship with Los Angeles.
The NFL has returned to every city it has vacated in the modern era (Oakland, Baltimore, St. Louis, Cleveland and Houston) except Los Angeles, which has been without an NFL team longer than any of its predecessors. For all the fans the Raiders accumulated during their 13-year stint in Los Angeles, it has been over 16 years since they moved back home to Oakland.
The last city to lose an NFL team and never get one again was Brooklyn, when the Brooklyn Tigers (previously known as the Brooklyn Dodgers from 1930 to 1943) folded in 1945. The team played its home games at Ebbets Field and on Oct. 22, 1939, made NFL history when the Brooklyn Dodgers played the Philadelphia Eagles at Ebbets Field in the first NFL game shown on television. The Dodgers beat the Eagles that day 23-14.
Coincidentally, one of Los Angeles' best chances to attract a team back to the city would have included the Dodgers making a return to the NFL. Less than a month after the Raiders joined the Rams as former Los Angeles residents in 1995, leaving the city without professional football for the first time since 1946, Dodgers owner
Peter O'Malley
agreed to build an NFL stadium and operate the expansion team at the request of Los Angeles mayor
Richard Riordan
.
Chavez Ravine was the perfect site, O'Malley was the perfect owner and the project, most importantly, had the backing of the city and the league, which was hoping to put a team back in Los Angeles by 1998 if everything went according to plan. The timing for the city in retrospect was also perfect, as Cleveland still had the old Browns and Houston still had the Oilers when these talks began. Los Angeles would have been essentially alone in its expansion bid.