NFL@L.A.:

Los Angeles Rams
February, 4, 2012
2/04/12
7:45
AM PT
Jackie Slater
never won a Super Bowl during his 20-year career in the NFL with the Los Angeles and later St. Louis Rams. The closest he came to a ring was in Super Bowl XIV when the Pittsburgh Steelers beat the Los Angeles Rams, 31-19, in front of a record crowd of 103,985 at the Rose Bowl.
Slater hopes his family will finally get its first Super Bowl ring this Sunday when his son, Matthew, a wide receiver, safety and special teamer for the New England Patriots takes the field against the New York Giants.
[+] Enlarge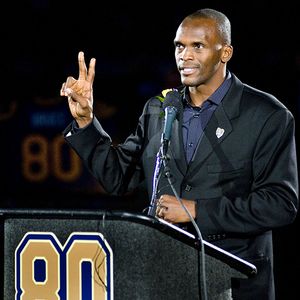 Douglas C. Pizac/US PresswireIsaac Bruce
As much as Slater would like to see himself in his son, he admits that he reminds him of one of his favorite players and teammates.
"If you were to ask my son who is favorite player was, it won't be me, or
Randy Moss
, who he played with or
Wes Welker
, who he plays with, his favorite player is, always has been and always will be
Isaac Bruce
," Slater said. "He respected
Isaac Bruce
. Not only the way he competed as a player but the way he conducted himself off the field.
"
Isaac Bruce
is a guy that I want my son to play like."
THE LAST LINK
Isaac Bruce
, who turned 39 in November, looks like he could still play in the NFL as he sits down in the lobby of his Fort Lauderdale condominium in a track suit after a morning workout.
Bruce, who retired from the NFL before the 2010 season, was the last player to have played in the NFL on either the Los Angeles Rams or the Los Angeles Raiders. Both teams left Los Angeles in 1995. There are currently no current players in the NFL who played on an NFL team in Los Angeles.
In fact, the 17-year gap is so large now, that in the case of Slater, some those former players' sons are now playing in the league.
"I knew I was the last Los Angeles Ram playing," Bruce said. "I didn't know I was the last guy who played for a Los Angeles team that was still in the NFL. I knew
Wayne Gandy
was with me and after he retired I figured, well, I must be the last one. I guess I was carrying the torch for the city of Los Angeles until my retirement. I had a marvelous, phenomenal time out there."
While Bruce played all but one season of his 16-year NFL career in Los Angeles, he still considers the city his home away from.
He first arrived in Los Angeles as a 17-year-old kid with two duffle bags and the hope of playing college football after being overlooked by Miami, Florida and Florida State.
Bruce would play at West Los Angeles College and then Santa Monica College before transferring to Memphis in 1992. He can still rattle off street names, bus stops and restaurants around Los Angeles as he sits in his home 2,800 miles away.
"When I go back to L.A., it's funny because I still see the busses and I know exactly where they're going," Bruce said. "I lived on Arbor Vitae Street and I would catch the bus right at the bus depot next to the airport. It brings back so many memories. I would walk to the rental car center, which wasn't far from my place and they would take me to the airport. I would catch the six bus that goes to Culver City and I would take that bus to the Fox Hill Mall and that would take me to West L.A. My second year I could get on the three bus that goes on Lincoln and takes you all the way to Santa Monica and Pico and I would go to school in the morning and come home the same way."
When Bruce returns to Los Angeles, he still goes to the rental car station next to his old dorm off of Arbor Vitae at Northrop University and eats his first meal at D&K Drive-In, which was where he ate most of his meals.
"I don't think the owners there recognize me because when I was 17 when I would be there so much," Bruce said. "But I go down there and sit down and it's amazing. That's where I first started."
October, 28, 2011
10/28/11
10:00
AM PT
By
Steve Springer
| ESPNLosAngeles.com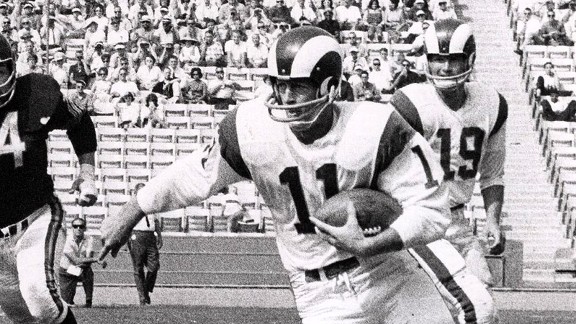 David Boss/US Presswire
The Los Angeles Rams' Terry Baker runs against the Chicago Bears at the Coliseum on Nov. 15, 1964.
Tim Tebow
, meet
Terry Baker
.
The reaction of most sports fans would be, Terry who?
That's understandable, unless they were dedicated fans of the old Los Angeles Rams and are now collecting Social Security.
A half century ago, Baker was the Tebow of his time, an electrifying quarterback/running back who captured the national spotlight in college football and generated much speculation about whether he could transfer his success as a dual threat to the pros.
Baker seemed more comfortable running than throwing, a possible advantage in the NFL back then when there was more emphasis on the ground game then there is today.
Johnny Unitas
had electrified the country with his dominating performances at quarterback, but the type of helmet-busting, clock-eating ground game generated by running back
Jim Brown
, the other top superstar of that era, was still seen as the necessary foundation for a good offense.
Enter Terry Baker.
At 6-3 and 195 pounds, he was certainly no Jim Brown, nor was he a Unitas, but he was clearly going to be the No. 1 pick in the 1963 NFL draft.
In three years at Oregon State, Baker, with his arm and legs, had run up 4,979 yards of offense, the second highest total in college football history to that point.
He had capped off his Beaver career by sweeping all the major awards in his senior season, the Heisman Trophy, the Maxwell Award, AP and UPI College Football Player of the Year and Sports Illustrated Sportsman of the Year.
In all, Baker won 14 player of the year awards while at Oregon St. and made a dozen All-American teams. In his final appearance for the Beavers, he led his team to victory over Villanova in the Liberty Bowl. Oregon St. won 6-0, the lone score coming on a 99-yard touchdown run by Baker.
Sports Illustrated described him as being "like a James Bond in shoulder pads."
October, 26, 2011
10/26/11
12:29
PM PT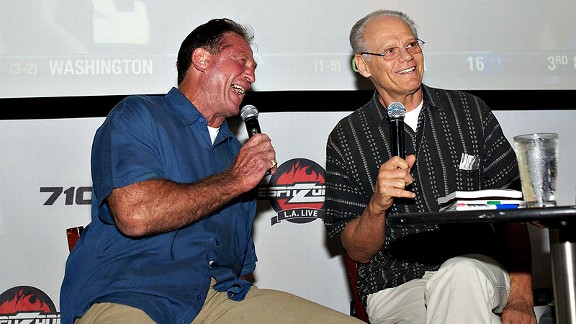 Christopher GrisantiJack Youngblood and Fred Dryer together again in Los Angeles promoting Youngblood's book.
Jack Youngblood
is sitting on a balcony overlooking Downtown Los Angeles as he smokes a cigar and marvels at the transformed city he and his former Los Angeles Rams teammates once owned.
The city has changed drastically since he retired in 1984. The Rams, for one, have been in St. Louis since 1995 and an entire generation of fans has grown up here without a pro football team.
Youngblood, however, hasn't changed much since his playing days when he was labeled the "
John Wayne
of football." When a waitress comes around to take his order, Youngblood takes one quick look at the menu and says, "Just bring me the biggest beer you got and the nastiest burger you can make with bacon and cheddar and avocado and bring me that bad boy."
He has just spent the past three hours signing copies of his new book,
"Because It Was Sunday: The Legend of Jack Youngblood"
along with his friend and former teammate
Fred Dryer
.
Youngblood, who lives near Orlando, and Dryer, who lives in Los Angeles, hadn't seen each other for years but keep in touch regularly. "Thank goodness for the internet," Dryer said.
If the Rams still played in Los Angeles or if the current Rams organization in St. Louis kept ties with the players who played for the team before 1995, perhaps the two friends who combined for 255 sacks would be able to see each other more regularly at games and alumni events. As it is, e-mail is their only connection these days.
"We are their legacy but they forgot us," Youngblood said of the current Rams. "They don't have anything to do with us, really. I find that unfortunate because you look at other franchises, even those that have moved, and they use their alumni in their marketing and in their organization. They use their hall-of-famers as an example for the players who are there today. They use their alumni but the Rams have cut us out of the picture."
October, 19, 2011
10/19/11
4:59
PM PT
First things first,
Jack Youngblood
will be signing his new book,
Because it was Sunday: The Legend of Jack Youngblood
this Sunday, Oct. 23 at the ESPN Zone at L.A. Live at 11:30 a.m. He will be there with his former Los Angeles Rams teammates
Fred Dryer
,
Vince Ferragamo
,
Rich Saul
and a few other surprise guests. I will be there as well to answer any NFL@LA questions you might have.
Also, we'll be doing our weekly NFL@LA mailbag on Thursday so send your NFL@LA questions in the comments section below or through my
Twitter
or
Facebook
accounts and I will answer them here on the blog. I will also again be
hosting a live chat
on Friday at 1 p.m. if I miss any questions or if you want to discuss anything further, so stop by and join the discussion.
October, 12, 2011
10/12/11
4:50
PM PT
The last edition of the
NFL@LA mailbag
went well. We covered the possibility of the Vikings coming to Los Angeles, UCLA and the Los Angeles Galaxy playing at Farmers Field and if the City of Industry site would serve Farmer John hot dogs.
Well, it's that time again. We'll be doing anything mailbag on Thursday so send your NFL@LA questions in the comments section below or through my
Twitter
or
Facebook
accounts and I will answer them here on the blog. I will also again be
hosting a live chat
Friday at 1 p.m. if I miss any questions or if you want to discuss anything further, so stop by and join the discussion.
October, 12, 2011
10/12/11
12:21
PM PT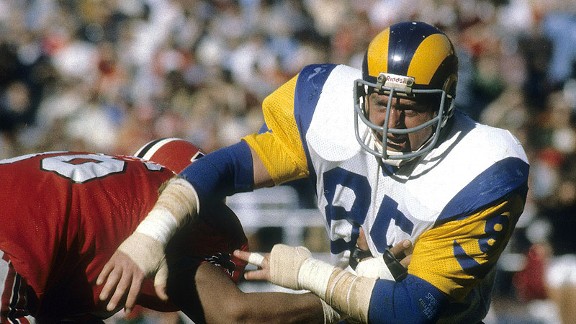 Focus on Sport/Getty Images
Jack Youngblood in action against the Falcons during a game at Atlanta-Fulton County Stadium in Atlanta. Youngblood played for the Rams from 1971 to 1984.
Even at the age of 61,
Jack Youngblood
would still pass for the toughest player in the NFL if he put on shoulder pads and wore his No. 85 blue-and-gold jersey Sunday.
The Hall Of Fame defensive lineman, who played through a broken leg in the 1979 playoffs, has a hard time watching today's game, where some players sit out with a sore throat or hangnail.
"I don't get it," Youngblood said. "I don't understand it sometimes."
Youngblood, who lives in Florida, is currently on tour promoting "
Because It Was Sunday: The Legend of Jack Youngblood,
" written by D.W. Cooper. I caught up with Youngblood and asked him about his career with the Rams, playing with a broken leg and, of course, what he thinks about Los Angeles getting the NFL back.
Arash Markazi:
You played your entire 14-year career in Los Angeles with the Rams. How surprising is it that the last time the NFL had a game in Los Angeles was Christmas Eve 1994?
Jack Youngblood:
It's one of those things that's really hard to believe. Right after the Rams and Raiders left you had a little noise here and there that a team was coming and all of sudden time goes by and we're almost 17 years out since the last time the NFL was in L.A. It's amazing because it's a great football town. I witnessed that firsthand. If you have a good football team there you become their rock stars. But not to have one there for so long is incredible. You have to build a house first and then more than likely somebody is going to have to pony up the franchise fee.
Markazi:
Have you followed the two proposals that are currently out there to bring the NFL back to Los Angeles. There's one in downtown Los Angeles and another in the City of Industry.
Youngblood:
I have not studied them well enough to know the difference but the one thing I know about Los Angeles is that you have to have great access and egress and if you don't you're going to frustrate people even more. They have the 5 Freeway, the 10 Freeway and the 405 that drive people crazy Monday through Friday and they don't need that on a Sunday afternoon too.
Markazi:
It seems Los Angeles is still predominantly a Raiders town, even though they were only in L.A. for 13 seasons and the Rams were in Southern California for close to 50 years. Do you think the Rams lost the Los Angeles market when the team moved to Anaheim in 1980?
Youngblood:
I didn't think so. You had to redirect the fans but once they got used to coming to Anaheim and saw what a great facility was, at least at first anyway, it was fine. It was easy to get to. There was plenty of parking and all of that. It wasn't hard to convince them that it was a nice facility and a good home.
Markazi:
So you play your entire career in Los Angeles and one of your rivals during that time is the St. Louis Cardinals. What is it like now when you go to St. Louis and are honored by the city along with those former Cardinals players?
Youngblood:
Yeah, that's odd. You go there and they're Rams fans so they know the team's history, but there's this bittersweet thing going on with the local people because they used to hate us when we came to town and beat up on
Jimmy Hart
and
Dan Dierdorf
and all those guys. It's irony for sure. That's a business decision where they try to bring the St. Louis fans into the Los Angeles Rams history.
Markazi:
The Rams can get out of their lease in St. Louis soon and there has been some talk of them coming back to Los Angeles. What would that mean to you, if the Rams did come back home?
Youngblood:
Well, [Rams owner] Mr. [
Stan
]
Kroenke
is going to do make the best deal in the best interest of his franchise. I know that. He's a business man and he will do that for the value of his franchise. It's going to have to be lucrative to leave an established market in St. Louis even though Los Angeles would be even bigger. It's going to be interesting to see what happens.
Markazi:
What was Los Angeles like when you played, especially from 1973 to 1979 when the Rams won seven straight NFC West titles and made it to Super Bowl XIV?
Youngblood:
We were rock stars. We were absolute rock stars. Even through that strike-shortened 1982 season when we were 2-7 and not very good, we were still popular. Everywhere you went people recognized you and your face was on all kinds of marketing stuff. They loved us. Los Angeles loved their gold and blue.
September, 29, 2011
9/29/11
3:30
PM PT
By
Steve Springer
| ESPNLosAngeles.com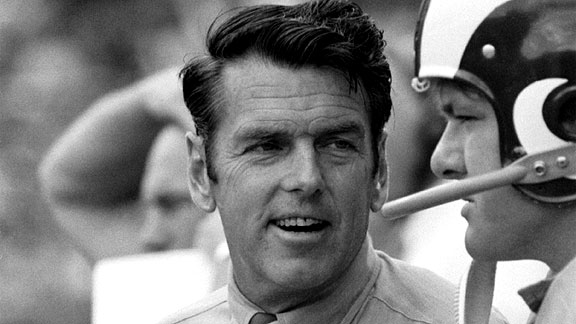 Diamond Images/Getty ImagesGeorge Allen was very good at carrying the losing-is-like-dying philosophy to the extreme.
I thought I had pulled the quote of the week -- heck, the quote of the season -- right out from under the noses of the national media.
Ok, so I was a na´ve rookie sportswriter with the now-defunct Thousand Oaks News Chronicle, covering my first, big pro event. It was a 1974 divisional playoff game between the-then Los Angeles Rams and the Washington Redskins at the Coliseum, played several days before Christmas.
After the Rams' 19-10 victory, I walked up to Redskin head coach George Allen, whose back was to me, and tossed out a softball question to begin the conversation: "Looking forward to getting back to Washington as soon as possible so the team can enjoy Christmas?"
Allen turned to face me, his eyes red, and replied, "When you lose, there is no Christmas."
What a great line, I thought, a line I can build a story around.
What I didn't know was that it was a typical Allen line, the type that filled the notebooks and tape recorders of those who covered him on a regular basis.
He certainly wasn't the first, or the last football coach to articulate the losing-is-like-dying philosophy. But few carried it to the extreme Allen did, partially because he believed in it, but also to perpetuate his image as the ultimate workhorse in the coaching fraternity.
This is a man who once said he called the opposing coach's office after 10 o'clock on a Wednesday night and, if no one answered, he knew he would win that week's game.
This is a man who once ordered an assistant to sit in the Coliseum at dusk in the days before a Super Bowl to chart the exact spot where the sun set below the stadium's rim in order to factor that into the game plan.
This is a man who, before that Super Bowl, told his players, "To win this game, I'd let you stick a knife in me and draw all my blood."
This is a man who preferred to live on milk, vitamins and ice cream because, as his wife, Etty, once told her kids, according to daughter Jennifer, "Chewing's a distraction. Your father's afraid it might take his mind off football."
This is a man who once became so obsessed with the time the players were "wasting" eating lunch during training camp that he decided to divide those waiting for soup into two lines, one for those wanting crackers and one for the crackerless.
So why did owners put up with Allen?