September, 30, 2011
9/30/11
7:37
AM PT
Each Friday we will update you on the four NFL teams most likely move to Los Angeles; ranking them in order of the likeliest to call L.A. home within the next few years.

1. SAN DIEGO CHARGERS (2-1)
"
Last week:
San Diego beat the Kansas City Chiefs 20-17 at Qualcomm Stadium. The Chiefs had lost their first two games by a combined score of 89-10 and had been outscored 74-14 in their last two games in San Diego but the Chargers simply couldn't put the winless Chiefs away. It wasn't until Chargers safety
Eric Weddle
intercepted Chiefs quarterback
Matt Cassel
at midfield with 55 seconds left that they clinched the win and only their second 2-1 start since 2006.
"
This week:
The Chargers get to face another winless team at Qualcomm (both of their wins have come at home against the winless Minnesota Vikings and Chiefs) when they play the Miami Dolphins on Sunday and try to move to 3-1 for only the second time since 2002. Miami's 30
th
ranked defense may be exactly what Chargers quarterback
Philip Rivers
needs to break out of the funk he's been in. Rivers has thrown six interceptions through the first three games of the season; the most interceptions he has thrown during any three-game stretch in his career.
"
L.A. Story:
Chargers special counsel
Mark Fabiani
sounded as excited as AEG president and CEO
Tim Leiweke
about California Gov.
Jerry Brown
signing SB 292 and AB 900 on Tuesday, two bills that will expedite legal challenges to big-ticket statewide projects such as stadiums and arenas. Fabiani is hoping the bill will expedite challenges to his proposed Chargers stadium and convention center expansion in downtown San Diego. Although expediting legal challenges is the least of Fabiani's worries. First he has to get politicians, citizens, hoteliers and the convention center behind his plan to scrap the current convention center expansion and get behind a dual stadium/convention center project and find a way to finance it. I guess, once he get past those hurdles and an environmental impact report he can get excited about expediting legal challenges.
September, 25, 2011
9/25/11
7:54
PM PT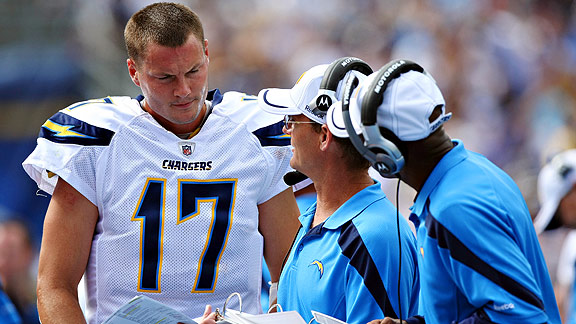 Donald Miralle/Getty ImagesChargers quarterback Philip Rivers has thrown six interceptions in his first three games this season.
SAN DIEGO -- This was the kind of game the San Diego Chargers would have found a way to lose the last five years, and if they were playing anyone else but the Kansas City Chiefs, they probably would have done just that.
The Chargers are 2-1 for only the second time since 2006 and San Diego's players and coaches will tell you this is all that matters. They will take a win any way they can get.
We, of course, should know better than that.
When you're as talented as the Chargers and beginning a season with Super Bowl aspirations, a couple of nail-biting wins at home against the Minnesota Vikings and Kansas City Chiefs -- two of only five teams in the league still winless after three weeks -- isn't going to cut it.
Yes, the Chargers are 2-1 and will try to move to 3-1 next week for only the second time since 2002 against the Miami Dolphins, another winless team, but this is far from a Super Bowl contending team right now.
If anything it looks like a familiar squad filled with the same characteristics Chargers fans have become all too familiar with in the postseason -- underachieving, mistake-prone, and ultimately, self-destructing.
Against the likes of the Vikings and Chiefs, who can't get out of their own way this season and will probably find new and exciting ways to lose each week, the Chargers can afford to shoot themselves in the foot a few times and still come away with a win. The Chargers, however, proved last week they can't do that against a good team like the New England Patriots and won't be able to get away with careless turnovers and poor clock management against most teams in this league and come away with a win.
"The whole thing for me and it's important for our team is that we're 2-1," coach
Norv Turner
said, echoing the feeling of the team after the game. "Our long-range goal is to be 3-1. We got a lot of work to do. I don't know if I've ever been around a group of guys that cares more, that works harder than this group does. We're good enough to get better. We have to get better there's no question."
September, 25, 2011
9/25/11
5:51
PM PT
SAN DIEGO -- A look at a game that was much closer in the end that it should have been.


What it means:
The Chargers need to learn the create separation between themselves and their opponents. They dominated this game, but the Chiefs came back in the fourth quarter. The Chiefs had an opportunity to try to tie the score with a field goal in the final minute before San Diego safety
Eric Weddle
sealed it with an interception off a poor decision by Chiefs quarterback
Matt Cassel
. San Diego is now 2-1. The Chiefs fell to 0-3.
Tomorrow's talker:
There could be some hope for the Chiefs. They played much better in the second half offensively. The Chiefs didn't convert a first down in the first half. It was the first time that has happened in the NFL since December 2009, according to ESPN Stats & Information. Yet, Todd Haley's team did not lay down Sunday. That has to be encouraging.
Trending:
San Diego quarterback
Philip Rivers
has thrown two interceptions in all three games this season. He has never thrown three interceptions in a game. His highest season interception total is 15. Rivers is playing well, but he has been far from perfect.
Mathews' maturation:
San Diego running back
Ryan Mathews
is a much better player in his second season than he was last year. He had 98 yards rushing and added 51 yards receiving. He is running with a lot of confidence.
What's next:
The Chargers host winless Miami on Sunday. Barring a meltdown, the Chargers should emerge from the first quarter of the season with a 3-1 record. That would help quiet the worry over slow starts under Norv Turner. The Chiefs go back home, looking for their first win when they host former star defensive end
Jared Allen
and the
Minnesota Vikings
. It will be the first time Allen has played against the Chiefs since they traded him in 2008.