November, 20, 2011
11/20/11
4:08
PM PT
For the first three quarters of their 27-21 win over the Minnesota Vikings on Sunday, the Oakland Raiders looked like the class of the AFC West and a scary good young team that could make enough noise in the playoffs to net the Cincinnatti Bengals two first-round draft choices from the Carson Palmer trade after all.

In the fourth quarter they looked like the same undisciplined, immature Oakland Raiders team that hasn't made the playoffs since 2003.

The Raiders weren't just bad in the fourth quarter Sunday, they seemed hellbent on giving away the game to a Vikings team that has done the same on way too many occasions this season.

First Sebastian Janikowski had a 48-yard field-goal attempt blocked. Then Michael Bush fumbled inside the Raiders 40 yard line just moments after the Oakland defense came up with a key interception in the endzone to thwart a nice drive by the Vikings. In between the Raiders committed an alarming number of penalties.

Some of the dysfunction can be attributed to the scary injury to wide receiver Darrius Heyward-Bey, who was carted off the field because of a neck injury.

Some of the penalties whistled by the officials were probably due more to the Raiders' reputation for reckless, undisciplined play. They are guilty until presumed innocent far too often for it to be a coincidence, which I assume is why coach Hue Jackson decided to take a heavy fine for the team and criticize the officials after they whistled his team for 12 penalties that cost the Raiders 117 yards during the game.

But way too much of the Raiders problem late in Sunday's game has to do with attitude.

This has been a team on its way up for the better part of two years now. They've played -- as young teams generally do -- with a large chip on their shoulder.

Now all of a sudden they have arrived and they seem to have little idea of how to breathe the air up there.


November, 10, 2011
11/10/11
11:36
PM PT
SAN DIEGO – This is why the Raiders traded for
Carson Palmer
.
This is why no one trusts that the
San Diego Chargers
will ever live up to expectations.
In an entertaining and unpredictable start to what could be a spectacularly wild second half in the AFC West, the
Oakland Raiders
took ownership of the division by setting the tone offensively and defensively against a home San Diego team that can only be described as floundering.
In a game featuring big-armed quarterbacks, it was Palmer who outdueled a still-sagging
Philip Rivers
in a
24-17
Oakland win.
In the process, the Raiders raised their record to 5-4 and are now alone in first place in the AFC West. San Diego has lost four consecutive games and is spinning out of control at 4-5. Kansas City is 4-4 and it hosts Denver, 3-5, on Sunday. If the Chiefs beat the Broncos, who beat Oakland last week, they will be technically ahead of Oakland owing to Kansas City's victory over the Raiders in Week 7.
This game had the feel of two teams scrambling to stay alive.
The reality of the three-way tie in the division was that no team had established itself as a quality squad, nor had any team showed that it was ready to be anything but first-round playoff fodder for stronger AFC competition come January.
Oakland had lost consecutive divisional games at home by a total of 42 points — and with a rusty Palmer and without star running back
Darren McFadden
, was lacking an identity on offense.
San Diego entered the game losers of three in row, games they could have easily won and in which Rivers made crucial mistakes.
The Raiders made necessary adjustments in a short week. The Chargers added to their misery.
"It had a feel of a desperate game," Oakland defensive lineman
Richard Seymour
said. "We talked all week about just letting it go and doing whatever we could to get this win."
The Raiders followed a formula they have used against San Diego for the past three years — they punched them in the mouth and controlled the line of scrimmage on both sides of the ball.
Offensively, the Raiders used a beautiful combination of Palmer converting key long passes and McFadden caddie
Michael Bush
jamming the ball down the Chargers' throats. Bush, one of the best backups in the NFL, had 157 yards rushing on 30 carries. He had 78 yards on13 carries in the first quarter.
Thursday night represented a return of the Oakland offense that was clicking so well in the first six games, before former starting quarterback
Jason Campbell
broke his collarbone. In the first six quarters of the Palmer era – Oakland acquired him from Cincinnati two days after Campbell was hurt in exchange for two premium draft picks – Oakland's offense was out of sorts.
They couldn't run like the NFL's best running attack, and Palmer looked just like what he was – a guy coming off his couch after a nine-month layoff, with completely new teammates.
If Thursday night's crisp offensive showing by Palmer and the Oakland offense is any indication of things to come, the Raiders must be considered the favorites to win the West for the first time in nine years.
You have to think Palmer will keep getting better as he continues to practice with his stable of new, young receivers.
"I like what he is bringing to our team," Seymour said. "We needed another leader and you can see the affect he is having on the young guys. … It's good to have him here."
Palmer threw for 299 yards and made some terrific passes when needed most. He did commit two turnovers – he has eight in 10 quarters with the Raiders – but he clearly is getting on track in Oakland. He and rookie receiver
Denarius Moore
connected five times for 123 yards and two touchdowns.
According to ESPN Stats & Information, Palmer was 4-for-4 on passes of 21-plus yards for 146 yards Thursday night. The late Al Davis would be proud of the new Oakland quarterback who showed his arm is still a top weapon.
"What he is doing is phenomenal," Oakland coach Hue Jackson said of Palmer.
While the season's second half started on the right track for Oakland, San Diego is mired in problems. As the Raiders' offense dominated the Chargers' defensive front, the Oakland defensive line did the same to the battered San Diego line, which played much of the game without three starters.
Four days after being humiliated by the
Tim Tebow
option runaway train, Oakland teed off on Rivers. He was sacked six times and it was an Oakland jailbreak on nearly every play. Oakland linebacker
Kamerion Wimbley
had four sacks himself. He said the constant pressure took a "toll" on Rivers.
"We knew it was on us," Seymour said. "We wanted to get in Rivers' face on every play."
It worked. Now, Rivers has to face the fact that his team is no longer that 4-1 squad in need of a wee bit of tweaking — but rather under .500 and leaking oil fast. After the game, Rivers, who threw another fourth-quarter interception Thursday, again had no answers for the problems.
Rivers and San Diego had better figure out something soon, or this once-perennial Super Bowl contender is going to be on the outside looking in come January for the second consecutive year and potentially facing major changes in the offseason.
Oakland has already endured major change during this season, and it is starting the stretch run better for it.
November, 10, 2011
11/10/11
9:35
PM PT
SAN DIEGO -- A look at an entertaining, standings-changing
Thursday night game
:


What it means:
The Raiders are in first place in the AFC West. They are 5-4 and snapped a two-game losing streak. San Diego has lost four consecutive games and now is 4-5. Kansas City is 4-4, and Denver is 3-5. The Chiefs host the Broncos on Sunday.
The QBs:
Oakland quarterback
Carson Palmer
was mostly terrific as he threw for 299 yards. San Diego quarterback
Philip Rivers
had his moments but threw a key interception in the end zone late in the game. He has made a key mistake in every game during the Chargers' losing streak.
Bush excels:
Oakland needs to re-sign running back
Michael Bush
. He has been fantastic in two starts in place of star
Darren McFadden
, who is out with a foot injury. Bush finished with 157 yards on 30 carries after starting fast with 78 yards on 13 carries in the first quarter. He is a free agent at the end of the season.
Rookie receivers shine:
Oakland rookie receiver
Denarius Moore
looks like a top target for Palmer. He had five catches for a game-high 123 yards, including two touchdowns. San Diego rookie receiver
Vincent Brown
had a touchdown pass on a spectacular catch and had another nice touchdown catch reversed. They both look like keepers.
Injuries pile up:
Both teams came into this game banged up. The injuries mounted. Oakland lost receiver
Jacoby Ford
to a foot injury. San Diego saw left tackle
Marcus McNeill
(stinger), guard
Louis Vasquez
(ankle) and linebacker
Takeo Spikes
(concussion) leave the game. The Chargers were playing without three offensive linemen much of the game, and San Diego pass-rusher
Antwan Barnes
was injured late in the contest.
What's next:
The Raiders play at Minnesota on Nov. 20, and San Diego plays at Chicago in a game that matches up former AFC West adversaries Rivers and
Jay Cutler
.
October, 23, 2011
10/23/11
8:12
PM PT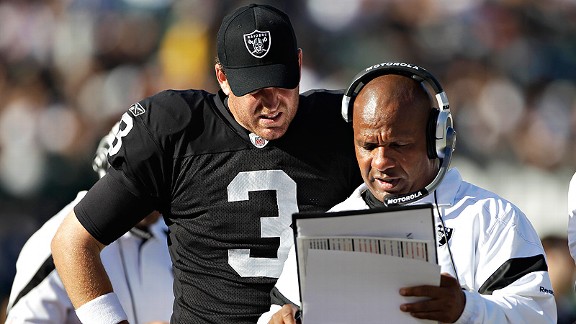 AP Photo/Paul SakumaRaiders coach Hue Jackson, right, tried his best to tutor quarterback Carson Palmer during the game, but it was a rough debut.
OAKLAND -- In simpler times, when both
Hue Jackson
and
Carson Palmer
were younger and the colors they wore were cardinal and gold, not silver and black, Jackson had a saying to calm his young protege down.
"Just run the old brown shoe," he'd tell him. Palmer would nod, knowing exactly what his offensive coordinator meant.
"Yeah," Palmer recalled. "He'd always say, 'You could just run the old brown shoe and win.' "
In other words, keep it simple and let your talent take over. The plays, the offense, the protections don't matter. Just play, don't over-think it.
A decade later, and a whole lot more at stake, Jackson would have been better served heeding his own advice.
Palmer never had a chance to make much of a difference in Sunday's game, a 28-0 loss to the Kansas City Chiefs.
He had time to learn only three or four protections and a small fraction of the team's plays. He's still learning his receivers' names, let alone their tendencies. Oh, and the first time he'd thrown in pads in 10 months was Sunday, when he entered midway through the third quarter.
Jackson knew all this. So did Palmer. Heck, so did the Chiefs.
But instead of buying Palmer and the Raiders some breathing room by saying Palmer would need a week or two to acclimate after a daring blockbuster trade last Monday, Jackson elevated the expectations for immediate success by calling it "the greatest trade in football," then playing coy about whether Palmer would start.
Gamesmanship, Jackson called it afterward. And it would've been great if the Raiders had won.
Instead it seemed like Jackson faked out his entire team -- including Palmer, who said afterward he was never expecting to play this week.
"I didn't think I was going to play so I didn't have much expectation," Palmer said. "I expected to get a feel for watching from the sidelines, seeing coverages unfold, seeing protections be picked up and watch the running game, different play action things to watch from the boundaries.
"But as soon as it's time to go, it's time to go. When your number's called, you've got to be ready to go."