NFL@L.A.:

Philadelphia Eagles
October, 3, 2011
10/03/11
11:08
AM PT
On Sunday it was hard to watch and impossible to look away.
Trailing from ahead
After Tony Romo's first pick-six Sunday afternoon, you kind of shrugged and felt a little better about starting the Lions defense in your fantasy league. After the second one, your stomach started to turn. And after Romo's third interception, when Fox announcer Troy Aikman politely said, "I see what he saw, or... what he didn't see," you had to know how this movie was going to end.
The Cowboys were still ahead at that point, but the game was over. It was just a matter of how the Lions would complete their comeback; death by Megatron or Stafford?
As compelling a story as the Lions are so far this season, this game was about Romo.
Something happened to him on his way to extending the heroic storyline of how he put on a Kevlar vest and came back from a broken rib and collapsed lung to lead the Cowboys to a 3-1 record and into first place in the NFC East. Something weird. Something familiar.
It's often said that Romo crumbles in big moments, but that's not really it. It's not the pressure of the moment that turns him bad, it's what could happen if he were to say -- seize it.
Tony Romo is great at comebacks. He's poised and gutsy and brave. All the qualities you want from your quarterback when the game is on the line. Did you see him yelling and flapping his arms and almost leading the Cowboys down the field in the last minute of the game Sunday? Another 30 seconds on the clock and he might've pulled it off.
But Tony Romo is terrible at basking in his own glory. It freaks him out. Things are going well for the Cowboys and you can feel the self-sabotaging pick-6 coming. Is it the Eastern Illinois, undrafted-out-of-college thing? Is it something else? Impossible to say, but whatever the case, it's a problem for the Cowboys who are often going to be favorites and are always going to be in the spotlight.
If there's any consolation for Romo or the Cowboys, it's that they weren't the only ones who choked in a big moment and backed their way out of a win Sunday. The Philadelphia Eagles, Oakland Raiders and New York Jets all punted away their shot at glory too.
Nightmare scenario
Philadelphia, the NFL's so-called "Dream Team," so often compared to the NBA's "Big Three" in Miami, was worked by Jim Harbaugh's suddenly-not-pathetic 49ers in the fourth quarter, dropping to 1-3 on the year.
They fell asleep in the fourth quarter, after going up 20-3 at halftime and presumably figuring no team with Alex Smith as its quarterback could rally back.
Then rookie kicker Alex Henery missed a couple of field goals and San Francisco running back Frank Gore got going, after realizing none of Philly's big-name free acquisitions play linebacker or safety.
"I think it was a little bit too happy in here," Eagles defensive lineman
Cullen Jenkins said.
"Just because you've got a lead in the game doesn't mean you've played a good game."
Kind of like how it's not a good idea to throw a disco party in July and let LeBron step to the mic and start predicting multiple championships.
Like the Heat, the Eagles may very well rally back to make the playoffs and live up to their preseason hype, but they have a long way to go, a lot of chemistry to build, and a lot of ill-wishers to dodge along the way.
Never mind
Remember way back to last week, when people were talking about the Raiders becoming an elite team again? Never mind.
While it was nice to see a sellout in Oakland for Sunday's showdown against New England, the Raiders are never going to be an elite team with Jason Campbell as their quarterback. They might be good, they might even make the playoffs because Darren McFadden is that awesome, but the NFL is a have or have-not league now.
You either have a good quarterback or you don't. Campbell has learned how to manage a game effectively. But he's never going to win games by himself. And he's always going to have games like he did Sunday.
Although he finished with over 300 yards passing, this game was lost on the two awful interceptions thrown at key moments. His interception in the Patriots' end zone at the end of the second quarter was one of the most destructive, weirdest interceptions you'll ever see.
No wait, the interception he threw directly into the hands of 325+pound defensive lineman Vince Wilfork was weirder. (How do you not see Vince Wilfork?)
Hang on
True, Mark Sanchez spent most of the game looking at the wrong side of Baltimore defensive tackle Haloti Ngata and getting rid of the ball like he played in a Mike D'Antoni offense, but his performance in what became Fumble Night in America wasn't the way to make anyone think he is ready for what lies ahead.
Sanchez, under constant pressure, fumbled four times, lost three of them and added an interception just to complete the cycle of dysfunction. Baltimore scored three defensive touchdowns.
New York has been passing more since All-Pro center Nick Mangold went down with a high-ankle sprain two weeks ago. They had hoped Sanchez was up to the task.
September, 9, 2011
9/09/11
11:39
AM PT
»
NFC Final Word
:
East
|
West
|
North
|
South
»
AFC
:
East
|
West
|
North
|
South
Five nuggets of knowledge about Week 1:
Can Raiders keep streak alive?
The Raiders were the kings of intra-division games last season when they went 6-0 in the AFC West. The problem was, Oakland went 2-8 outside of the division and finished in third place in the AFC West. Still, the Raiders open Monday night's game at Denver -- the back end of an ESPN "Monday Night Foobtall" doubleheader -- with a seven-game divisional winning streak, dating to a 2009 win at Denver. It is the longest current division winning streak in the NFL.
[+] Enlarge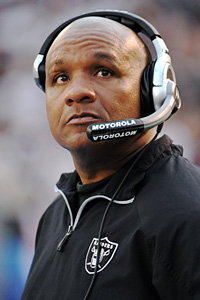 Kirby Lee/US PresswireCoach Hue Jackson and the Raiders will be looking to extend an NFL-best division winning streak.
McNabb likes to bombs away against Chargers:
In 2009, when new Minnesota quarterback
Donovon McNabb
last faced San Diego as a member of the Eagles, he threw 55 passes. In his previous meeting against San Diego, in 2005, McNabb unleashed 54 passes. It was his highest pass total of both seasons. It's doubtful McNabb, 34, will throw that many passes in his first game as a Viking. But the Chargers will be prepared for him to throw at will.
59-14 not on John Fox:
A lot has been made this week of Oakland's 59-14 win at Denver last year. Forty-five point road wins aren't every-season occurrences. New Denver coach John Fox has dealt with a lot of questions about it, but, ironically, that day was a good day for Fox in a mostly miserable 2010. On Oct. 24, Fox's
Carolina Panthers
beat San Francisco for their first win of the season after five straight losses. The Panthers won one more game.
Keep an eye on Merriman:
There is excitement in Buffalo about former San Diego linebacker
Shawne Merriman
. He's healthy and has looked good this summer. The Bills are hoping Merriman, 27, will resemble the player who had a total of 39.5 sacks in his first three NFL seasons and not the player who had four sacks in his past three season combined. Regardless of his past three years, which were marred by major injuries, the Chiefs will be aware of Merriman. They've seen him at his best. Merriman has six sacks in nine career games against the Chiefs. He had three sacks in a game against the Chiefs in 2007 and two sacks in a game against the Chiefs during his rookie season.
Bad Raiders' streaks:
A Raiders win wouldn't just extend their division winning streak, it would end some nasty streaks as well. The Raiders haven't won in Week 1 since 2002 against Seattle. It's the longest current Week 1 losing skid in the NFL. The Raiders also have lost 11 straight prime-time games.