February, 4, 2012
2/04/12
7:45
AM PT
Jackie Slater
never won a Super Bowl during his 20-year career in the NFL with the Los Angeles and later St. Louis Rams. The closest he came to a ring was in Super Bowl XIV when the Pittsburgh Steelers beat the Los Angeles Rams, 31-19, in front of a record crowd of 103,985 at the Rose Bowl.
Slater hopes his family will finally get its first Super Bowl ring this Sunday when his son, Matthew, a wide receiver, safety and special teamer for the New England Patriots takes the field against the New York Giants.
[+] Enlarge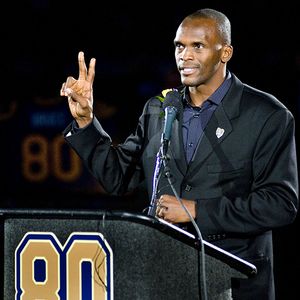 Douglas C. Pizac/US PresswireIsaac Bruce
As much as Slater would like to see himself in his son, he admits that he reminds him of one of his favorite players and teammates.
"If you were to ask my son who is favorite player was, it won't be me, or
Randy Moss
, who he played with or
Wes Welker
, who he plays with, his favorite player is, always has been and always will be
Isaac Bruce
," Slater said. "He respected
Isaac Bruce
. Not only the way he competed as a player but the way he conducted himself off the field.
"
Isaac Bruce
is a guy that I want my son to play like."
THE LAST LINK
Isaac Bruce
, who turned 39 in November, looks like he could still play in the NFL as he sits down in the lobby of his Fort Lauderdale condominium in a track suit after a morning workout.
Bruce, who retired from the NFL before the 2010 season, was the last player to have played in the NFL on either the Los Angeles Rams or the Los Angeles Raiders. Both teams left Los Angeles in 1995. There are currently no current players in the NFL who played on an NFL team in Los Angeles.
In fact, the 17-year gap is so large now, that in the case of Slater, some those former players' sons are now playing in the league.
"I knew I was the last Los Angeles Ram playing," Bruce said. "I didn't know I was the last guy who played for a Los Angeles team that was still in the NFL. I knew
Wayne Gandy
was with me and after he retired I figured, well, I must be the last one. I guess I was carrying the torch for the city of Los Angeles until my retirement. I had a marvelous, phenomenal time out there."
While Bruce played all but one season of his 16-year NFL career in Los Angeles, he still considers the city his home away from.
He first arrived in Los Angeles as a 17-year-old kid with two duffle bags and the hope of playing college football after being overlooked by Miami, Florida and Florida State.
Bruce would play at West Los Angeles College and then Santa Monica College before transferring to Memphis in 1992. He can still rattle off street names, bus stops and restaurants around Los Angeles as he sits in his home 2,800 miles away.
"When I go back to L.A., it's funny because I still see the busses and I know exactly where they're going," Bruce said. "I lived on Arbor Vitae Street and I would catch the bus right at the bus depot next to the airport. It brings back so many memories. I would walk to the rental car center, which wasn't far from my place and they would take me to the airport. I would catch the six bus that goes to Culver City and I would take that bus to the Fox Hill Mall and that would take me to West L.A. My second year I could get on the three bus that goes on Lincoln and takes you all the way to Santa Monica and Pico and I would go to school in the morning and come home the same way."
When Bruce returns to Los Angeles, he still goes to the rental car station next to his old dorm off of Arbor Vitae at Northrop University and eats his first meal at D&K Drive-In, which was where he ate most of his meals.
"I don't think the owners there recognize me because when I was 17 when I would be there so much," Bruce said. "But I go down there and sit down and it's amazing. That's where I first started."