May, 8, 2012
5/08/12
12:40
PM PT


AEG released a 3D architectural "fly-thru," including animations of Farmers Field, the remodeled Los Angeles Convention Center, a redeveloped Gilbert Lindsay Plaza and new adjacent parking structures on Tuesday.

The Los Angeles Convention Center footage depicts the new convention center hall spaces, including a new lobby above Pico Boulevard, pre-function space, and what will be the largest multi-purpose ballroom in Los Angeles, using the L.A. Auto Show as a case study. Additional rendered spaces include over one million square feet of contiguous convention center space and integrated meeting spaces in Farmers Field.

The community experience segment shows the redesigned Gilbert Lindsey Plaza during a variety of events including a farmers market, winter carnival, and various entertainment events.

The final game day segment of the video depict the new 15,000-person tailgate along Chick Hearn Way and the Nokia Plaza with a full fly-thru of Farmers Field during an NFL game as well as pointing towards the opportunity to host Super Bowls, Final Fours and Winter Classics.

"Today's new look into Farmers Field, the Convention Center and surrounding public spaces shows the latest examples of the creativity and functionality that our architects, designers and other consultants are providing throughout the on-going development process," said Ted Tanner, Executive Vice President, Development, AEG. "With last month's release of our draft Environmental Impact Report and the continued work being done by our architects, we continue to make progress on the development of design drawings."

Last month AEG delivered its long-awaited environmental impact report to City Hall for Farmers Field. The 10,000-page report, which took 18 months to complete at a cost of $27 million, is one of the final steps toward beginning construction on the $1.4 billion project.

The EIR will be subject to public comment for 45 days after it is released and if city officials approve the EIR and the project, there will then be a 30-day window for legal challenges, which will be resolved within 175 days. If everything goes according to plan, Farmers Field would be in position to begin construction by March 2013 if an NFL team decides to relocate to Downtown Los Angeles. If construction began by March 2013, the earliest the stadium would be open is September 2017. In the meantime, the NFL team that relocates to Los Angeles would play in either the L.A. Coliseum or the Rose Bowl.
February, 4, 2012
2/04/12
7:45
AM PT
Jackie Slater
never won a Super Bowl during his 20-year career in the NFL with the Los Angeles and later St. Louis Rams. The closest he came to a ring was in Super Bowl XIV when the Pittsburgh Steelers beat the Los Angeles Rams, 31-19, in front of a record crowd of 103,985 at the Rose Bowl.
Slater hopes his family will finally get its first Super Bowl ring this Sunday when his son, Matthew, a wide receiver, safety and special teamer for the New England Patriots takes the field against the New York Giants.
[+] Enlarge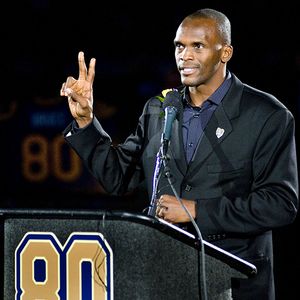 Douglas C. Pizac/US PresswireIsaac Bruce
As much as Slater would like to see himself in his son, he admits that he reminds him of one of his favorite players and teammates.
"If you were to ask my son who is favorite player was, it won't be me, or
Randy Moss
, who he played with or
Wes Welker
, who he plays with, his favorite player is, always has been and always will be
Isaac Bruce
," Slater said. "He respected
Isaac Bruce
. Not only the way he competed as a player but the way he conducted himself off the field.
"
Isaac Bruce
is a guy that I want my son to play like."
THE LAST LINK
Isaac Bruce
, who turned 39 in November, looks like he could still play in the NFL as he sits down in the lobby of his Fort Lauderdale condominium in a track suit after a morning workout.
Bruce, who retired from the NFL before the 2010 season, was the last player to have played in the NFL on either the Los Angeles Rams or the Los Angeles Raiders. Both teams left Los Angeles in 1995. There are currently no current players in the NFL who played on an NFL team in Los Angeles.
In fact, the 17-year gap is so large now, that in the case of Slater, some those former players' sons are now playing in the league.
"I knew I was the last Los Angeles Ram playing," Bruce said. "I didn't know I was the last guy who played for a Los Angeles team that was still in the NFL. I knew
Wayne Gandy
was with me and after he retired I figured, well, I must be the last one. I guess I was carrying the torch for the city of Los Angeles until my retirement. I had a marvelous, phenomenal time out there."
While Bruce played all but one season of his 16-year NFL career in Los Angeles, he still considers the city his home away from.
He first arrived in Los Angeles as a 17-year-old kid with two duffle bags and the hope of playing college football after being overlooked by Miami, Florida and Florida State.
Bruce would play at West Los Angeles College and then Santa Monica College before transferring to Memphis in 1992. He can still rattle off street names, bus stops and restaurants around Los Angeles as he sits in his home 2,800 miles away.
"When I go back to L.A., it's funny because I still see the busses and I know exactly where they're going," Bruce said. "I lived on Arbor Vitae Street and I would catch the bus right at the bus depot next to the airport. It brings back so many memories. I would walk to the rental car center, which wasn't far from my place and they would take me to the airport. I would catch the six bus that goes to Culver City and I would take that bus to the Fox Hill Mall and that would take me to West L.A. My second year I could get on the three bus that goes on Lincoln and takes you all the way to Santa Monica and Pico and I would go to school in the morning and come home the same way."
When Bruce returns to Los Angeles, he still goes to the rental car station next to his old dorm off of Arbor Vitae at Northrop University and eats his first meal at D&K Drive-In, which was where he ate most of his meals.
"I don't think the owners there recognize me because when I was 17 when I would be there so much," Bruce said. "But I go down there and sit down and it's amazing. That's where I first started."
February, 3, 2012
2/03/12
10:43
AM PT
Los Angeles is back to square one.

Less than 24 hours after NFL Commissioner Roger Goodell said the league could expand to 34 teams if the NFL moved to Los Angeles, Goodell said his answer was merely a hypothetical response to a hypothetical question and the league does not plan on expanding.

"The question last night, very simply, was would you just expand by just one to Los Angeles," Goodell said Friday. "I said no, if we ever expanded, you would expand by two, you wouldn't expand by one team. We have not discussed expansion with the membership. I don't see it on the agenda even for this March meeting. It's not something we're focused on as a league."

The possibility of the NFL being open to expansion was a potential game-changer in Los Angeles' hopes of getting an NFL team. For the past ten years the only way the city could get an NFL team was by attracting a current franchise to relocate since the league said it would not expand. Obviously convincing an NFL team to leave their current market and move to another market which lost two NFL teams in 1995 is infinitely harder than simply having the league grant L.A. an expansion team.


October, 14, 2011
10/14/11
10:32
AM PT
Welcome back to the NFL@LA mailbag where I'll be answering all your NFL in Los Angeles questions. You can send me a question in the comments section below, on
Twitter
or you can find me on
Facebook
. We're pretty flexible around here. And remember if you didn't get your question answered or want to discuss anything further we will have an
NFL@LA chat on Friday at 1 p.m.
You have pointed out that the Jaguars stadium lease make them unlikely candidates to move to LA. Can you provide some more details on what makes that arrangement so prohibitive for a move out of Northeast Florida? Are there any potential loopholes there?
-- Sean Lawton
Well, first of all, Jaguars owner Wayne Weaver said he has no plans to sell the team or move the team. All the other teams that are rumored to move have owners that would either sell the team or move the team if they don't get a new stadium. Jacksonville is always brought up presumably because it's, well, Jacksonville. The Jaguars' lease to play at EverBank Field runs through the 2029 season, and if the Jaguars wanted to leave before then, they would be required to prove they had lost money in three consecutive seasons or convince a local judge that the city was failing to properly maintain the stadium. The odds of any NFL team losing money in any year, let alone three consecutive years, or a judge allowing the local NFL team to leave town are remote. Of course, leases can usually be broken for a negotiated price, but it seems the penalty would be too steep considering the other candidates available.
If Farmers Field is built in Downtown Los Angeles, How will the tailgating situation turn out with the lack of parking in Downtown? I read that the number of the parking lots in use now around LA Live will be further reduced by a number of construction projects (hotels, condos, etc.) that will take place in the future.
-- jamills21
Great question and it's honestly the biggest problem AEG and Farmers Field must tackle along with finding ample parking, especially if they play weeknight games. AEG officials have said there will be room for tailgating and that there will be 32,000 parking spaces within a 15-minute walk of Farmers Field. The problem with that parking number is that it is good on weekends but many of those spaces would be occupied on a Monday or Thursday night for a game. And while there may be tailgating areas around Farmers Field it wouldn't be like the ample room you'd find at the Rose Bowl or the projected stadium in the City of Industry which is being built in the center of 600 wide open acres.
October, 6, 2011
10/06/11
9:32
AM PT
Welcome back to the NFL@LA mailbag where I'll be answering your NFL in Los Angeles questions every Thursday. You can send me a question in the comments section below, on
Twitter
or you can find me on
Facebook
. We're pretty flexible around here. And remember if you didn't get your question answered or want to discuss anything further we will have an
NFL@LA chat on Friday at 1 p.m.
OK, now let's get to this week's questions.
Which team has the best chance of moving into L.A.?
--trojan1953

I've been saying for the past year the team that has the best chance of moving to Los Angeles is the San Diego Chargers. Quite simply, I don't see how the Chargers are going to get public funding for a new stadium. After a decade of trying and being turned down from one location to the other, I believe they will move two hours north to Los Angeles where they will be in the second biggest media market, play in the league's newest stadium and become one of the most valuable franchises in sports. Since AEG wants to own a third of the team that moves into Farmers Field first, they also make sense because the Chargers are willing to sell Alex Spanos' 36 percent share of the team for estate planning purposes.
Are the Rams losing games on purpose just to ease the move back to LA?
--paintpim
Interesting thought but, no, that's not the reason why the St. Louis Rams are 0-4. The same goes for the 0-4 Minnesota Vikings. Those teams are just that bad with no ulterior motives. They will be in competition all season with the Indianapolis Colts, Miami Dolphins and Kansas City Chiefs for the top pick in next year's NFL draft.
Is it possible that Chargers might be able to pay less to move because they could claim that they already have a market? Is it possible that that the NFL might say you would actually have LA and San Diego and therefore pay full or even more to move?
--Darrinsca