November, 10, 2011
11/10/11
9:35
PM PT
SAN DIEGO -- A look at an entertaining, standings-changing
Thursday night game
:


What it means:
The Raiders are in first place in the AFC West. They are 5-4 and snapped a two-game losing streak. San Diego has lost four consecutive games and now is 4-5. Kansas City is 4-4, and Denver is 3-5. The Chiefs host the Broncos on Sunday.
The QBs:
Oakland quarterback
Carson Palmer
was mostly terrific as he threw for 299 yards. San Diego quarterback
Philip Rivers
had his moments but threw a key interception in the end zone late in the game. He has made a key mistake in every game during the Chargers' losing streak.
Bush excels:
Oakland needs to re-sign running back
Michael Bush
. He has been fantastic in two starts in place of star
Darren McFadden
, who is out with a foot injury. Bush finished with 157 yards on 30 carries after starting fast with 78 yards on 13 carries in the first quarter. He is a free agent at the end of the season.
Rookie receivers shine:
Oakland rookie receiver
Denarius Moore
looks like a top target for Palmer. He had five catches for a game-high 123 yards, including two touchdowns. San Diego rookie receiver
Vincent Brown
had a touchdown pass on a spectacular catch and had another nice touchdown catch reversed. They both look like keepers.
Injuries pile up:
Both teams came into this game banged up. The injuries mounted. Oakland lost receiver
Jacoby Ford
to a foot injury. San Diego saw left tackle
Marcus McNeill
(stinger), guard
Louis Vasquez
(ankle) and linebacker
Takeo Spikes
(concussion) leave the game. The Chargers were playing without three offensive linemen much of the game, and San Diego pass-rusher
Antwan Barnes
was injured late in the contest.
What's next:
The Raiders play at Minnesota on Nov. 20, and San Diego plays at Chicago in a game that matches up former AFC West adversaries Rivers and
Jay Cutler
.
September, 11, 2011
9/11/11
4:27
PM PT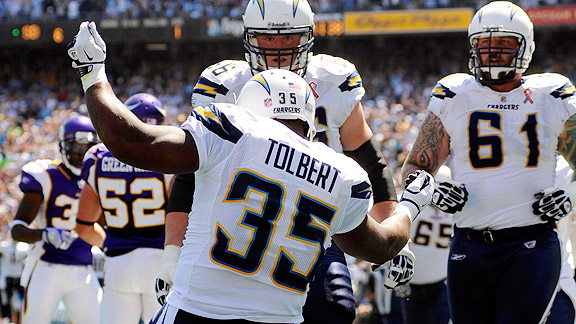 Christopher Hanewinckel/US PresswireChargers running back Mike Tolbert celebrates one of his three touchdowns Sunday.
SAN DIEGO -- A few thoughts on the San Diego Chargers' 24-17 season-opening victory against the Minnesota Vikings:
What it means:
Not only do the Chargers start seasons off slow, they start games off just as leisurely. It's almost as if they enjoy hanging around until they actually need to do something. If the Chargers' season opener is any indication, however, maybe they are over letting close games slip away to begin the season. Despite giving up the opening kickoff for a touchdown and trailing for most of the game, San Diego came back in the fourth quarter and closed the game with an aggressive offense and defense that usually don't show up around these parts until November. The Chargers actually outscored the Vikings 17-0 in the second half to win their second season opener since 2008. It's just one game but if the Chargers can play the first half of this season as well as they have the second half in past year, they may finally be in store for the kind of season some experts are predicting for them.
Dynamic duo:
Much was made about the Chargers' backfield duo of Ryan Mathews and Mike Tolbert coming into this season. Who would get the bulk of the carries? Who would get the ball at the goal line? Who would get the ball in passing situations? It ended up being a lot questions with a lot of positive answers for the Chargers as Mathews and Tobert combined for 24 carries for 80 yards and a touchdown and 12 receptions for 131 yards and 2 touchdowns. If you're a fantasy player, however, Tolbert is the player you wanted. He scored all three of the Chargers' touchdowns, two on receptions and one on the ground.
Missed opportunities:
Normally when it comes to decision making, there isn't a better quarterback in the league than Philip Rivers but twice Rivers through an interception with the Chargers in position to score. Just before halftime with the ball at the Minnesota 17-yard line Rivers threw an interception to Antoine Winfield after getting hit by Brian Robison. And then with the ball at the Minnesota 31-yard line Rivers' pass to Mathews was intercepted by Jared Allen in the third quarter. The Chargers also decided to go for it on fourth and 20 at the Minnesota 25-yard line in the second quarter because kicker Nate Kaeding was hurt. Later in the game, punter Mike Scifres proved he was more than capable of kicking it from 42 yards yards. If the Chargers had simply gotten a field goal in two of those three situations they would have been leading 20-17 in the fourth quarter instead of playing catch-up for most of the game.
Not-so special teams:
Coming into this season the Chargers didn't think their special teams could get any worse than last season. It was almost statistically impossible. Last season the Chargers allowed three kickoff returns for touchdowns, a punt return for a touchdown and had five punts blocked. The unit was largely blamed for the Chargers, with the top ranked offense and defense in the league, missing the playoffs. Well, it didn't take long for the Chargers to show that despite having a new special teams coach in (Rich Bisaccia from Tampa Bay) things hasn't changed much. Percy Harvin returned the opening kickoff of the game 103 yards for a touchdown. On the bright side, the Chargers didn't have any punts blocked or returned for touchdowns. Baby steps.
Kicking chance:
The opening kickoff not only hurt the Chargers on the scoreboard but they lost Kaeding to a left knee injury on the play and he wouldn't return. Scifres replaced Kaeding and held his own, connecting on a 40-yard field goal to tie the score in the fourth quarter, the first of his career, and three extra points while also kicking three punts for 127 yards. Scifres also boomed two kickoffs out of the end zone for touchbacks. Since Scifres is the holder on kicks, safety Eric Weddle had to fill in as the holder. Kaeding's injury will be reevaluated on Monday.
Ivy Leaguer catches on:
Going into the last exhibition game, Bryan Walters wasn't sure if he would make the Chargers' roster. The undrafted receiver out of Cornell had been cut by the team after training camp last season and did just enough to make the team this year. With wide receivers Patrick Crayton and Vincent Brown inactive on Sunday Walter got to see more action than he expected. He caught two passes for 21 yards and also returned five punts for 38 yards.
What's next:
The Chargers travel to New England next week to play the Patriots in a game that should let us know if this team is really going to be a contender or a pretender this season.