Madison Shipman's little brother is playing on the offensive line for the Valencia High School football team. Shipman won the Pan-American Championship in Colombia playing softball over the summer with the U.S. Junior National team and will be playing on the University of Tennessee softball team in the spring.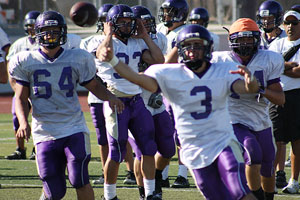 Tim Haddock/For ESPNLA.com
Billy Shipman (64) will be a key player for Valencia this season.
Billy Shipman is a 6-foot-2, 220-pound junior. He will be responsible, in part, for protecting quarterback Alex Bishop and making holes for running back Steven Manfro.
"Billy will be a guy that needs to play both sides of the ball," Valencia coach Larry Muir said. "He's very athletic for a big guy, he will be called upon to anchor the DE position and left tackle. Great kid with lots of potential."