ESPN L.A. North prep football preseason top 10
1. Westlake -- Might be the best team in the state. Expanded Marmonte League will test Westlake early and often.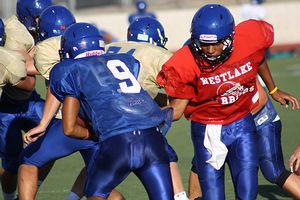 Tim Haddock/For ESPNLA.com
Sophomore QB Justin Moore has championship game experience.
2. Oaks Christian -- Trevor Gretzky is the quarterback. Time will tell if he's as good a passer as his hockey dad, Wayne Gretzky.
3. Moorpark -- Another Marmonte League powerhouse. Moorpark lost in the CIF-Southern Section Northern Division championship game to league rival Westlake.
4. Valencia -- Quarterback Alex Bishop and running back Steven Manfro give Valencia an experienced offense. That mixed with a talented defense make for a good combination.
5. Loyola -- Jared Baker is one of the top-rated running backs in the state. He rushed for 1,453 yards and 10 touchdowns as a junior and is headed to Arizona next season.
6. Alemany -- There aren't many easy games on the Alemany schedule. The team opens on the road against Oaks Christian.
7. Taft -- Junior running back Shaquille Shelton is transferring from Taft to Crenshaw. He rushed for 96 yards and a touchdown in the CIF City Section Division I quarterfinals against Dorsey.
8. St. Bonaventure -- First game is on the road against Long Beach Poly. Then St. Bonaventure starts its first season in the Marmonte League.
9. El Camino Real -- Reached the championship game of last year's CIF City Section Division II playoffs and lost to Hamilton, 60-40.
10. Camarillo -- Quarterback Jeff Matthews passed for 3,314 yards and 37 touchdowns as a junior. He threw six touchdowns in a game three times – against Golden Valley, Channel Islands and Hueneme.