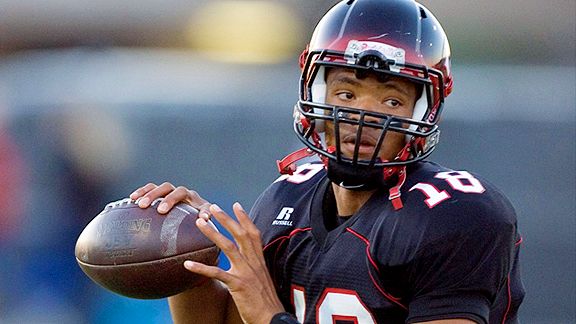 Larry Goren/Special to ESPNLA.com
Michael Eubank and Centennial figure to be motivated to play Chaparral on Friday.
Tough choice.
A couple of weeks ago, the best high school football game in the Inland Empire on Friday night was a no-brainer. Now it's a head scratcher.
On the south end of Riverside County, defending Southern Section Inland Division champion Temecula Chaparral is hosting Corona Centennial, winner of two of the last three Inland Division titles.
Centennial opened the season ranked No. 3 in the I.E. by ESPNLA but has jumped to No. 1 based on one-sided victories against Lake Balboa Birmingham and Mater Dei. Chaparral was ranked No. 1 in the preseason but has fallen to No. 5 after an 0-2 start.
On the north end of San Bernardino County is a game that's much more difficult to predict. Upland, ranked fourth, is hosting No. 3 Norco in a battle of 2-0 teams.
ESPNLA couldn't decided which fork to take in the road, so we'll be attending both games.
Centennial looks like a two-touchdown favorite against the Pumas but will probably win by three because the Huskies and quarterback Michael Eubank are still unhappy about losing to Chaparral in last season's Inland Division semifinals.
The Upland-Norco game figures to go one of two ways: Norco running back Kelsey Young breaks a couple long touchdowns early and the Cougars pin their ears back on defense and make Upland a one-dimensional passing team. Or, the Highlanders withstand the early surge by Norco and win on a last-second field goal by standout kicker Jake Van Ginkel.
Check back Friday to see the results.
Three more to see:
La Quinta (2-1) at Riverside Arlington (2-0), Friday – The Nighthawks put themselves on the map with a 14-3 victory last week against Colton. The No. 7 Lions, meanwhile, have been playing as if they need a compass to find the endzone. Our prediction: La Quinta 20, Arlington 17.
Fontana A.B. Miller (1-2) vs. Etiwanda (0-3) at Ontario Colony, Friday – Etiwanda has combined for 97 points in its three losses, so offense isn't the problem. Miller put up a good fight against Upland and Carson, then slid by short-handed San Bernardino Arroyo Valley. Our prediction: Etiwanda 42, Miller 30.
Elsinore (3-0) at Temecula Valley (2-1), Friday – Temecula Valley has already matched its win total from the last two seasons, benefitting from one of the best defensive players to come through the program, BYU-bound linebacker Adam Pulsipher. Elsinore is ranked third in the Eastern Division but will be moving up in weight class against the Golden Bears. Our prediction: Temecula Valley 26, Elsinore 24.