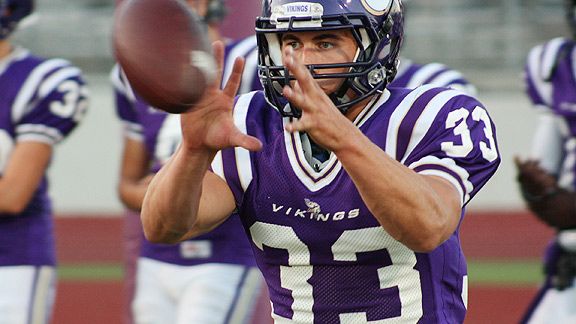 Tim Haddock/Special to ESPNLA.com
Among Steven Manfro's touchdowns last week for Valencia was a 92-yard kickoff return.
There are two newcomers to the top 10, Thousand Oaks and Chaminade. Thousand Oaks is one of five Marmonte League teams in the top 10. Chaminade is undefeated and coming off a 42-13 win over Fairfax. St. Francis is climbing the charts, from No. 10 to No. 8 this week.
1. (1) Westlake (3-0)
With their 52-0 win over Royal, the Warriors set a school record with 17 wins in a row. Sophomore Dashon Hunt scored his second defensive touchdown of the season on a 30-yard interception return in the first quarter. Next up for Westlake is Oaks Christian.
2. (2) Valencia (3-0)
Steven Manfro scored four touchdowns in Valencia's 45-7 win over Palmdale. He took the opening kickoff 92 yards for a touchdown. It was his second kickoff return for a touchdown this season. He has 14 touchdowns in three games. Next up for Valencia is Santa Monica.
3. (3) Alemany (4-0)
The Indians needed a little fourth-quarter magic to stay undefeated and beat Woodland Hills Taft, 36-26. Alemany quarterback Vernon Adams threw for 219 yards and two touchdowns. Next up for Alemany is Harvard-Westlake.
4. (4) Moorpark (2-1)
Tyler Peterson and Cheldon West each scored two touchdowns for Moorpark in their team's 37-7 win over Agoura. Next up for Moorpark is St. Bonaventure.
5. (5) Oaks Christian (2-1)
Oaks Christian receiver Blair Holliday scored three touchdowns in his team's 47-6 win over Calabasas. Holliday caught two touchdown passes and scored on a 28-yard run. Next up for Oaks Christian is Westlake.
6. (6) Crespi (3-1)
Crespi has scored 137 points in its past three games, all wins. Quarterback Kenny Stenhouse threw for 217 yards and two touchdowns in Crespi's 52-6 win over Chula Vista. Crespi is averaging 45.7 points per game in its last three games. Next up for Crespi is Vista Murrieta.
7. (8) St. Bonaventure (2-1)
St. Bonaventure quarterback Marc Evans threw two touchdown passes and the defense scored two touchdowns in a 54-0 shutout over Simi Valley. Paul Thompson and David Barajos each scored on interceptions returns. Next up for St. Bonaventure is Moorpark.
8. (10) St. Francis (3-0)
St. Francis receiver Travis Talianko caught seven passes for 151 yards and two touchdowns in his team's 31-13 win over Venice. Next up for St. Francis is West Ranch.
9. (NR) Thousand Oaks (2-1)
Backup quarterback Jackson Lucht stepped up big for Thousand Oaks in his team's 35-14 win over Newbury Park. Lucht threw three touchdown passes. He completed his first eight passes and threw for 145 yards. Next up for Thousand Oaks is Royal.
10. (NR) Chaminade (3-0)
Chaminade running back Tru Jarvis scored four touchdowns in his team's 42-13 win over Fairfax. Jarvis rushed for 195 yards on 12 carries. Next up for Chaminade is Mira Costa.