LA North: Four record-breaking performances in one night
October, 7, 2010
10/07/10
5:42
PM PT
By
Tim Haddock
| ESPNLosAngeles.com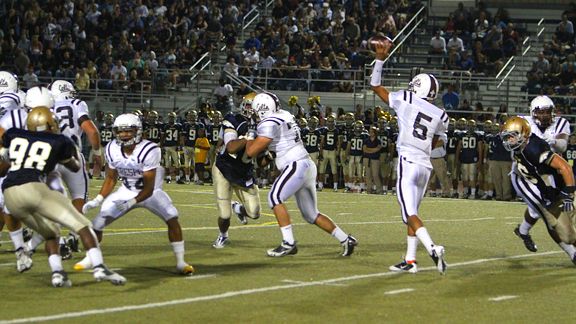 Courtesy of Crespi HS
Crespi quarterback Kenny Stenhouse has set a school record for passing yards twice this season.
Crespi quarterback
Kenny Stenhouse
has broken his school record for passing twice in three weeks. The first time he broke the school record, in a 33-32 win over Clovis West, three other high school quarterbacks set school marks for passing. It's rare enough to see one school passing record fall. To see four in one night is something that probably won't happen again for some time to come.
On Sept. 16,
R.J. Gordon
from Campbell Hall,
Jake Geringer
from Newbury Park,
Mike Bercovici
from Woodland Hills Taft and Stenhouse set school marks for passing.
Stenhouse threw for 424 yards and three touchdowns against Clovis West, breaking the mark of 388 yards set by
Brian Bennett
in 2007. Stenhouse also set the school record for completions in a game with 33.
"We needed every single yard, every inch, every completion," Crespi coach
Jon Mack
said. "These are the kind of records that mean something."
Crespi and Clovis West were tied after three quarters, 27-27. Crespi needed a defensive stand at the end to win the game. Stenhouse recalls the play of his teammates, especially on defense, more than his own passing performance against Clovis West.
"The offensive line has been growing as a team and the receivers came down with some big catches," Stenhouse said. "Our defense took care of them. They did a good job at the end of the game."
Stenhouse put up another record-breaking performance last week on the road against Vista Murrieta. He threw for 484 yards and five touchdowns in his team's 45-31 win. It was the second time in three games that he broke the school record for passing.
"Kenny has been instrumental through all our success," Mack said. "Kenny has been incredible for the last four weeks. I hope the best is yet to come."
Stenhouse gives his offensive line the credit for allowing him the opportunity to post some record-breaking efforts.
"The line has matured," the senior said. "They were giving me a lot of time to take apart the defense."
Gordon threw for 425 yards in a 39-26 win over Villanova Prep, breaking the Campbell Hall mark set by
Matt Kaplan
in 2001, when he threw for 373 yards in a game.
Campbell Hall coach
Russ Gordon
said relying on his quarterback to throw the ball against Villanova Prep was his "Plan B."
"We had a couple kids go down and we could not run the ball," Russ Gordon said. "They were doing a good job up front."
Campbell Hall was up 26-6 at halftime and had a 33-13 lead after three quarters. But Villanova Prep mounted a comeback in the fourth quarter and Gordon said he was forced to throw the ball to extend the lead.
"They made a little comeback," Russ Gordon said. "I absolutely had no idea the school record was in jeopardy. We never play for records."
R.J. Gordon's passing performance against Villanova Prep was no fluke either. He threw for 306 yards and three touchdowns in the season opener against Antelope Valley. He followed his school record-breaking performance with a 356-yard, four touchdown game against Calvary Chapel.
As a junior, R.J. Gordon should have plenty of chances to break the school record for passing again.
"He's a very confident young man," Russ Gordon said.
Geringer threw for 482 yards and three touchdowns in a 31-30 loss to Moorpark. Geringer broke the Newbury Park school record for passing set by
Rudy Carpenter
. He threw for 425 yards in a game in 2002.
Newbury Park coach
Gary Fabricius
said Carpenter set the school record for passing in 2002 in a shootout against Agoura.
"It's either a shootout or you're behind and have to catch up," Fabricius said. "We wouldn't be throwing if we were up. Give credit to Moorpark. Their run defense was so good, we had trouble running the ball."
Moorpark scored 15 points in the fourth quarter to come from behind and beat Newbury Park.
Even after the Moorpark rally, Newbury Park had a chance to win the game with a 44-yard field goal. But the field-goal attempt hit the crossbar and ricocheted back onto the field.
Fabricius, who also doubles as the quarterbacks coach, said Geringer, the starting quarterback since his sophomore year, takes a lot of pressure off the coaching staff because of his experience.
"We could see then he had a chance to be something special," Fabricius said. "He's a joy to coach."
Geringer has thrown for 1,069 yards and seven touchdowns in four games this season.
Tercovici threw for a school record 474 yards and three touchdowns against Sherman Oaks Notre Dame. He broke the Taft school record of 420 yards set by
Cory Dove
in 2001.
Taft got off to a slow start, as Notre Dame jumped out to a 14-0 lead in the first quarter. Bercovici did most of his damage in the final three quarters of the game and led his team to 17 points in the fourth quarter to win the game, 38-35.