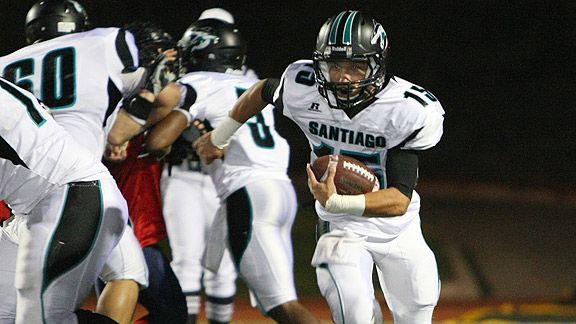 Courtesy of Devin Berry
Corona Santiago sophomore quarterback Michael Darr (No. 15) will try to keep the Sharks in the hunt for a Big VIII League title when they host Norco on Friday night.
No rest for the weary in the Big VIII League.
While a number of schools are just entering league play this week, the Big VIII is preparing for Round 3.
"This is the new black-and-blue league," said Riverside King coach Ken Mushinskie.
On the slate Friday are two particularly good ones. Norco (1-1 in league) plays at Corona Santiago (1-1) and King (1-1) travels to Corona (2-0).
All four teams need a victory to keep pace with Corona Centennial (2-0) and stay in the hunt for one of the league's four automatic playoff berths. Eastvale Roosevelt is also 1-1.
"We're in a must-win," Norco coach Todd Gerhart said.
Both game are scheduled to begin at 7 p.m.
Three more to see:
Redlands (4-0-1) vs. Redlands East Valley (3-2) at University of Redlands, Friday – Redlands East Valley has beaten its cross-town rival four of the last five years and six of the last eight. The five years before that, Redlands beat up on the Wildcats. This time around, it appears the Terriers have the edge, as REV has struggled to score points in recent weeks. That's good news for a Redlands defense that has nine sacks and forced 14 turnovers this season. ESPNLA.com's pick: Redlands 21, REV 10.
Victorville Silverado (2-2-1) at Victorville Victor Valley (5-0), Friday – The two best teams in the Desert Sky League took different paths to this opener. Victor Valley, ranked No. 5 in the Southern Section Eastern Division, has feasted on lighter nonleague faire, while No. 9 Silverado has taken on some heavyweights, both within its division and in the higher ranks. ESPNLA.com's pick: Silverado 23, Victor Valley 20.
Phelan Serrano (4-1) at Apple Valley (3-2), Friday – The team that wins this game should have the inside track to the Mojave River League title. Serrano is the defending champion and winner of this match-up the last three seasons, but Apple Valley can be tough to beat in its on-campus stadium. ESPNLA.com's pick: Serrano 31, Apple Valley 17.