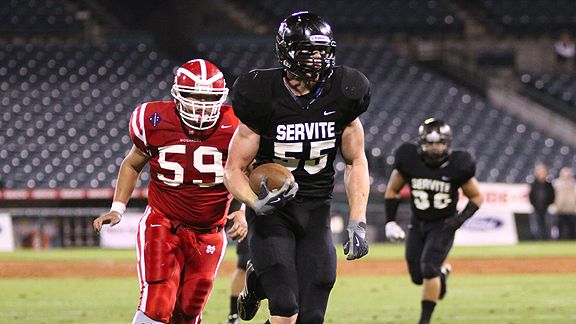 Courtesy of Laurence Martinez
Servite defensive lineman Troy Niklas returns an interception 26 yards for a touchdown for the No. 1 Friars in their 21-14 victory over Mater Dei at Angel Stadium.
1. (1) Servite (8-0)
Malik Felton's dazzling run and another strong performance by the defense – lineman Troy Niklas scored on an interception return – made it two in a row over Servite's arch nemesis.
Last week: beat Mater Dei 21-14. Next: vs. Santa Margarita at Saddleback College, Friday, 7:30 p.m.
2. (2) Mission Viejo (8-0)
Overpowered San Clemente in the second half. The last time Mission lost a league game was at Tesoro in 2008. Guess where the league title be decided this year?
Last week: beat San Clemente 38-24. Next: at Tesoro, Friday, 7 p.m.
3. (3) Mater Dei (5-3)
Victor Blackwell held to two receptions for seven yards against Servite's Karlton Dennis. Four turnovers was a recipe for disaster yet the Monarchs were still a threat to win. Last week: lost to Servite 21-14. Next: vs. JSerra at Santa Ana Stadium, Saturday, 7:30 p.m.
4. (4) Tesoro (7-1)
A week after a shaky performance and a week before their biggest game of the year, the Titans turn in their best performance of the season as Matt Adam passes for three touchdowns and the defense dominates Dana Hills in ways that Mission Viejo couldn't.
Last week: beat Dana Hills 38-3. Next: vs. Mission Viejo, Friday, 7 p.m.
5. (5) Santa Margarita (7-1)
Sophomore QB Johnny Stanton excels for a second week in a row, throwing for three touchdowns and running for another, and River Cracraft knocks down the game-winning two-point conversion attempt.
Last week: beat St. John Bosco 42-41 (OT). Next: vs. Servite at Saddleback College, Friday, 7:30 p.m.
6. (7) San Clemente (7-2)
Terrell Johnson ran for two touchdowns as the Tritons took a 14-0 lead on Mission Viejo but managed only a fourth quarter touchdown in the second half as first place slipped away. Now they have two weeks to prepare for Tesoro in another monster game.
Last week: lost to Mission Viejo 38-24. Next: idle.
7. (10) Los Alamitos (6-2)
Since a miserable performance in a loss to Santa Margarita, the Griffins have won three in a row and are starting to look like the team everyone expected, and they're able to protect RB Nick Richardson and save him for Edison in two weeks.
Last week: beat Marina 41-14. Next: at Huntington Beach, Friday, 7 p.m.
8. (6) Edison (6-2)
The Chargers scored on their first possession, a run by QB Chase Favreau, and that was the ballgame against Newport Harbor, though the defense had to be mindful of Newport Harbor's returning RB Buzzy Yokoyama (dislocated kneecap). Battle of the Bell is next.
Last week: beat Newport Harbor 7-0. Next: vs. Fountain Valley at Cerritos College, Friday, 7 p.m.
9. (9) Tustin (8-1)
Tyler Siudzinski gained 222 yards and the Tillers totaled 360 on the ground in advance of this week's showdown. Can anyone in the Empire League stop them? We're about to find out.
Last week: beat La Palma Kennedy 46-28. Next: vs. Cypress at Western High, Friday, 7 p.m.
10. (NR) Orange Lutheran (4-4)
Lancers have a victory over La Habra, and their four losses are to teams with a combined record of 26-7. They can validate their top 10 ranking with a win this week.
Last week: beat JSerra 34-27. Next: vs. St. John Bosco at Orange Coast College, Friday, 7:30 p.m.
Dropped out: Newport Harbor (4-4).