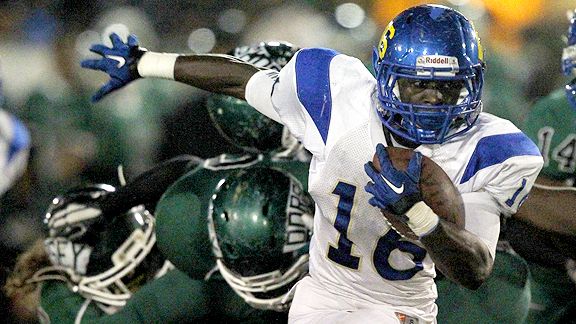 Alex Gallardo/Special to ESPNLA.comUS Presswire
Crenshaw's DeAnthony Thomas had 171 yards in offense in only 13 touches against Dorsey.
LOS ANGELES -- Crenshaw's message was loud and clear Friday night.
The city belongs to the Cougars and no one else after a 53-12 victory over Dorsey.
The clash between the top two City Section teams turned into a laugher quick, with No. 9 Crenshaw building a 34-0 lead after the first quarter. Just minutes later, it was 47-0.
This was one loud, cruel message: Los Angeles is not big enough for both Crenshaw and Dorsey. It's one or the other. And for the sixth straight year, it was all Cougars.
Blue and yellow might make green on the color wheel, but on Friday, that combination made green disappear.
Rancho Cienega Park's Jackie Robinson Stadium -- packed to the brim at kickoff -- thinned out during halftime. The music stopped playing. Fans behind Dorsey's bench traded in their dance moves for blankets. Much of the large crowd bolted before Crenshaw emerged with the one-sided victory and a probable No. 1 seeding for the City Section playoffs.
"We controlled our own destiny," Crenshaw coach Robert Garrett said. "There shouldn't be any question for the seeding."
Crenshaw (8-2) took the Coliseum League title and No. 16 Dorsey (9-1) will have to hear about it for another year.
It was supposed to be the game of the year. And even though it failed to live up to its billing, Crenshaw star De'Anthony Thomas -- known as "Black Mamba" in the city -- showed exactly why he's considered the best player in the region. He scored four times and piled up 171 yards of total offense on just 13 touches.
"He played an electric game," Garrett said. "Phenomenal."
Thomas had touchdown receptions of 23, 24 and 37 yards, as well as an interception, before halftime. He scored on a 36-yard run early in the second half.
Thomas wasn't alone in helping Crenshaw to the large lead. Tailback Shaquille Shelton had a lethal first half (two touchdowns, 140 yards rushing), while wideout Marquis Thompson -- the Cougars' former starting quarterback -- added an acrobatic, one-handed, 31-yard touchdown catch.
"You have to withstand it," Dorsey coach Paul Knox said. "If they get you backpedaling, it's over."
And it was over. There were sarcastic cheers when Dorsey finally scored to make it 47-6 late in the second quarter. Crenshaw's cheering section erupted, even playing celebratory music.
Dorsey's vaunted hurry-up offense was nonexistent. Washington-bound quarterback Joseph Gray, one of the state's passing leaders heading into Friday, completed just three of his first 21 attempts. He finished with a meager 175 yards through the air.
"They did a great job of disguising their coverage scheme," Knox said.
Clearly, Crenshaw is a different sort of monster -- one that might have competed for the state title had it not been for two early-season losses.
But at least they own the city.