Wednesday, September 1, 2010
LA North: Game of the week: Alemany vs. Oaks Christian

---
By Tim Haddock



Alemany quarterback Vernon Adams makes no apologies for losing to Oaks Christian last year. He was making his first start at quarterback as a junior and took his lumps a little bit.

Oaks Christian won the game, 28-17, on Alemany's field.

The two teams meet again to open the 2010 high school football season Friday night at Oaks Christian High School. Adams is back at quarterback for Alemany and he is looking for redemption.

"I want to win. They beat us last year on this field," Adams said. "So this year we have to go to their field and we owe them. It's payback. I'm really excited and I want to win."

Alemany and Oaks Christian share several similarities. They are two of the top private school programs in the area. Both are switching leagues – Oaks Christian to the Marmonte League and Alemany to the Serra League – and both teams made it to their CIF-Southern Section Division championship games and lost.

Alemany played a scrimmage against Hart of Newhall from the Foothill League on Friday in preparation for the season. Alemany coach Dean Herrington said he was impressed with his team's performance.

"It's the first time since I've been here that I've had a senior returning starter at quarterback," Herrington said. "That's huge in high school football. He looked great in the Hart scrimmage last week and he's one of the best around. If he was two inches taller, everyone in the country would want him."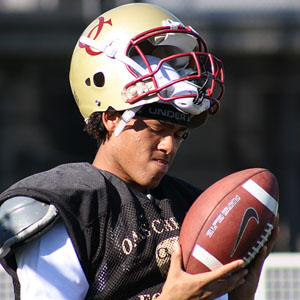 Tim Haddock/For ESPNLA.com
Trey Smith figures to be one of Oaks Christian's primary receivers this season.


Oaks Christian didn't do itself any favors joining the Marmonte League and having to play Alemany in the first game. Two of Oaks Christian's first three games in Marmonte League play are against St. Bonaventure and Westlake, the reigning CIF-SS Northern Division champion.

Oaks Christian coach Bill Redell says he is concerned about the depth of his team. He has confidence in the talent level of his starters, but his team needs to avoid injuries.

"Any time you're with a small school, it's depth," Redell said. "When I was at Crespi High School, we only had 425 boys and we won the Division I championship. But we didn't have any depth. We were able to avoid injuries. Here with a school like Oaks Christian, you have to avoid some injuries. Our first team, offense or defense, can play with anybody. But if you get a couple guys go down, replacing them with not maybe what some other schools have, so many more kids to choose from. Sounds like I'm making excuses already."

Herrington has a trio of running backs he says he plans to use in the game against Oaks Christian. Saladin McCullough had 26 carries for 181 yards and three touchdowns as a junior. He is the most experienced of the three. Senior Kyron Defour and junior Cameron Washington are expected to get their share of carries as well.

"That first game, they're probably all going to play an equal amount, unless someone's hot," Herrington said. "We have three good running backs. Saladin starts at corner for us also. That's a good situation to have."

Redell has senior Trevor Gretzky at quarterback. He passed for 288 yards and four touchdowns in limited action as a junior.

"He just needs to have experience," Redell said. "I don't think he has any weaknesses from that standpoint. Experience, playing time, competition so he can develop, it's not a question of being a weakness. He hasn't had the time in a game to show what he can do."

Gretzky says he is eager to start the season and lead his team against Alemany.

"They were good last year. They got a lot of guys coming back," Gretzky said last week at practice. "We know what we got coming to us. We're all just ready. We got a week left before the game. I think everybody's just antsy. Everybody wants to get on the field and start playing."

Other games to watch:

Gardena Serra at Notre Dame Sherman Oaks, Friday, 7 p.m.

Harvard-Westlake at Venice, Friday, 7 p.m.

Dominguez at Crespi, Friday, 7 p.m.


---