Monday, October 25, 2010
Inland Empire: Devon Blackmon is Summit's Mr. Everything

---
By Sean Ceglinsky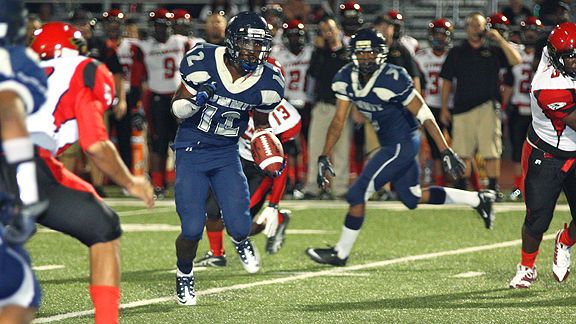 Courtesy of Manuel Parra

The more Devon Blackmon has the ball in his hands, usually the better for the Summit High football team.


Line up Devon Blackmon underneath center, odds are he'll make the right read and throw an accurate strike for a touchdown pass. Hand the ball off to the senior and he's more than capable of gaining the necessary yardage on the ground to keep the chains moving for the Fontana Summit High football team. Split him out wide, he just might run by the defense en route to the end zone.

Make no mistake, Blackmon's effectiveness isn't merely limited to life on the offensive side of the ball. Far from it, in fact.

Put him on an island at cornerback, chances are he'll lock down the opponents top pass-catcher. Stick him at safety, Blackmon is liable to deliver a game-changing hit and force a fumble. Allow him to return punts and kickoffs, there's a good possibility he's going to give his team the ball back in good field position.

Blackmon is a jack-of-all-trades, he plays a number of positions, each of them equally well. Moreover, he rarely spends much, if any, time on the sidelines. And perhaps his versatility and ability to excel in most any situation best explains why the 6-foot, 180-pounder is not only one of the nation's top all-around prospects, but also one of the country's more sought-after unsigned recruits.

"We use Devon everywhere out on the field, all of the time, teams we play know this but they still have a tough time stopping him,'' Summit coach Tony Barile said. "He makes an impact in so many ways, it's unbelievable.

"Every coach I talk to, before and after games, they always seem to bring up Devon. It's like clockwork, it really is. The main topic of conversation is always about No. 12 and one or two of the plays he made over the course of the game. Bottom line, when the ball is in hands, good things tend to happen for us.''

Blackmon is a playmaker indeed, Barile isn't the only believer. Several of the nation's top recruiting services are enamored with him. There is, after all, plenty to like. For example, ESPNU ranks him as the third best player in California, the fourth-best athlete in the country and No. 39 overall prospect overall.

NCAA Division I college coaches appear to be on the same page. Numerous powerhouse programs are interested in his services and have scholarship offers on the table for him, including Alabama and Florida. Seemingly every Pac-10 Conference school has been in contact with Blackmon, most notably UCLA and USC.

"I love playing this game, you can put me at any position and I'm going to get the job done,'' Blackmon said. "There's been times when I've gotten into arguments with coach Barile and his staff, nothing major, mostly joking around, about wanting to play more during our games. In the end, I always lose on those conversations. I never want to be pulled, being on the field is the way you win games, it's the way you win championships, it's the way you become the best possible player.''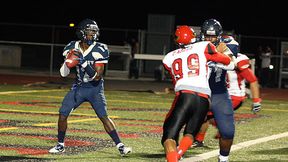 Courtesy of Manuel Parra
Devon Blackmon has scholarship offers from all over the country, including Alabama and Florida.


Such was the case, once again, this past weekend in a 22-13 Sunkist League victory over host Bloomington. The Bruins had absolutely no answer for Blackmon, who completed 3 of 4 passes for 49 yards, carried the ball 10 times for 92 yards with a touchdown and had two receptions for 20 yards for the SkyHawks (5-1-1, 2-0). He did a good job on defense too and finished with eight tackles.

All signs point to him having another standout statistical effort against Mira Loma Jurupa Valley on Friday. Beyond that, a league showdown Nov. 5 looms against Fontana Kaiser, No. 17 in ESPNLosAngeles.com's Top 25 rankings.

"We know a lot about Devon, plenty. He's a nationally ranked player for a good reason and a ton of schools are courting him because of his talents ,'' Kaiser coach Phil Zelaya said. "He's a game-changer and can flat-out play the game of football. The truth of the matter is, you have to account for him at all times.''

It's not as if Blackmon is an overnight sensation. It's worth mentioning that he's entering his fourth year as a two-way varsity starter for Summit.

Blackmon burst onto the scene as freshman when he was anointed the SkyHawks' starting quarterback. In nine games, the youngster completed more than 50 percent of his passes with two interceptions. He also rushed for five touchdowns.

During his sophomore year, it was more of the same. More of Blackmon doing a little bit of everything for Summit. He threw for 1,207 yards and 13 touchdowns and rushed for 714 yards and another six scores in 11 games.

A season ago, Blackmon completed more than 54 percent of his passes in 10 games. And his averages were off the charts too, kickoff returns (35 yards per), punt returns (25 yards per), catches (16 yards per), rushing (6 yards per).

"Devon's offensive numbers are good, there's no disputing that, but what doesn't show up in the box score is the things he does on defense for us,'' Barile said. "He's not going to put up huge sack or tackle totals, that's not his job. But know this, when we put him in the secondary, he shuts down one whole side of the field. Honestly, there's no way to possibly measure how much that means.

"When you have a skill set like Devon, there's a lot of pressure, a lot of hype that comes along with his role. He knows how to handle things. He knows that he's a threat on every play and I'm sure he'll tell you that there's times when it's tough for us to get him off the field. As a coach, you love players like him.''

Earlier this season, Summit was forced to play without its versatile star, who went down because of an ankle injury and missed a pair of games. And replacing  Blackmon proved to be a daunting tack. The SkyHawks struggled and the end result was a 20-18 loss to Victorville Silverado and a 24-24 tie to Redlands.

Order was restored in Week 5 when Blackmon was back in uniform and guided Summit to a 58-0 victory over Murrieta Mesa. Another shutout, this time 50-0 against Riverside Patriot, followed on Oct. 15. Now, with a completely healthy Blackmon in the fold, the SkyHawks appeared to be a more than formidable opponent.

"I'm feeling 100 percent, I'm back to feeling like I'm one of the best players on the field at all times,'' Blackmon said. "Thing is, I want the ball in my hands as much as possible, and that's not being selfish, that's wanting to help my team out in every possible way. I want to control the fate of things, that's just how I am.''

Apparently so.


---