Monday, November 1, 2010
LA North: Oxnard's Terrell Watson piles up the yards

---
By Sean Ceglinsky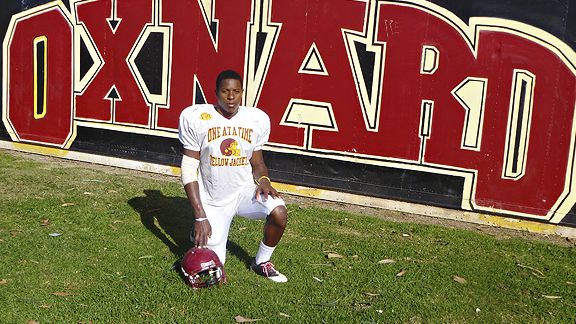 Sean Ceglinsky/Special to ESPNLA.com

Despite his big numbers, Oxnard's Terrell Watson has not been receiving the kind of recruiting attention one might expect.


OXNARD -- When conversations about the Southland's premier running back take place, the name Terrell Watson is rarely mentioned. The distinction of the top tailback around is typically reserved for the likes of Norco's Kelsey Young, Los Angeles Loyola's Jared Baker or Compton Dominguez's Will Gregory.

After taking a glance at the numbers, which tends to weigh rather heavily in these types of discussions, it's blatantly obvious Watson is deserving of some additional recognition. After all, the 6-foot-2, 210-plus pound senior on the Oxnard High football team has been seemingly unstoppable this season.

Watson has gained 1,978 yards on 282 carries and scored 25 touchdowns in eight games. The bottom line is Watson's days of being overlooked seem to be on the verge of coming to an end.

"Terrell is about as underrated as they come, but that doesn't bother him, he's still going to go out there and do his job better than most backs in the state,'' Oxnard coach Mark Beckham said. "The thing about Terrell is, he hasn't scratched the surface yet. There's no telling how good, how great, this kid can be.

"No one works harder than him. He's always the first guy at our practices and the last one to leave. Terrell is constantly studying film and looking for ways to improve. He is his toughest critic. ... He takes a lot of pride in the things he does. That's what makes him special. The proof is in the pudding, you can't argue with the success he's had.''

It's worth noting Watson has picked up 200 or more rushing yards six different times, although his 238 yards on 40 carries with two touchdowns on Friday night wasn't quite enough to prevent a 35-28 Pacific View League loss to Camarillo. All, however, is not lost for Oxnard (6-2, 2-1).

With two games left in the regular season, Watson & Co. are in position to qualify for the CIF-Southern Section playoffs. A victory Friday night against Oxnard Hueneme followed by another win against Oxnard Pacifica in two weeks will lock up an automatic berth in the Southwest Division bracket.

"I don't worry about the hype or pay much attention to the box score and my stats, I just want to win, because if we do that, everything else will be cool,'' Watson said. "I can't control what people say about me or think about me. Comparisons don't bother me either. The one thing I can control is how I run the ball on Friday nights, that's all I'm focused on. Give me the ball and let me do my thing.''

It's clear Watson enjoys what he does.

"The best part about playing running back is the contact, I love it," he said. "Once I get hit, that's when the game really starts for me. The longer the game goes, the stronger I get. When everyone else is getting tired, I'm just getting warmed up. I think that's what separates me from everyone else out there.''

It's not as if the Yellowjackets have played against inferior competition this season. For example, in the opener against traditionally tough Westlake, Watson toted the ball 50 times and finished with 240 yards on the ground with a pair of touchdowns in a 42-14 loss to a team that has been ranked No. 2 in  the ESPNLosAngeles.com Top 25 all season.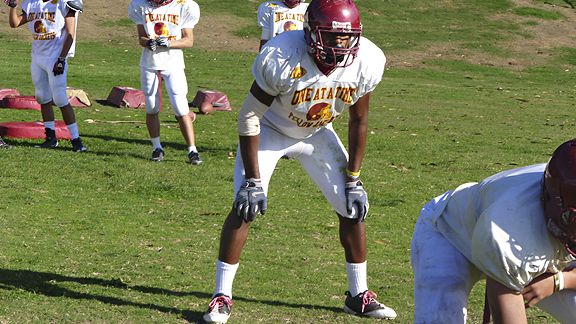 Sean Ceglinsky/Special to ESPNLA.com

Terrell Watson has gained 1,978 yards on 282 carries and scored 25 touchdowns in eight games for Oxnard this season.


The following week, he gained 278 yards on 30 carries and scored four times in a 34-27 victory over San Luis Obispo. On Oct. 8, Watson had 295 yards on 38 carries and five touchdowns in a 55-49 win against Ventura. After coming close to topping the 300-yard plateau, he finally achieved the feat on Oct. 15 with a 356-yard effort and five scores in a 48-27 a victory over Oxnard Rio Mesa.

"We knew about Watson and had some film on him before we played Oxnard, but he still ended up imposing his will on us,'' Westlake coach Jim Benkert said. "We knew exactly what was coming but couldn't figure out a way to stop him. Put it this way, when he falls forward, he's able to pick up three yards.

"That kid is a blue-collar type. Watson comes out and pounds you for all four quarters. He can do some serious damage. He chews up yardage and chews up the clock. Oxnard is a good team and he's the main guy for them. I have a lot of respect for him. The way he runs reminds me of something you would see a college kid do while watching football on Saturdays. He's a special player.''

Oddly enough though, Watson hasn't been recruited by many NCAA Division I programs. A handful of schools have been in contact with him, but Watson has no official offers.

Nevertheless, the things he has been able to accomplish are impressive when considering that this is his first time as a full-time tailback for Oxnard. In the past, he was a standout on defense from his linebacker position.

This season is no different as Watson ranks among the team leaders in tackles, with 64 and also has an interception.

As it stands, Watson is essentially a one-man wrecking crew whose name continues to climb up the Oxnard record book. In 2002, Aaron Brown set the Yellowjackets' single-season rushing mark (2,190 yards) and touchdown total (31). Given Watson is averaging 247 yards and three scores a game, it wouldn't be surprising if he ends up atop the all-time list soon.

In the meantime, opposing defensive coordinators figure to alert lineman and linebackers about Watson's skill set to, hopefully, limit his effectiveness. Bringing the safeties a step closer to the line of scrimmage is another measure that probably will be taken in an attempt to slow him down -- though it may not matter.

"Terrell knows the ball is going to him, opponents know the ball is going to him, we're not trying to surprise anyone,'' Beckham said. "He totes the rock and we run the clock, that's our philosophy, and things have worked out pretty well so far. If it's not broke, there's no need to fix it. We're not reinventing the wheel. Terrell is a workhorse and we're going to ride him to the finish line.''


---