Saturday, December 4, 2010
Pac-5 Division: Servite 28, Alemany 21

---
By Martin Henderson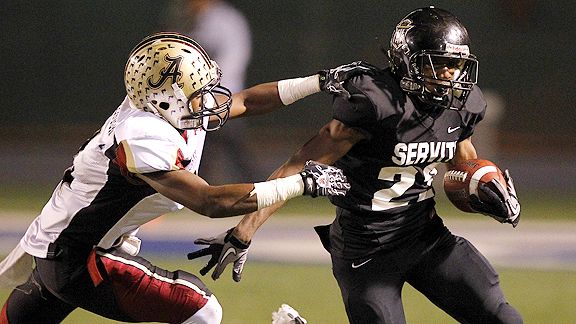 Alex Gallardo/Special to ESPNLA.com

Servite's Malik Felton rushes for some of his 155 yards on the ground to lead the Friars to victory.



CERRITOS – Classic Servite.

Special teams, defense, and Malik Felton.

The Friars, seeded second in the Southern Section Pac-5 Division playoffs, lived up to their reputation Saturday when they relied on their sure things to beat previously unbeaten Alemany, 28-21, to advance to their second consecutive championship.

Servite (13-0) will play top-seeded Mission Viejo (13-0) on Saturday at Angel Stadium in a game that features two of the Southland's heavy hitters, a collision course that seems to have been destined since Day 1. They met last year in the Pac-5 semifinals and Servite won, 19-18, when it turned back a two-point conversion attempt in the last minute. The Friars went on to win the section title, then the State Division II Bowl championship.

Their winning streak now stands at 24 games, but it wasn't without some anxious moments against Alemany (12-1).

Vernon Adams showed just how dangerous he could be. He completed 19 of 34 passes for 278 yards and two touchdowns, and ran 22 times for 140 yards. "Tiring," is how Troy Niklas described trying to track down the elusive senior.

After falling behind 28-7 when Servite's Ainslie Johnson took a pass from Cody Pittman for a 15-yard touchdown with 7:07 left in the third quarter, Alemany managed to create few anxious moments in the fourth quarter. Aided by a couple of big penalties, the Warriors drove 98 yards with Adams firing 13 yards to Jerico Richardson with early in the fourth quarter.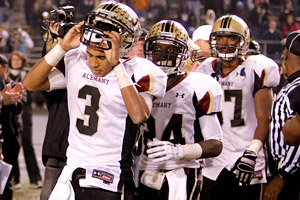 Alex Gallardo/Special to ESPNLA.com
Alemany quarterback Vernon Adams (3) can't hide his disappointment after a loss to Servite.

After the first of two missed field-goal attempts, Alemany drove 80 yards in 15 plays with Adams passing 14 yards to Corey Sims to make it 28-21 with 3:00 remaining.

Pttman had a 25-yard TD run nullified by penalty, and Connor Loftus was wide from 51 yards with 20 seconds remaining. Enough time for Adams to go 80 yards?

"We're almost used to it," Servite linebacker Matt Inman said of the close games that Servite has played this season. "It happens every week, but I feel confident we're going to do what we need to finish the game."

Jody Thomas sacked Adams – the second of the night – and after spiking the ball with three ticks remaining, Adams' desperation scramble of 20 yards was 69 yards short of his goal.

"We got a little conservative defensively and that's on me," said Troy Thomas, the Servite head coach and defensive coordinator. "I didn't think they'd have enough time to score enough."

Pittman had a nice game, too. He completed 13 of 15 passes for 154 yards and a touchdown, and he carried nine times for 72 yards and a score.

"It's all I ever dreamed of," said Pittman, a junior who replaced last year's county player of the year, Cody Fajardo, of guiding his team to the finals. "The hype of Fajardo and 'No one can fill his shoes.' In this offense, they don't need me to do that."

The have Felton for that. He carried 22 times for 155 yards and a 63-yard TD run during the game's crucial juncture as Servite continued to do what it does: Simply win.

It was typical Servite in the first half. A 68-yard punt by Loftus (who later had a 72-yarder) that pinned the Warriors inside their own one-yard line and the defense held to give Servite possession at the 42-yard line; it led to Pittman's sneak for a 14-7 lead.

Later, Alemany grinded away much of the second quarter but luck didn't break its way. The Warriors took 9 minutes 17 seconds off the clock as it appeared headed for a tying score, but after a pass was dropped in the end zone, Martin Meza lined up for a 30-yard field goal. Jordan Jones blocked it, so with 1:10 left in the half Alemany came way with nothing despite its best effort.

It got worse. After the blocked punt, Felton shook off a tackle as he went around the right corner and then went 63 yards for a score. Instead of Alemany being tied at 14, or being down 14-10, the Warriors were instead trailing 21-7 in a span of 54 seconds.

"We made too many mistakes," said Dean Herrington, Alemany's coach. "We were right there. It should have been 14-14, then they blocked the field goal. It's a shame we didn't bring our best game.

"They'll beat Mission Viejo by 17 points."

It's unlikely Thomas would agree with that assessment, but he'll certainly look forward to it.

"Now," he said, "we go after the giant."


---