Friday, December 17, 2010
CIF State Div. I bowl: Palo Alto 15, Corona Centennial 13

---
By Dan Arritt



CARSON — The Corona Centennial football team was able to roll over one opponent after another this season, staggering teams with their relentless no-huddle offense and big-play ability.

But the Huskies couldn't overcome Mother Nature and a mistake-free team from Palo Alto on Friday night in the CIF State Division I bowl game.

In the end, Maurice Williams partially blocked a 42-yard field-goal attempt by Ezequiel Rivera with 30 seconds remaining, sealing the 15-13 victory at the Home Depot Center.

The Huskies can look back on the agonizing 2 ½-hour bus ride through traffic, two lost fumbles, the errant snap that led to an early safety, or the two times they elected to forego a field-goal attempt while inside the 10-yard line and instead were stopped on downs.

"We had more turnovers tonight and more mistakes than we had all year long,"  Centennial coach Matt Logan  said. "I credit [Palo Alto], they played a great game, they stopped us on those plays and they were able to handle the conditions better than we did."

Centennial (14-1) did an admirable job battling back from a 15-0 halftime deficit, made even more difficult because starting running back Barrinton Collins was knocked from the game after suffering a second-quarter concussion.

The Huskies had trouble with the wet conditions right from the start, as Collins fumbled on their first offensive series. It was the fifth straight game Centennial turned the ball over on its opening series.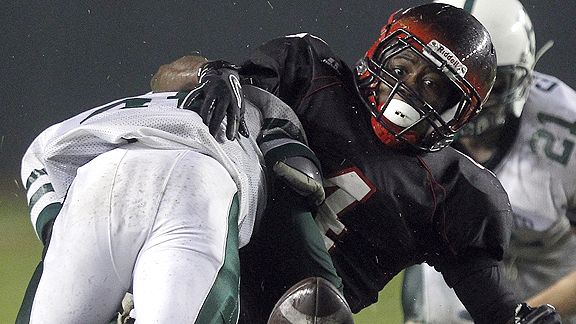 Alex Gallardo/Special to ESPNLA.com

Centennial running back Barrington Collins, who fumbled early on, left the game after suffering a second-quarter concussion.


Their second drive ended even worse, as an errant shotgun snap from normally reliable center Jacob Olsson skidded into the end zone, and Centennial quarterback Michael Eubank slipped as he recovered the ball, giving Palo Alto a two-point safety with 8:41 left in the opening quarter.

The Vikings (14-0) exploited their height advantage at wide receiver. Davante Adams hauled in a long pass to the Centennial 15-yard line and two plays later caught an 11-yard touchdown pass from Christoph Bono for a 9-0 lead midway through the second quarter.

The Huskies marched inside the Palo Alto 10-yard line on their next possession. After a touchdown run by Collins was called back on a holding penalty, one of seven in the first half for Centennial, Logan passed on a field-goal try on fourth-and-goal from the seven. Instead, Eubank was stopped on a two-yard run and the Vikings took over.

Bono, the son of former UCLA quarterback Steve Bono, didn't waste any time going back to the air, throwing a deep pass to Williams, who out-jumped the Centennial secondary and then raced into the end zone for an 80-yard touchdown. The Vikings could not convert the two-point conversion and went into halftime with the 15-point lead.

Centennial was called for their third personal foul on its first drive of the second half, ending that drive.

Eubank finally found some running room and scampered 78 yards to the Palo Alto two-yard line. Romello Goodman, who took over for Collins, then scored on the next play, cutting the deficit to 15-7 with 8:16 left in the third quarter.

Goodman then broke loose on his longest run of the game, carrying the ball 55 yards to the Palo Alto five-yard line, but the Huskies could not score on four consecutive runs and the Vikings took over.

After the Huskies stopped Palo Alto on fourth down early in the fourth quarter, Eubank scored on a 33-yard run with 4:14 remaining, but came up short on the two-point conversion run, leaving his team down by two points.

The defense made one last stop, giving Centennial the ball back with 2:33 remaining. The Huskies managed only one first down, however, setting up their final field-goal try.

"I was very proud of them," Logan said. "Things were certainly not going our way starting with the bus ride here and they kept battling and kept battling. It never felt like we were out of it. It felt like we always had a chance and it just didn't work out. It wasn't our night."


---