Los Angeles Preps:

Aaron Porter
December, 6, 2011
12/06/11
6:55
AM PT
1. You can't say that Conner Manning's performance against La Habra in which he finally eclipsed Matt Barkley's county single-season passing record came cheap. Manning completed 32 of 49 passes for 465 yards and two touchdowns as El Toro upset second-seeded La Habra, 47-41, in the Southwest Division semifinal. Manning needed 88 yards to match Barkley's 3,560 set in his junior season in 2007. Manning, a junior, now has 3,946 and leads the Chargers into the finals for the first time since 1995 when they defeated Servite for the Division V championship. Manning wasn't the only offense: Jacob Furnari carried 36 times for 231 yards and four touchdowns. Cody White and Blake Murphy both had nine receptions, for 109 and 103 yards, respectively.

2. Kudos to La Habra for going out like a champion. Trying to win its fifth consecutive title,a first for an Orange County team, the Highlanders set a standard for other teams in the division and gained considerable respect among higher division teams for playing opponents such as Servite, Orange Lutheran and St. John Bosco. Trailing 41-13 with 1:07 left in the third quarter, La Habra pulled to 47-41 behind Aaron Porter's three touchdowns; had it recovered its third consecutive onside kick with 3:31 left in the game (the ball went out of bounds) it might have been a different outcome. Instead, Manning had possession and El Toro ran out the clock -- and ended La Habra's drive for five.

3. Reporters at Santa Margarita's 21-20 victory over Mission Viejo in the Pac-5 semifinal began discussing the Orange County player of the year. Although Servite's Cody Pittman and Santa Margarita's Johnny Stanton appeared to be frontrunners early in the season (Pittman losing in the second round almost certainly destroyed his chances) and there has been talk that a lineman such as San Clemente's Kyle Murphy might be a deserving choice, El Toro's Manning was bandied about after his big night against La Habra.


November, 29, 2011
11/29/11
6:33
PM PT
By
Sean Ceglinsky
| ESPNLosAngeles.com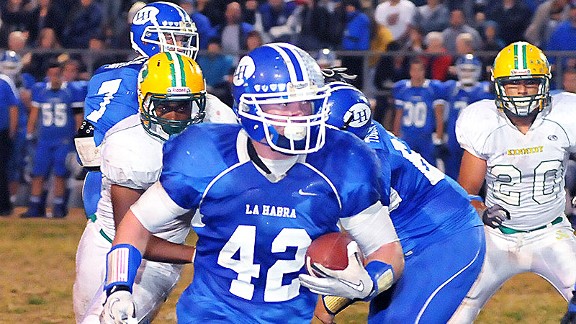 Courtesy of Arnold LeosAaron Porter is a four-year varsity player for La Habra, which has won four section titles in a row.
LA HABRA -- Since his days as a wide-eyed youth, dating to well before age five,
Aaron Porter
has been closely associated with La Habra football.
Years later, little has changed. The senior linebacker is still a fixture in the grand scheme, and has successfully emerged this season as one of the Southland's premier prospects at his position.
The Highlanders, naturally, have followed suit in terms of on-field success.
Porter & Co. head into Friday night's CIF-Southern Section semifinal playoff game against Lake Forest El Toro with plenty of momentum as a result. A victory, in fact, is the only thing separating the Highlanders from an appearance in the Southwest Division championship game and the opportunity to secure a rather remarkable fifth consecutive section title.
"What can I say about Aaron Porter, tell me, how much time do you have? There is plenty to talk about with him, he is a special kid,'' La Habra coach
Frank Mazzotta
said. "He means everything to this team and school. Aaron is a leader through and through.''
To gain a better understanding of where Porter, a potential UCLA commit, is heading, perhaps it is best to take a quick look back at his Highlanders roots.
His father,
Tony Porter
, took a position on the coaching staff at La Habra close to 14 years ago, right around the time Mazzotta was hired. Not surprisingly, son Aaron tagged along for the ride while Dad attended to his defensive coordinator responsibilities.
"We always knew Aaron would end up at La Habra, that's all he knew growing up,'' Tony Porter said. "I like to think that I have seen a lot of good players come and go over the years. Aaron is a student of the game, so I'm sure he remembers all those guys too.''
November, 13, 2011
11/13/11
8:41
PM PT
CIF-SS Playoffs
Southwest Division
The first surprise in the division is that La Habra isn't the No. 1-seeded team. Of course, once the Highlanders began losing to Trinity League opponents in a gauntlet no other team in the division would dare attempt, they suffered in the rankings. It may be irrelevant since it's on the opposite bracket as Villa Park, but make no mistake: four-time defending champion La Habra -- winner of six titles in the last nine years -- is the team to beat.
The seeds:
1. Villa Park (10-0), 2. La Habra (7-3), 3. El Toro (9-1), 4. Cypress (8-2).
Best first-round matchup:
Esperanza (7-3) vs. El Toro (9-1) at Trabuco Hills HS -- Fourth-seeded El Toro has a great passing attack led by
Conner Manning
(271 yards/game, 26 TDs, 4 int.), but Esperanza is physical and counters with a terrific ground game paced by
Troy Poole
(176 yards/game, 18 TDs). This is a clash of styles that makes for a great opening round.
Toughest road:
Laguna Hills (7-2) -- The Hawks won seven games but finished in a three-way tie for second place and carry a two-game losing streak into the playoffs. A few weeks ago, they were challenging for one of the seeded positions. They might have improved their lot if they had beaten more than just one opponent with a winning record. Now they must not only face a seasoned Cypress team led by
Vincent "Bug" Rivera
in the first round, but either Buena Park (8-2) or, more likely, Foothill in the second; Foothill (6-4) lost to top-seeded Villa Park in overtime, to Brea Olinda (8-2) on a game-ending Hail Mary, and to run-oriented Tustin (7-3) on a pair of bombs.
Potential shocker:
Capistrano Valley (3-7) vs. Brea Olinda (8-2) -- Capo Valley lost three Sea View League games by a combined three points, and two of those -- to El Toro and Laguna Hills -- were in overtime. The Cougars also gave Pac-5 opponent Trabuco Hills (6-4) all it could handle in a 28-21 loss. The point is that Capo Valley hasn't been able to buy a break; if its luck changes, it could beat Brea before facing La Habra.
Darkhorse:
Tustin (7-3), led by running back
Tyler Siudzinski
(129 yards/game, 13 TDs) was in a three-way tie for first place in the Empire League but then lost out on the coin flip and was relegated to the third-place entry. The Tillers were banged up in midseason which hurt them, but they beat fourth-seeded Cypress, 42-21, two weeks ago. Also, they gave Upland (10-0), the third-seeded team in the Inland Division, a pretty good tussle in a nonleague game: the Tillers led, 20-17, late in the third quarter. Tustin is in the same quarter bracket as Villa Park, and that's
not
the opponent that the top-seeded team was looking for in the second round. And guess who beat Villa Park in last year's semis? Tustin.
Final analysis:
There are plenty of teams that could challenge for the title, though most seem to agree that Villa Park and La Habra are the class of the division, and everyone else is lumped together with minimal separation.
Championship prediction:
La Habra won't see any team that's better than the three that it lost to in successive weeks -- Servite (24-16), Orange Lutheran (30-24, OT) and St. John Bosco (41-6). Villa Park isn't nearly so seasoned; it didn't play a nonleague opponent with a winning record, and it played only one game closer than 28 points (the overtime win over Foothill). The Spartans outscored their last three Century League opponents, 156-7, but the playoffs are played at a different level. A healthy Tustin playing at home in the second round could very well spoil Villa Park's season. Meanwhile, La Habra has played all season with its backup quarterback,
Sean Sparling
, and may get its starter
Cole Wolterman
(broken leg) by the time the finals roll around. They have the best defensive player in the division in
Aaron Porter
, and they have a multi-dimensional offense that includes
Brett Bartolone
. The drive for five will thrive: La Habra 35, Tustin 21.
Link to the Southwest Division playoff bracket on CalPreps.com
September, 29, 2011
9/29/11
11:06
PM PT


LA HABRA -- For a brief moment, the sequence appeared harmless and undisguised. Yet, as defenses across the Southland have found out in recent years, nothing is ever simple when St. John Bosco receiver Bryce Treggs is involved, not even a short bubble screen. Treggs turned inside, caught the ball, made a swift cut up field and was gone.

See ya.

La Habra defenders desperately lunged at his feet, but Treggs seemed to find a different gear with each stride, gliding into the end zone for an 89-yard touchdown. St. John Bosco's first offensive play of the game proved to be a dagger in a surprisingly dominant 41-6 victory over La Habra on Thursday night.

"I wanted to work on my track speed," Treggs said with a wide grin. "Just get my knees up and keep going. That's all I was thinking."

The Cal-bound Treggs finished with eight catches, 192 receiving yards and two touchdowns. His other score came on a deep, 47-yard post route that made it 21-0 near the end of the first quarter.

The rout was on.

"It was critical for us to get ahead of these guys early," St. John Bosco coach Jason Negro said. "We fell behind 21-0 last week [against Loyola], tried to fight our way back and couldn't do it. We told our kids we needed to get on top right away."

Contributions from all angles gave the Braves (4-1), ranked No. 18 in the ESPN Los Angeles prep football top 25, a big cushion. They had five takeaways -- including a pivotal interception on La Habra's first play from scrimmage -- and got solid production from senior quarterback Rene Medina (242 passing yards) and tailback DaVonte Young (78 yards rushing and a score).

"We just couldn't stop them," La Habra linebacker Aaron Porter said. "It was tough on us."

The Highlanders (2-3) fell against a Trinity League team for the third straight week, following losses to Servite (24-16) and Orange Lutheran (30-24). They were out of sync from the start and struggled to generate momentum, narrowly avoiding the shutout on the final play of the night.

"I didn't expect anything like this," Young said. "I'm very thrilled with the final score."

Said Treggs: "In last week's loss we came out very flat and didn't set the tone. That's what changed. The scoreboard showed it."
September, 20, 2011
9/20/11
4:44
PM PT
By
Sean Ceglinsky
| ESPNLosAngeles.com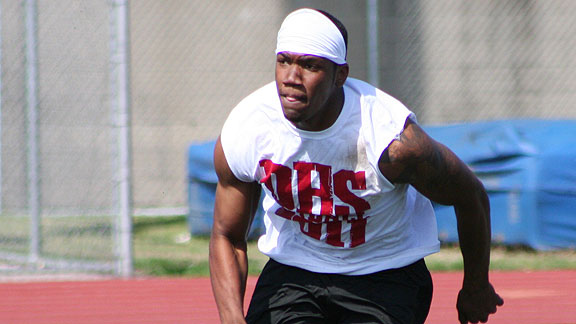 WeAreSC.comJabari Ruffin, who has committed to USC, is ranked the No. 4 prospect overall in California.
Defense, as the old adage states, wins championships. We've all heard it before.
If that's the case, the Southland appears to have more than enough talented players residing on the defensive side of the ball to make a decided difference for their respective teams.
With so many different individuals making crucial plays all over the field in the first two weeks of the season thus far, we figured that it might be a good idea to take an in-depth look at some of the premier prospects residing on the defensive side of the ball in the greater Los Angeles area.
That said, consider this as a who's who list of the more high-profile prospects around.
Defensive line: Monrovia's
Ellis McCarthy
. When it comes to the top recruits from these parts, few are better than the 6-foot-4, 305-pound senior. McCarthy is a force to be reckoned with every time he lines up. He's a run-stopping force. That's not to say the big man can't put pressure on the quarterback. McCarthy does it all, plain and simple. His top choices for college include USC, Cal, Florida, Washington and Oregon.
Defensive line: Westlake's
Justin Solis
. The top players in Ventura County typically do not receive nearly as much recognition as they deserve. Solis, however, is the exception to the rule. The 6-3, 285-pound senior was recruited by a handful of Pac-12 Conference programs. Ultimately, Colorado proved to be the best fit. Boise State, Georgia Tech and Iowa State also offered.
Defensive line: Irvine Woodbridge's
Kyle Kelly
. The 6-3, 225-plus pound senior is a pass-rushing specialist, a load to deal with from the edge. Kelly committed to Arizona despite having offers from Florida and Vanderbilt. Vista Murrieta's Jeremy Castro and Long Beach Poly's Alonzo Williams were also considered for this spot. In the end though, Kelly offers far too much upside.
Linebacker: Downey's
Jabari Ruffin
. ESPNU ranks him as one of Southern California's top recruits. Only San Clemente's Kyle Murphy is ahead of Ruffin. After watching the 6-3, 225-pound senior in action, it's blatantly obvious he is far more advanced than most of his peers. His game is tailor-made for the next level. USC landed a prized prospect when he committed in early March.
Linebacker: La Habra's
Aaron Porter
. Don't run the ball up the middle against this guy. And don't think your running back or tight end is going to break free in the middle of the defense when the 6-1, 230-pound senior is in uniform. Porter, heading to UCLA, is a jack-of-all trades. Opponents best know where he is on the field, at all times. Avoiding his general direction is recommended.
February, 1, 2011
2/01/11
4:38
PM PT
Servite, which won a second consecutive Pac-5 football championship this season behind a brick wall defense and a lightning quick running back, swept the top awards for the Southern Section's marquee division.
Hard-hitting linebacker
Matt Inman
was named the defensive player of the year in the division, and running back
Malik Felton
– who began the season as a slot receiver but moved to tailback after a series of injuries – was named the offensive player of the year.
Troy Thomas
, whose team won 25 in a row before losing badly to Concord De La Salle in the California Open Bowl Championship, was named the section's coach of the year.
Eight Servite players made the All-Pac 5 team, while there were seven from Mission Viejo—which was undefeated going into the Pac-5 title game—and four from Los Alamitos.
Others who received top awards in their respective sections were quarterback
Cody Clements
, junior linebacker
Aaron Porter
and Coach
Frank Mazzotta
of La Habra in the Southwest Division; and Garden Grove's
Josh Webb
– who played quarterback, receiver and running back – and Coach
Willy Puga
, and Corona del Mar linebacker
Preston Risser
in the Southern Division.
Here is a complete list of Orange County players who were selected. Click
here
for the list of all divisions.