Los Angeles Preps:

Adam Young
November, 26, 2010
11/26/10
11:42
PM PT
By
Martin Henderson
| ESPNLosAngeles.com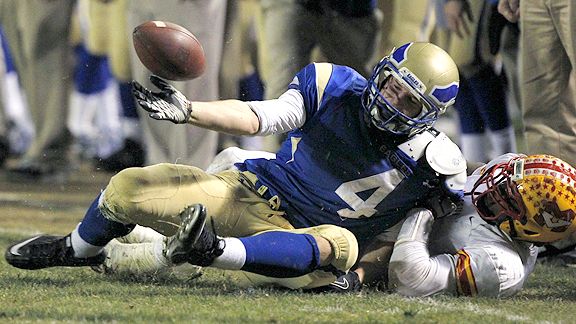 Alex Gallardo/Special to ESPNLA.com
Santa Margarita defensive back Johnny Stanton bobbles the ball after being tackled by Mission Viejo running back Jahleel Pinner after an interception late in the first half.
MISSION VIEJO – The major hurdle that Mission Viejo was supposed to face on its way to the Southern Section Pac-5 championship game was a brick wall, all right. But when you have Superman on your side, brick walls don't mean much.
Tre Madden
is Mission's man of steel, and he helped turn back an emotional Santa Margarita squad, 31-28, with his defense and his offense, his legs and his arms.
The quarterfinal victory by the top-seeded Diablos, ranked No. 2 by ESPNLA, moves them into the semifinals next week against Mater Dei, a 17-0 winner over Tesoro. Madden's performance overshadowed that of teammate
Dallas Kessman
, who carried 24 times for 146 yards and two one-yard scores in the fourth quarter. The first gave Mission a 24-20 lead with 8:51 to go, the second made it 31-20 with 3:45 remaining.
"Madden is wonderful, an awesome athlete," said Santa Margarita's first-year coach,
Harry Welch
, who turned a 3-7 program into one that was 9-3 and more than a handful for the seemingly invincible Diablos.
Madden began the season as a Wildcat quarterback, but 12 victories into a perfect season and Madden is simply a quarterback, period. He is going to USC as a linebacker. However . . .
"Talk to them about the Wildcat," Madden said. "It would be fun."
He completed all three of his passes for 76 yards, each over 20 and each in a touchdown drive. He also ran seven times for 61 yards, only once gaining fewer than eight yards, and the eight-yarder was a touchdown.
And as a middle linebacker he anchored a defense that held Santa Margarita in check, especially the first half when the Eagles mustered only 72 yards to Mission's 222.
He was the difference-maker in a game that could have gone either way.
November, 22, 2010
11/22/10
11:15
AM PT
By
Martin Henderson
| ESPNLosAngeles.com
1. He seems to be under the radar that typically points to Mission Viejo's Alex Bridgford and La Habra's Cody Clements as the county's best quarterbacks this season, but Santa Margarita's unheralded Adam Young may be the most complete. He completed 11 of 12 passes for 284 yards and two touchdowns, and also ran for 83 yards and a score in a 49-3 victory over Edison -- Edison, one of the county's 10 best teams. Young has been nothing short of brilliant. He has passed for a slightly higher percentage (66 percent) than Carson Palmer (63 percent) in the former Heisman winner's senior season of 1997, and he is a better runner. He has passed for 1,688 yards with 17 TDs and two interceptions, and rushed for 579 yards (averaging 5.3 per carry). Young began his high school career at Tesoro, but went to Santa Margarita –- and played on the junior varsity his junior season. This week's performance against Mission Viejo could be his defining moment if the Eagles continue to win.

2. The 75-20 blowout by Tustin over Buena Park is a product of the playoff system. It matched the last qualifier against the No. 1 seed, and Tustin isn't built for holding back. The Tillers are a running team -- so any time they pass it could be perceived as running up the score -- and their small roster prevents coach Myron Miller from getting too far down on a depth chart. It's a testament to Buena Park and first-year coach Anthony White that he reportedly turned down two offers to go to a running clock in the second half. The program's adversity this season has been well-documented, and White seems to have changed the culture at a losing program, and with this rare opportunity to participate in the playoffs, there's nothing wrong with soaking in every minute -- even if it's by a lopsided score. And let it be known that the Coyotes led Tustin in the first quarter, 13-7.


November, 12, 2010
11/12/10
11:33
PM PT
By
Martin Henderson
| ESPNLosAngeles.com
MISSION VIEJO – If anyone ever doubted Harry Welch's will, he showed it on his team's first possession Friday against Mater Dei. Facing a fourth-and-one situation at its own 39-yard line, Santa Margarita's offense went for it.

And made it.

It was a statement, a bold one en route to a 17-7 Trinity League victory that gave the resurgent Eagles second place in league. Just a season ago, Santa Margarita (8-2, 4-1) failed to win a league game for the first time in school history, and it had only one league victory the past two seasons.

And then it hired Welch, who won eight Southern Section titles and two state bowl championships with Canyon Country Canyon and St. Margaret's. His simple offense and defense proved successful against all but one team in the Southern Section's toughest league. That one team was Servite (10-0, 5-0), the defending Pac-5 and Division II Bowl champion that has won 21 in a row -- and the Eagles were within a touchdown of that team last week.

On that key fourth-and-one -- the Eagles hadn't even gotten a first down yet -- quarterback Adam Young's second effort on a sneak pushed forward enough to move the chains.

"God gave us four downs, who am I to say only use three," Welch asked rhetorically. "He says you have four, let's go with four."


November, 5, 2010
11/05/10
11:33
PM PT
By
Martin Henderson
| ESPNLosAngeles.com
MISSION VIEJO -- Troy Thomas' voice was low, barely above a whisper, as he answered the question an hour before Servite put its No. 1 ranking in the Southland on the line against No. 18 Santa Margarita: "I'm a little nervous, to be honest."

He was getting ready to face Harry Welch, who like Thomas was a product of Crespi High, who had won eight section titles and two Bowl championships, who had turned Santa Margarita into one of the best teams in the state in only one year.

Thomas had learned from the legend Welch this week while watching Santa Margarita on film, and he fully expected to learn something from the game that was getting ready to be played. "Studying their offense, the things they do, it's good football," Thomas said. "A lot of people run the same things, but it's the little things that are the difference between success and failure."

But Thomas' reclamation of Servite -- six years earlier -- has been similarly impressive, and on Friday at Saddleback College, Servite won a share of its sixth consecutive league championship with a 17-10 Trinity League victory over Welch's proteges.

For Thomas, dating to his days as head coach at Crespi, it's his eighth consecutive league title. Like Welch, maybe Thomas knows what he's doing too.


October, 2, 2010
10/02/10
11:39
PM PT
By
Martin Henderson
| ESPNLosAngeles.com
MISSION VIEJO –
Harry Welch
admitted before his team's game Saturday against Los Alamitos that he was nervous – OK, "a little scared" – about his surgery on Monday morning to remove prostate cancer.

Adam Young
He also was nervous about the game, afraid that his players were more worried about their coach than their opponent.
Welch's surgery should go so well.
The reignited Eagles, thriving under their first-year coach who has won state bowl championships with two different teams, were flying high in a 31-7 nonleague victory over Los Alamitos.
In winning their third in a row, Santa Margarita (4-1) got a good performance from a defense led by
Kyle McPherso
n and
Doug Woodward
that stuffed the already hampered running game of the Griffins (3-2) and didn't allow a score until garbage time – less than four minutes remaining in the fourth quarter.
They got a good performance from quarterback
Adam Young
, who ran 14 times for 142 yards and one touchdown and passed for 180 yards and another score.
September, 20, 2010
9/20/10
3:58
PM PT
By
Martin Henderson
| ESPNLosAngeles.com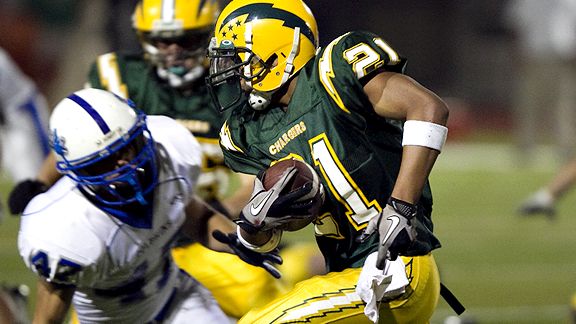 Courtesy of Tony Tribolet
With his performance against Dana Hills in a 27-21 victory, it appears Edison is in good hands with running back Nicholas Masaniai.
Some observations from the third weekend of high school sports in Orange County.
1. It's hard to imagine how good Edison would have been with
Davion Orphey
, the dynamic senior running back/defensive back who was ruled academically ineligible. Coach
Dave White
said Orphey's absence was probably more significant on defense than offense. However, we saw on Thursday against Dana Hills his replacement,
Nicholas Masaniai
, who carried 20 times for 134 yards. He's not as flashy and he's not going to take some plays to the house that Orphey would have, but he puts the Chargers in good hands. He had five carries of more than 10 yards: 24, 14, 18, 11 (for a touchdown) and 31 yards, and he's going to keep defenses honest as junior quarterback
Chase Favreau
develops.
2. Buena Park and Los Alamitos don't seem to have a lot in common except for 3-0 records. Los Alamitos is a well-respected program that contends for the Sunset League title every year, has one of the most dynamic players in the Southern Section in tailback
Nick Richardson
, and is coached by Orange County's all-time leader in victories,
John Barnes
. Buena Park has been a program that has not done much of anything over the past decade, and its three-game winning streak is much-needed good news for a program that had won only three games the last three years. Yet relative to its own strength, Buena Park -- which is badly in need of victories -- has actually played a tougher schedule this season than Los Alamitos. Based on the statistical ratings of team strength at Calpreps.com, Buena Park – with a rating of minus-2.8, has played teams that are 17.5, 27.2 and 12.3 points lower than the Coyotes; Los Alamitos has played teams that are 20.9, 25.6 and 29.5 points lower than the Griffins.
September, 6, 2010
9/06/10
10:25
PM PT
By
Martin Henderson
| ESPNLosAngeles.com
Some observations from the first weekend of high school sports in Orange County.
1. Among the three teams in the Trinity League that I saw this weekend, Mater Dei was the least physical. Servite and Orange Lutheran were both more physical, and OLu particularly so in the first half when making a statement in its game against La Habra -- a team everyone had talked about
being so physical
.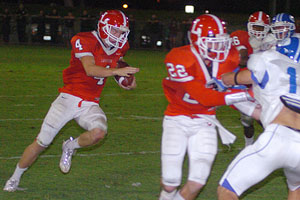 Courtesy of Scott Greenwood
Mike Markovsky (4) finds a hole in the La Habra defense in Orange Lutheran's 21-17 victory.
2. Santa Margarita put up 56 points against Diamond Ranch, which was in the Southeast Division finals the past two seasons. That's the most points since 1997 when Carson Palmer was the quarterback, and it's a lot of points against a two-time section finalist.
Adam Young
completed seven passes for 153 yards and two touchdowns (he also ran for two) and
Cory Thomson
rushed eight times for 110 yards and two TDs. Also impressive: Discounting a 62-0 victory over JSerra in 2007 during that school's first foray into the Trinity League, this was the first shutout since a 35-0 victory over Redlands in 2003. It was an eye-opening result all the way around in
Harry Welch's
debut as the coach.