Los Angeles Preps:

Aelmany
January, 9, 2012
1/09/12
3:08
PM PT
By
Sean Ceglinsky
| ESPNLosAngeles.com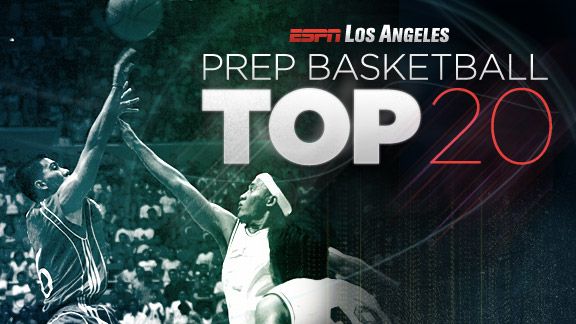 ESPN.com Illustration
The prep hoops season is well underway and Southland teams have been traveling all over the West Coast, some all over the country, in an effort to prepare for the rest of the the year. And things do not figure to slow down soon.
That said, it's time to get down to business, check out who's who and find out how some of Southern California's premier programs stack up. So here are the initial ESPNLosAngeles.com top 20 rankings.
1. Mater Dei (13-2):
The Monarchs have experience in the form of seniors Xavier Johnson and Katin Reinhardt, both bound for Division I programs. They have youth with Stanley Johnson and Jordan Strawberry and both appear to be heading in the same direction. Bottom line: This group is talented and could remain atop the poll from start to finish.
2. Long Beach Poly (11-1):
When it comes to athleticism, very few teams in the greater Los Angeles area can physically match up man-for-man with the Jackrabbits. Roschon Prince is the best of the bunch. The junior is one of the West Coast's top players in his class, and this time next year, he figures to be among the nation's best.
3. Orange Lutheran (12-2):
It begins and ends with Gabe York. The senior and Arizona commit is more than capable of playing both guard positions. He does so with regularity too. When the ball is in his hands, the Lancers are at their best. It will be interesting to see how York & Co. do against Mater Dei in an all-important Trinity League game Wednesday night.
4. La Verne Lutheran (12-4):
The Trojans will go as far as Grant Jerrett takes them. ESPN Recruiting ranks the 6-foot-10 and 220-pound senior forward as the premier player here in Southern California and the country's No. 9 prospect overall. Jerrett has not disappointed thus far and is averaging a double-double with 23 points and 12 rebounds per game.
5. Crespi (15-1):
Year in and year out, coach Russell White finds a way to get the most out of his players. He is a master with regards to motivation. Things are no different this time around. Underclassmen London Perrantes and Michael Avery are playing as if they are experienced veterans and the addition of a few football players has provided much-needed depth.
6. Loyola (11-2):
All signs point to the Cubs being one of the top teams around by season's end. Back-to-back losses in Mission League play last week, however, have had a humbling effect. Odds are, seniors Julian Harrell, Jacob Hazzard and Justin Childress figure things out sooner rather than later. Once they finally get things rolling, watch out, the trio is formidable.
7. Windward (12-5):
After taking a look at their record, one might wonder why the Wildcats are ranked this high. The explanation is rather easy: They have played four teams in the top 20 already and have an impressive victory over nationally ranked San Jose Archbishop Mitty on their resume. Senior Nick Stover and his teammates are always up for a challenge.
8. Bishop Montgomery (13-2):
The Knights have opened plenty of eyes early on this season. They have gone from pretenders to contenders and Lamond Murray Jr. has been at the forefront of the resurgence. Son of an NBA veteran, the junior guard has showed some glimpses of his immense potential and could be on the verge of following in his father's footsteps.
9. Taft (11-3):
The Toreadors have emerged as the frontrunners to win the Los Angeles City Section title. Go figure, right? They always seem to be in the mix for the championship. Seniors Steve Jones and Brandon Perry understand what is expected of them. Newcomer Anthony January, a senior transfer from Compton, could be the final piece of the puzzle.
10. Etiwanda (15-1):
This was supposed to be somewhat of down year, especially after Byron Wesley and Jordan Daniels graduated. Nevertheless, the Eagles have not missed a beat due in part to the play of Jordan McLaughlin. The sophomore has been surprising and is averaging 17 points a game.