Los Angeles Preps:

Alex Bernstein
October, 10, 2011
10/10/11
4:48
PM PT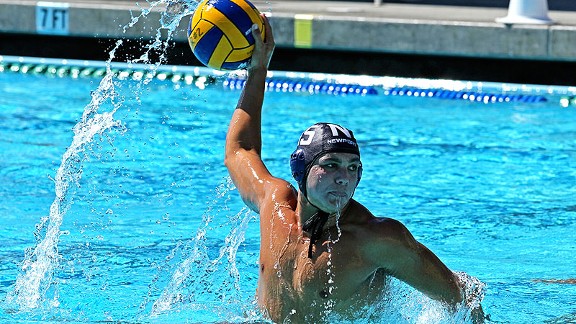 Courtesy of Doug StevensFarrell South helped lead Newport Harbor's boys' water polo team to a tournament title over the weekend.
1. Behind
Farrell South
and
Koby Yokota
, Newport Harbor won its first tournament championship under first-year coach
Robert Lynn
with a 9-7 victory Saturday over rival Corona del Mar in the S&R Sport Southern California Water Polo Tournament. South scored three goals, and Yokota had 11 saves as the Sailors (13-1), No. 2 in the Southern Section Division 1 rankings, turned in a strong defensive effort in the first half to beat Corona del Mar (11-3), the top-ranked team in Division 2. The final four were the usual suspects; Los Alamitos won the third-place game over Coronado, 13-5, behind
Andrew Reynolds'
four goals.
2. Trabuco Hills no longer has
Grant Oshier
on its cross country team, but his graduation didn't leave the cupboard bare. The Mustangs won the Championship Division team title the Clovis Invitational in Fresno, and it wasn't even close. Led by
Jared Hazlett
(15:23), who took eighth-place on the 3-mile Woodward Park course, Trabuco scored 59 points, followed by Long Beach Poly (122), Dana Hills (124) and El Toro (141). Trabuco runners
Naoki Omatsu, Nicholas Plumb, Kevin Marshall
and
Lucas Dorman
finished 11, 12, 14 and 22, respectively. The top local finisher was fourth-place
Kevin Durham
(15:18) of El Toro, 17 seconds behind
C.J. Albertson
of Clovis Buchanan.
Paige Tennison
of Newport Harbor was the only Orange County girl to crack the top 10; her 18:06 was 44 seconds behind the winner. Canyon took second place in the Championship race, and Trabuco fifth. San Clemente won the Division 1 title for extra-large schools.
3. Newport Harbor has one of the best girls' volleyball teams around, but after a brutal week it has nothing to show for it in Sunset League play. The Sailors -- ranked No. 4 in the Southern Section Division 1AA rankings -- were beaten last week by top-ranked Los Alamitos in four games, and then fell Saturday on their home floor to third-ranked Edison, 21-25, 25-23, 25-21, 25-23, behind the play of
Alexa Hasen
and
Cassie Strickland
. The Sunset League in girls' volleyball -- the equivalent of Trinity League football -- will have a major showdown Thursday when Edison plays host to Los Alamitos at 4:30 -- about 2 1/2 hours before the football teams play.
October, 18, 2010
10/18/10
3:22
PM PT
By
Martin Henderson
| ESPNLosAngeles.com
1. With Harry Welch as its new coach, Santa Margarita is trouble. Every week it seems the Eagles are getting better and better, and their 27-15 victory over Orange Lutheran is a watermark moment in the Trinity League; you can bank on the breaking up of the triumvirate of Servite, Mater Dei and Orange Lutheran that has dominated the league the past four seasons. The first step was Santa Margarita's victory over OLu. It would not surprise me one bit if the Eagles -- behind the play of quarterback Adam Young and running back Cory Thomson -- win the league title.

2. Watching JSerra play (they were tough just not very deep), and listening to Servite coach Troy Thomas talk about the team he saw on film and beat, 41-7 ("They're good"), I'm left to marvel at where JSerra might be if receiver Bryan Keller and linebacker/quarterback Tre Madden had not transferred to Mission Viejo, and if Tyler Shirozono had not transferred to Dana Hills. Imagine how much better JSerra would be, and what impact that might have had on Mission Viejo and the South Coast League (not to mention the Trinity League)? I asked one of the JSerra boosters why Madden transferred after his freshman season and was told, "He didn't think the program would be where he wanted it to be in four years." If players had stuck around, it might have been.

3. Most impressive victory of the weekend didn't belong to one of the powers that gets discussed here every week, it belonged to Yorba Linda, which scored a 12-6 win over Placentia Valencia for its first ever league victory. This is Yorba Linda's first varsity team, and for the senior-less Mustangs to post a win over such an established program and revered coach as Mike Marrujo says a lot about the state of the program under coach Jeff Bailey. Alex Bernstein rushed nine times for 51 yards and passed for 92 yards – including a 25-yard touchdown pass – and intercepted two passes (one returned 65 yards for a touchdown). Yorba Linda is 3-4, 1-2 in the seven-team Empire League, but that victory might have meant a playoff berth.