Los Angeles Preps:

Alexas Williamson
March, 24, 2012
3/24/12
11:02
PM PT
By
John Parker
| ESPNLosAngeles.com


SACRAMENTO -- After eight minutes on Saturday night, the CIF Division I girls championship game looked an awful lot like the 2011 edition. Mater Dei is sure glad it ended in much the same fashion as well.

The Monarchs trailed early but eventually wore down and defeated Berkeley 57-40 for a second straight title-game victory over the Yellow Jackets and a state championship three-peat. Mater Dei won the Division II title in 2010. It is the school's fourth girls' state basketball championship.

"You always want to win your last game especially being a senior," Monarchs senior guard Jordan Adams said. "Not many people can say that they have three state championships and I'm just so proud of my team."

Adams and fellow senior guards Kaija Powell and Alexas Williamson have been a part of all three recent Monarchs championship teams, including national championships in 2010 and 2011.

Berkeley led 16-13 late in the first quarter on the strength of a hot start from the field, much like last year when they led Mater Dei 16-8. But on Saturday senior guard Nirra Fields, who was not at Mater Dei last year, took over. Fields had a put-back on the Monarchs' final possession of the quarter to cut the deficit to one, then scored their first eight points of the second quarter, part of a 14-2 run to claim control.

Berkeley was able to score just two points -- on free-throws -- in the second quarter and eight in the third while the Monarchs broke the game open.

"We started guarding some people," Mater Dei coach Kevin Kiernan said. "Playing defense the way we know how. We don't want to trade baskets with anybody, we want stops."

Adams finished with a double-double recording 13 points and 11 rebounds in addition to three steals and three blocks. Fields had a game-high 24 points and nine rebounds while Williamson added 16 points. Williamson also had the difficult task of guarding shifty Yellow Jackets guard Elisha Davis who had 10 points and nine rebounds.

"She's a really great player with a lot of skills," Williamson said. "I was just trying to stay in front of her. … Sometimes she got by me but my teammates were there for the help."


March, 17, 2012
3/17/12
8:58
PM PT


ONTARIO --Mater Dei withstood an emotional charge by Long Beach Poly in the second half and won the right to defend it two consecutive state titles.

The Monarchs, the top-seeded team in the Southern California Regional Championships, scored a 54-43 victory over third-seeded Poly on Saturday in the Division I finals at Citizens Bank Arena.

Mater Dei was paced by Nirra Fields, who scored 20 points, and Alexas Williamson, who scored 14.

The game pitted Mater Dei (32-3), the No. 1 ranked team in the state, against Poly (31-4), ranked No. 3. They are ranked 1-2 in the state in Division I, essentially playing a de facto state championship.

The Monarchs will play in Sacramento next Saturday, 6 p.m., against the North champion, Berkeley, a 56-38 winner over Sacramento Kennedy. Berkeley is ranked fourth in the state in the division.

"It means a lot," Kevin Kiernan, Mater Dei's coach, said of the opportunity to win three in a row. "We're trying to build something here, obviously. ... That's why we work so hard."

Williamson proved especially important in the third quarter, when Poly had to make its push. The Jackrabbits, trailing 27-18, opened the third with Destiny King's rebound, but Williamson answered with back-to-back 3-pointers, and then Andee Velasco added another three for a 36-18 lead.


February, 28, 2012
2/28/12
5:49
PM PT
By
Dan Arritt
| ESPNLosAngeles.com
ANAHEIM -- The Mater Dei girls' basketball team has a way of making good teams look bad.
The second-seeded Monarchs took on unbeaten Corona Santiago on Tuesday afternoon in a Southern Section Division 1AA semifinal and wasted no time sprinting away from the third-seeded Sharks en route to a 71-32 victory at the Anaheim Convention Center Arena.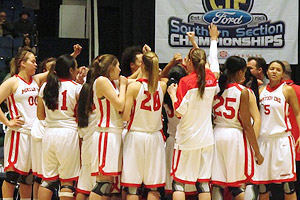 Blair Angulo/For ESPNLA.comA 25-0 run that began in the first quarter fueled Mater Dei to an easy win over previously undefeated Corona Santiago.
Mater Dei used a 25-0 run that stretched from the first quarter and into the second to take a 20-point lead and the Monarchs never looked back.
"Coming into an arena-type setting, to shoot as well as we did in the first quarter, I think that gave us a huge advantage," said Mater Dei coach
Kevin Kiernan
.
Santiago (30-1) scored the game's first five points before the Monarchs finally got on the board on a three-point basket by
Kaija Powell
with 5:14 left in the first quarter.
Mater Dei (29-3) kept on scoring, ending the first quarter on a 22-0 run and then scoring the first three points of the second. The Monarchs shot 6-for-10 from beyond the three-point stripe in the opening quarter.
"Usually, it's harder to shoot the threes in this type of setting, but we've been shooting pretty well lately," Kiernan said. "I think that got us off to a great start."
March, 14, 2011
3/14/11
4:42
PM PT
By
Dan Arritt
| ESPNLosAngeles.com
ESPNLA plans to take a closer look this week at the Inland Empire basketball teams that qualified for the Southern California Regional championship games Saturday at USC's Galen Center. First up, the Canyon Springs girls' basketball team in Division 1.

CANYON SPRINGS (30-3)

Location: Moreno Valley.

League: Inland Valley.

Resume: The Cougars opened the season ranked fourth in the Southern Section Division 1AA coaches' poll behind Mater Dei, Brea Olinda and Long Beach Poly. One of its two regular seasons losses came against Long Beach Poly, and Canyon Springs was later beaten by Brea Olinda in a Division 1AA semifinal. Payback came Saturday night in a regional semifinal, when the third-seeded Cougars stunned the Ladycats, 63-53, in Brea's gym. For their efforts, they earned a date with top-seeded Mater Dei in Saturday's final at 6 p.m.

Roster: What makes Canyon Springs difficult to match against is its 1-2-3 punch of 5-9 senior guard Tear'a Laudermill, 5-11 junior wing Jasmine Johnson and 6-2 senior forward Sophia Ederaine. Laudermill, who has signed with Nebraska, is averaging 16.7 points, 5.3 assists and 3.6 steals. She has struggled with her shot the last two games, however, missing 19 of her last 26 field-goal attempts. Ederaine, who has signed with University of San Diego, provides a staunch presence in the middle that will be key against Mater Dei. She's averaging 11.9 points, 9.7 rebounds and 7.2 blocks with five triple-doubles this season. Johnson is averaging 13.5 points and eight rebounds. In three regional playoffs games, she's averaging 17 points.

Reality: Canyon Springs could be catching the Monarchs at the right time. Jordan Adams and Alexas Williamson, the starting backcourt for Mater Dei, are reported to be out for the season. Adams, a 6-foot junior point guard, injured her left shoulder in a quarterfinal victory against Santa Monica and did not play in the semifinal win against Harbor City Narbonne. Williamson, a 5-9 junior shooting guard, underwent appendectomy surgery last week and missed the last three games. Alexyz Vaioletama picked up some of the slack against Narbonne, totaling 29 points and 19 rebounds. Vaioletama, a 6-1 center who has signed with USC, will meet her match in Ederaine.

Result: Canyon Springs 67, Mater Dei 65.