Los Angeles Preps:

Andy Hall
April, 19, 2012
4/19/12
8:27
PM PT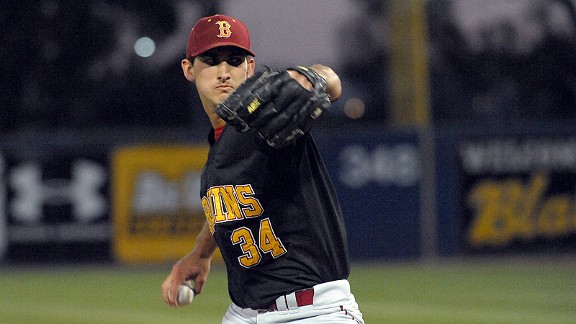 Stephen Dachman, Courtesy of GazettesSports.comChase DeJong enjoys a challenge, which explains why he left a small private school for a large public school.
LONG BEACH --
Chase DeJong
wanted to challenge himself.
In a time when transfers from public to private schools are common, the senior pitcher decided to go the other way, leaving the comforts of Valley Christian in Cerritos for Long Beach Wilson at the end of ninth grade. He could stay and dominate at Valley Christian, where he knew the first and last names of about 600 students, but that would have been easy. No, like any great competitor, DeJong wanted to challenge himself.
It was difficult to leave because he had attended Valley Christian since preschool. His two older brothers had gone there as well. It was home for him, all he ever knew.
"I knew if I wanted to experience a big public school and play against top-level competition, I needed to test myself," says DeJong, the 12th-ranked player in the state according to ESPN.
DeJong adjusted well to the move and, a year later, burst onto the scene with a 10-2 record and 1.00 ERA as a junior. In 50 innings pitched this season the 6-foot-5 right-hander has given up nine earned runs and struck out 71 batters.
"His biggest transition was getting used to the large number of personality types and religious beliefs," says Bruins head coach
Andy Hall
, whose team is 14-6 with all six losses coming by one run. "He's lived a sheltered life. Being exposed to this has helped him mature and grow."
DeJong throws an unmistakeable low-90s fastball and mixes in what Hall describes as a "vicious" curveball. He received his first recruiting letter as an eighth grader and, eventually, was pursued by nearly every major college program before settling on local USC. DeJong broke the news to Trojans head coach
Frank Cruz
with a late-night phone call last August.
"It was 11:45 at night," DeJong says. "I woke him up."
Not that Cruz complained or anything.
DeJong has remained humble through the added attention and higher profile. Hall says he receives baseball cards of DeJong from autograph seekers in his school mailbox. The 18-year-old signs them and sends them back.
May, 31, 2011
5/31/11
11:34
PM PT
LONG BEACH -- Austin Pettibone knew that if Esperanza won Tuesday night, he'd be taking the mound under the bright lights at Dodger Stadium on Friday. He had to get his hands a little dirty but, sure enough, the Aztecs' ace will toe the rubber at Chavez Ravine.

The right-hander threw two scoreless innings of relief Tuesday, earning the save and helping Esperanza beat Long Beach Wilson, 6-2, in the semifinals of the CIF Southern Section-Ford Championships, presented by Farmers. The Aztecs advanced to Friday night's Division 1 title game at Dodger Stadium, where Pettibone will face off against Riverside J.W. North, which beat Moore League champion Lakewood, 10-4, in the other semifinal.

"It's what you always dream about," Pettibone said. "Pitching at a major league park, in a championship game. Getting the last six outs was nerve-racking, but I knew I had to calm down, throw my stuff and get it done."

Pettibone has three wins and a save in Esperanza's four playoff games. Aztecs head coach Mike Curran never hesitated to bring in his top arm. Six outs away from a trip to the final?

Easiest decision ever.

"He's our guy," Curran said, "we're going to him."

Esperanza (23-10) erased a one-run deficit with a four-run fourth and never looked back. Wilson (26-7) had taken a 2-1 lead in the top half of the inning on a Stefan Miladinovich two-run double that might have gone out at most high school fields. The pro-Bruins crowd could care less, though, as the bleachers at Blair Field rattled loudly.

But the Bruins coughed up the lead on a throwing error by second baseman Daniel DeWolf. They had the tying run at the plate against Pettibone in the sixth, but Mitch Mossman's acrobatic throw to first put an end to the threat.

"That charge and flip was huge," Curran said.

The Aztecs added an insurance run in the sixth to all but punch their tickets to Los Angeles. A potential, intriguing all-Moore League championship game loomed on the horizon. Instead, both Wilson and Lakewood fell in a park they're more than familiar with. The Bruins had won 11 straight.

"I knew we were going to do it," Pettibone said. "When we rolled up I knew we were going to win."